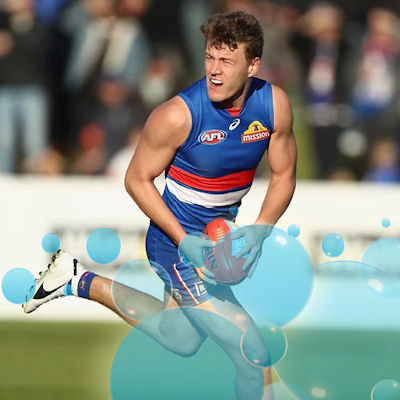 We're back! That's seven rounds down and the cream is starting to rise to the top… Sadly what goes up must come down, and if you're rising up the rankings then somebody else must be falling. Always remember that. We've gotten through the last couple of weekends without too many injury disasters and for the MOST part, our popular players performed. Unfortunately as always, some flogs think they're above that. A few of them just happen to wear black, red and white. There's plenty to cover and I'll be doing that in the only way I know how. It's time for the weekend wash-up!
Legends
Selwood (120) – Even though Joel Selwood hasn't set the world on fire, he's getting the job done. He's currently averaging 107 with a lowest score of 90, reliable scorers have been few and far between this season. Big tick so far.
Duncan (115) – I'm a big Mitch Duncan fan, and I think $720k is about as cheap as he's going to get in 2018. He will never get tagged with Selwood, Dangerfield and Ablett always receiving the attention. However that doesn't mean he won't get the midfield minutes. Owned by a ridiculous 1.55%, he's the perfect midfield POD this week.
Macrae (151) – Speaking of midfield PODs, the highest scorer in 2018 is still owned by just 6% of teams. Macrae is reaching pig levels, averaging 126 points per game and passing 140 the past two weeks. Even though there will be extra attention coming his way from opposition midfielders, he's good enough to fight through a tag and average 120 this season. Ridiculous numbers. Unfortunately for the rest of us he's priced at over $800k and extremely hard to fit in. We'll all need him come Round 23 if we want to be competitive. LEGEND!
McLean (143) – This nearly brings a tear to my eye. McLean has been my boy all season, but I never thought he was capable of a score like this. It's made all the more impressive by the fact that he only played 75% TOG! A whopping 13 tackles helped him to this score and it's no fluke, he's averaging 6 tackles per game. Toby is carrying a 5 round average of 107, making him the top forward over the past month. Yes, better than Robbie Gray. He's still owned by less than 7% of coaches, disgraceful really. A top 6 forward lock.
Hunter (131) – The Lachie Hunter rollercoaster continues, however his season average now sits at 110. Those are massive numbers. I still put him in the Andrew Gaff category and think his average will balance out between 100-105, but he's another fantastic Bulldogs POD. Owned by 1.5% of coaches, do we hate the Doggies? They play some great Fantasy football…
Sicily (135) – The motherf**kin sic dawg. I'd be lying if I said I wasn't absolutely loving this rollercoaster. I wanted to strangle him two weeks ago, now I want to kiss him. I didn't even get to see this game but I can only presume it was beautiful in every sense of the word. Do you bring him in now? I don't know the answer. I'm just along for the ride.
Mitchell (119) – Not so much for his score this week, but it was brilliant to see our Pig bounce back strong against the Saints in Round 6. It's a shame they had to tag Titch in the third quarter because otherwise he was going 180+ and breaking his own disposal record. Always my captain. Still my GOAT.
Redden (138) – Do you dare…? Luke Shuey is out for a few weeks. The Eagles mids are dominating. They have a great bye. With 124 and 138 in his last two appearances, he seems like the perfect budget option to be a stepping stone for after the byes. It ticks a lot of boxes, but it's also Jack Redden. He averaged 67 over the first 5 Rounds. It's seriously risky, but you don't get reward without risk. It's now or never.
Kennedy (122) – I still don't think JPK will average more than 100, however when he was priced under $600k the only way was up. He has gone 111 and 122 in his past two matches and is back on the rise. Well done to those who took the gamble!
Sinclair (112) – Callum Sinclair continues to dominate, averaging 100 for the season. If it was any other year we would be all over him, but it's 110 or bust in the ruck department at the moment. They're on fire.
B.Jacobs (119) – Am I really writing about this? Ben Jacobs had 29 disposals, 9 tackles and a BLOODY FANTASY TON?! He would have to be third behind Kelly and Murray for rookie of the year, especially given how few had him. Picking him over Brayshaw was a massive win.
Curnow (137) – I announced that Ed Curnow was real in the last wash-up, so I'm glad he had this second week to redeem his 81. He's averaging 8.7 tackles per game, those are peak Rockliff numbers. In fact he's currently the fourth highest scorer this year, behind Macrae, Mitchell and Gawn. Ed Curnow. It's a funny game Fantasy.
Fyfe (128) – Nat Fyfe simply has to be the brownlow favourite. Watching him go head to head with Dusty was a little embarrassing. Fair enough Richmond are dominating and Dusty isn't having to try, but Fyfe was by so far and away the best player on the ground it was laughable. He was always capable of these Fantasy numbers and we're finally seeing it. He's carrying a 5 round average of 120 and could post a Dangerfield-esque Fantasy season. Top 8 mid lock.
Hibberd (104) – Real or fake? Is Hibberd back?! The stats suggest so, but it begs the question why on earth he was so bad at the start of the season. This is now back-to-back 100's and his BE is at 58. He's priced at $540k and this is the week to do it. The problem is there's a chance he might not even make that BE if he has a bad day. Gold Coast and Carlton are Melbourne's next two opponents, look out. Hibbo is an option again. A top 6 defender though? No chance.
Fritsch (91) – I'll admit this was a kissed on moment for myself. Guelfi out forced me to field Fritsch (I'm sure I wasn't alone), and I wasn't confident about it. However I was confident in St Kilda's inability to play football and it worked out better than I could have hoped for. Bloody legend!
S.Martin (130) – Stef silenced the second ruck doubters with this dominant performance against Grundy. He was soundly beaten in the hitouts but had 28 disposals and 8 marks (Grundy had 1). Big O even had 10 hitouts himself! More of that thanks Stef.
Beams (120) – Dayne Beams has always been a Fantasy favourite, he was even labelled a piglet under Swanny's watchful eye. It's just a shame injuries have crippled him at every turn. He's priced @$667k and has finally reached full fitness, posting 113 and 120 in his last two games. Let's hope he can put it all together this season, this is the week to get him!
Murray (101) – Sam Murray just goes from strength to strength. Every week I hear rumours about him being rested, but that's all they are. He's a mature body and will continue to dominate for the Pies and our teams. He stays for the byes.
Zorko (176) – The talking point of the week – Dayne Zorko. I shouldn't need to tell you how well he played on Sunday, and I also shouldn't need to tell you who he played against. Collingwood refuse to tag, and Zorko went nuts. Here are the facts. Zorko is now priced at an average of ~80. He has averaged 114 and 106  over the past two seasons, scoring 29 tons in that time. This is his fourth 150+ score in the past year! However he also has four scores below 50. It could be painful at times. No, it will be painful at times. However he's at the same price as Jack Redden. $576,000! Yes there will be some shockers, but he only has to average 100 for this trade to be a success. If you don't trust him then maybe he can be a stepping stone. I just feel as though he's the type of player to go on a hot streak and I'm backing him in. There's too much scoring potential to pass up.
If you thought you had a bad week, just remember that 679 coaches traded Zorko out last week. He tripled his average. That's off to the shed for sure.
Losers
Menegola (65) – I haven't been sleeping well the past two weeks. It probably has a lot to do with the fact that I traded in Menegola over Robbie Gray. What kind of brain dead idiot decision was that?! Menegola was hardly seen on the weekend, and Gary Ablett isn't even back yet. The stupid thing is I feel as though he's just as capable of coming out and scoring 130 next week. Still, I'd rather have Robbie Gray… What a prick.
Shipley (6) – This was impressive stuff. No he didn't pull his hammy 5 minutes in, this effort was from a full game. No frees against. No kicks. No marks. No ability.
English (39) – At one stage Tim English looked to be a serious chance to score in the negatives, sitting pretty on -5 at quarter time. It's time to go this week, in the future let's not go chasing points from a kid as reliable as the MRP.
Lyons (65) – Ok I got this fairly wrong. Jarryd Lyons doesn't have a score between 84 and 131. It's boom or bust and he clearly has no idea how to beat a tag. To be fair there's not a lot of help around him. I think you have to back him in, unless your team is perfect. None are.
Merrett (64) – Zach Merrett was back to being a pussy soft this weekend. This is going to be a frustrating ride. However he only needs to average out between 100-105 to be a winner for just over $600k. Do not get him in now, there's plenty of better alternatives (Crouch, Dusty, Beams) at similar prices.
Goddard (73) – Massive FAIL this week. It must just feel dirty to own Brendan Goddard. Having said that, he's not the only defensive premium to have a shocker. In fact I think Rory Laird aside, they will all have poor weeks. Wear it.
Shuey (9) – Shitty luck for both the Eagles and anyone that owns Luke Shuey in draft. Back to the relevant players.
Parker (73) – Or not. Luke Parker was already struggling as it was, trying to replace Buddy at full forward isn't helping. I thought he would be back to his best this season, never mind. Sydney's new rotating midfield is hurting Fantasy coaches around the country. That doesn't excuse three consecutive 70's. Pathetic.
Lloyd (67) – Another perfect segway. There is no player in the AFL more pathetic than Jake Lloyd. If he can't junk 30 points in the final 5 minutes he's going to have a stinker. He has scored over 90 just twice this season. He's actually averaging less contested possessions this year than his whole career. How many is that? His career average for contested possessions is 5.4 per game. HAHA. Fun fact – Darren Glass averaged more since those stats were recorded. Incredibly soft.
Cripps (82) – Patrick Cripps has all the potential in the world, but can't put it together consistently enough to become an uber premium midfielder. YET. His average will remain around 100-105 this season but mark my words, one season he's going to go bang. You'll just have to wear these scores for now.
Crowden (26) – Twenty-six points? Richmond are restricting teams and it's ruining anybody who plays them, especially rookies. Mitch Crowden will be lucky to hold his spot after this effort, and Ratugolea is waving goodbye. I've lost this one. What a sh*thouse effort that was.
Duman (26) – Taylin Duman is a chance to start losing cash at this rate. Picking a rookie like this just kills your cash flow, I think Michael Johnson might be back in his place next week.
Ryan (47) – I traded Luke Ryan for Hibberd two weeks ago so this score is music to my ears. Those that took him as a POD in Fantasy, I respect your balls. However you deserve every point of this score for being that stupid. Don't worry I've been there.
Blakely (59) – Bringing in a defensive premium is like playing Russian roulette. Nearly. Close enough. I'm still backing Blakely to be good this year so hold strong, but this effort was f**ked up. Shocking.
Billings (66) – Let's just take this moment to remember the fact that we paid $666,000 for Billings services at the start of the season. Perhaps that number should have been a warning. The little child was weak as always again on Sunday, dropping a chest mark running with the flight just moments before Jimmy Webster put his body on the line to save a goal. There's not much more I can say about Jack Billings, he's just a bit sh*t. Even so, he's priced at an average of under 80 and I think he will hit a patch of form EVENTUALLY. Sadly he might be dropped to the VFL before that happens. Awful.
Savage (65) – The Shane Savage rollercoaster is one I'd gladly get off now. However I'm stuck on the ride. He's averaging 85 so I guess this pick has been OK so far, but ideally he should have gone after that 50. He's carrying a three round average of 69 and is about to drop below his starting price. Stepping stone fail.
Petracca (62) – I'm all about holding your premiums and even midpricers to make sure you're always improving your team. However Petracca had to go. I think you just have to hold and hope now, especially with two kind fixtures ahead for the Dees. It's now or never for the Tractor.
Pendlebury (72) – The ever reliable Pendles has become reliable for something else over the past couple of years. He missed 6 games in 2017 and has now suffered an ankle injury. By all reports it may not be too severe but it still hurts. He's the wrong side of 30, how time flies… Massive blow.
Adams (48) – What has happened to the top 8 midfielders from 2017?! Kelly is nowhere to be seen, Danger can't be bothered, Dusty can't be bothered, Zorko turned into a potato, Merrett has been all over the shop. Mitch Duncan injured his hammy and Gibbs has gone quiet. Taylor Adams is now the worst of the lot, returning from injury with a whopping 48 points! He'll be under $600k before you know it as well. Thank god for Tom Mitchell.
Here are this weeks nominations!
N.Fyfe – After watching Dusty go up against Fyfe last weekend, it's hard to see why Dusty is still a brownlow favourite. Richmond may have been the dominant team, but Fyfe was again the dominant player on the ground. He's now a Fantasy machine!
J.Sicily – 23 kicks, 14 marks, 3 votes. It was a game changing decision to trade or hold and those who did stay strong will be giving him their vote and potentially their first born.
J.Macrae – 40 disposals, 26 contested and 12 clearances. Macrae continues to make a mockery of opposition teams and is now even in Brownlow contention. I'm sure his owners are making themselves loud!
T.McLean – Gold Coast bleed points, and McLean cashed in with 33 disposals (8 clearances) and a whopping 13 tackles! He had 18% less TOG than Macrae, if only he had that kind of tank. My POD from Round 1 and my vote in the stubby this week. It was a tough one.
D.Zorko – I had to do it. I just had to! If you're going to respond, at least do it with a one-hundred and seventy-six. 34 disposals, 7 marks, 10 tackles and 4 goals. When he's good, he is bloody good. While nobody actively playing should have owned him in Fantasy, some clever draft coaches may have made the move of the season. Make yourselves known.
Loading ...
This Game Sh*ts Me
I had a wash-up drafted last week and I'll just say this… Nick Coffield can thank his lucky stars that I didn't get a chance to finish the article. He'll be lucky to play 21 games if he produces that tripe again. It only takes one moron to ruin your week. ONE. Surely you can show a little bit of ticker and get to 50. 40 even. This week it was Mitch Crowden failing to make it to 30. Forget any leniency given to rookies, that kind of score ruins your week. Tim English has averaged 37 over the past two weeks. Nick Shipley bettered all before him with just SIX points. Not disposals, not tackles, points. His first disposal was recorded midway through the final quarter. At least he went at 100% I guess… Utterly disgusting.
It's a timely reminder that even the rookies we feel are a safe 60 can still have an off week. A very off week. And we're not even close to getting them all off our ground. Some of us haven't even started… This game sh*ts me.a
The Other Bits and Pieces
Following a 2120 last week, I've backed up with 2102, moving my ranking up to around 2500. Every week I will be counting the points lost having Menegola over Gray, that was a shameful coaching decision and questions have (rightly) been asked by the board. That being said, my squad is looking pretty damn solid. So much so that I'm finally brave enough to show it. Sure there's a gaping hole that spells Rory Laird but otherwise I think I'm well placed.
This week's dilemma – Zorko for Banfield or Simpson for Finlayson. Dayne Zorko is going to be the big talking point. He has averaged 114 and 106 in the past two seasons. Sure he'll have some shockers, but he's currently priced at an average of just over 80. EIGHTY. For comparison, he's priced the same as Jack Redden… Even an average of 100 from here on will be a success. Having said that, he's just as likely to score back-to-back 40's and ruin your season. Hibberd is another big name that's at a crossroads. We backed in Merrett, perhaps we need to do the same here. Interesting times…
Good luck for Round 8!