The Weekend Wash-Up: ANZAC Round 5
It has been a long week and Matt has plenty of GOLD for us!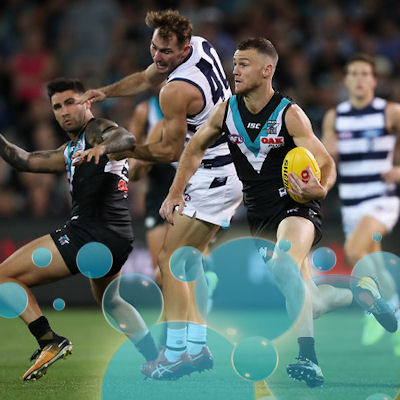 That was a long weekend of football in more ways than one. When things are going well there's nothing better than a Round spanning over 6 days with more footy than you can handle. Sadly for most fantasy coaches things are not going well. Quite the opposite. Our pig has become too damaging for his own good, many similar candidates put their hands up for another -3 and then there's idiots like Sic Dawg. I'm guessing our benches would have looked better than our grounds and that says it all. Enough talking, it's time for the weekend wash-up!
Legends
Heeney (115) – It seems as though we haven't seen the best of Heeney this season, yet he's comfortably sitting amongst the top 6 forwards with an average of 97. He's not getting the extra midfield time we may have hoped for but his scores justify the selection regardless. Gun.
Doedee (102) – Wow. While Doedee had been consistent, I was comfortable sitting him on my bench for 60's. 25 disposals and 11 marks against the Swans has me rethinking. He's clearly growing in confidence and is now a crucial cog in Adelaide's system. Don't kick yourself for benching him, his scores had been diminishing. Now we've got a decision to make. I guarantee we'll get it wrong every week!
Deledio (136) – Lids had been quietly building until he burst onto our radars with a dominant display against the Saints. He had 28 disposals against the Dockers and backed up with 29 this weekend including 8 marks, 6 tackles and 2 snags. It's a seriously risky pick, however he's great value this week. Owned by under 1% and well underpriced, Deledio may be a risk worth taking.
Coniglio (112) – Death, taxes and Coniglio tons. He's unlikely to receive a tag in such a star studded GWS midfield and should therefore continue to rack up huge numbers all year. A brilliant pick and now a safe captaincy alternative!
Curnow (132) – It's time to get real with each other. Ed Curnow is a legitimate option. This hasn't come totally out of the blue, he averaged 101 back in 2016. However he's currently in uber premium form. He's averaging 116.7. He has played over 90% game time the past 3 weeks. He averages 9 tackles per game in the last month. There's absolutely no chance he's going to be tagged. This is real.
Cripps (138) – Cripps has had to fight through tags all year so it was a surprise to see West Coast let him run free. This is the kind of damage he can inflict when allowed to do so. He laid 11 tackles to go with his 34 disposals and 8 clearances. The man is a beast, however taggers will reduce his ceiling. Still been a great pick!
Simpson (131) – I hope you listened last week, I could not have been clearer. Never trade out your premiums. I'm not sure the Eagles bother too much about their opposition. Allowing Kade Simpson to have 30 kicks seems like suicide. They got away with it but Simmo showed exactly why teams usually try to put a clamp on his uncontested ball. He will go big if you don't. As I said, his scores will balance out!
Gray (126) – Robbie Gray is showing exactly why he was an All Australian two years ago and he's just about in Brownlow medal form. Why he became a permanent forward I will never know, he's just too good in the middle. The damn bye is preventing me from getting him but he's back for sure. Looking like the number one forward. If only he hadn't been suspended…
Westhoff (118) – The HOFF continues to dominate. He was up against Rhys Stanley in the ruck and managed to get 26 hitouts himself on top of 23 disposals and 6 marks. Being a top 6 forward is not out of the question.
Hartlett (101) – Hamish Hartlett has been referred to as heartless in the past, but the same cannot be said now. He literally had his face caved in by Dangerfield and looked to be out of it, blood pouring everywhere. After a scoreless 2nd quarter, he came out in the second half and dominated with 70 points. That's gutsy. Legend!
Fyfe (136) – A fully fit Nathan Fyfe is a force to be reckoned with. He was under priced and everyone knew it. So why is it that a lot of 'experienced' Fantasy managers opted to get clever? I've heard that he's not a great Fantasy player, what does that even mean? The great Fantasy players seem easily taggable! He had 43 disposals and looks to be completely unstoppable. He was allowed to run free and won't be given that luxury every week, but he's back in Brownlow medal form and a must for your Fantasy side.
English (107) – This is the conundrum of the season. Do you sacrifice a playing rookie on your bench to get Tim English on your ground? You're gaining huge points on those forward rookies, but sacrificing cash generation. You could have easily started with just one premium and played English on your ground, but with Gawn, Grundy and Martin dominating we can't exactly complain. It seems silly but I'm happy to keep him on my bench and take the extra $300-400k. What a gun!
McLean (109) – It's nice when a risky differential pays off, and Toby McLean is looking the real deal. He has averaged 103 since Round 1 and will be pushing the top 6 forwards come the end of the season. Great pick.
Blakely (107) – With DPP announcements on the way (At the time of writing) I have to presume that Blakely will gain defender status. He's currently just over $600k and we all know what he's capable of. He's owned by 0.5% of coaches. Consider.
Witherden (123) – Witho is hitting his straps and shouldn't be ruled out as an option. He now carries a three round average of 100 and is priced well under his scoring capability. We know he loves his Fantasy and knows how to score well. It's just a shame he plays for Brisbane.
Gawn (143) – There's no doubt in my mind that we're witnessing the greatest season by a (pure) ruckman in Fantasy history. It's early days I know but Gawn is proving unstoppable, only Stefan Martin has kept him under 110. He's now averaging 120. Ridiculous numbers. Why he isn't owned by 100% of coaches I will never know. LEGEND!
Goddard (129) – It seems strange to be calling someone a legend after they don't have a great game, but from a Fantasy sense Goddard is very relevant. He should gain defender DPP today and that puts him in the frame to be a top 6 defender. You'd be brave to bring him in but I've heard of worse ideas. Essendon play a lot of junk footy, just ask Hurley owners. Why Brendan thinks he's gods gift to Earth and has the right to blast every single one of his teammates, I have no idea.
Treloar (122) – There's a bit of egg on a lot of faces. Trelly is back to his best and was well deserving on his ANZAC day medal. That's now 135 and 122 from his last two outings and another example of why you NEVER trade your premiums. Underpriced.
Merrett (109) – This is a little bitter sweet but he needs a mention. At quarter time I was up and about, ZACH IS BACK! Then during the second quarter I started to realise what his owners have been going through this season. The most important note is that he looks to be running well, 33 disposals suggests as much. Let's hope the tags stay away!
Losers
Jacobs (72) – Those who started with Sam Jacobs will be kicking themselves. Gawn, Stef, Grundy, English, even Naitanui have been successful picks. Sure he's averaging 91 but his 12% ownership won't be happy.
Gibbs (65) – So Bryce Gibbs isn't completely bulletproof. There will be plenty who captained him against the Swans and all I can say is thank god Mitchell was shut down. It's amazing how things can change in just one week. He's still averaging 112 but suddenly has a huge breakeven and is under massive pressure next week. With no Sloane or Crouches to help out Gibbs was left one out. Then again, he has been dealing with that for years… Hopefully they return to help out next week.
Franklin (55) – Are we really blaming Optus for Buddy's injury that he has apparently been carrying for a month? Regardless here's another example of a quick turnaround. Last week Buddy was averaging 111 and looking a must, suddenly he's averaging under 100 and missing next week. Fantasy is a cruel bloody game.
Savage (50) – I guess I should have expected this eventually. I've seen enough psoitives from Savage to stand by him, but this score hurt. How hard is it to at least get to 70? SIXTY?! Doedee more than doubled his score, and suddenly all the good work is undone. Horrendous.
Greene (52) – It's going to be a rollercoaster year if you own Toby Greene, but you should have expected nothing less. You deserve nothing more. Crazy pick.
Whitfield (67) – Shitfield now averages 87 with a three round average of 66. In the future there will always be a 10 foot pole between my team and an uncontested player. Unless of course they're not damaging, so Jake Lloyd stays for now.
Hurn (62) – This is more of what I would expect. Shannon Hurn simply isn't a premium defender. He was a great cash grab but the next couple of weeks is the time to cash in. I feel no pity if you got him in recently.
Thomas (41) – I know what you're thinking, what Thomas is there in Fantasy. Josh Thomas? Daisy?! Truth is he's not relevant at all aside from being a little crab. Lindsay Thomas came in for one week and he'll be back out for three more. Hopefully he doesn't return. Terrible footballer and terrible bloke.
Wingard (47) – This is genuinely f**king tragic Chad. He's average 63.8. No typo. This return was from 90% TOG if you're thinking that's an excuse. I don't care if you're playing in the back pocket that is an embarrassing return. He has totally lost the ability to play football. Why can't we see both Gray and Wingard in the middle? Perhaps these scores are the answer. Drop him for god sake. Awful.
Tuohy (63) – When he's on fire I sit there and wonder why I don't pick players like Tuohy. More often than not, I check the scores on a Sunday night and suddenly realise why I don't pick players like Tuohy. Next.
Dunkley (41) – Reality just gave Dunkley owners a body check. He's playing the role of a mid sized forward, and admittedly he had been playing it really well. However he's not the answer to all your problems. He goes this week if possible, take the money and run.
Burton (40) – Can we get this man a lotto ticket? Just how Ryan Burton has escaped suspension leaves me totally and utterly bewildered. I don't want to carry on but seriously, he could have tackled, he SHOULD have tackled… His poor decision left Higgins in hospital and not just to be with his newborn daughter. Get out of the stone ages, if you choose to bump when there's an alternative you are liable for the damage done. This has really pissed me off. Back to the Fantasy and Burton still sucks. So it's irrelevant regardless.
O'Meara (63) – Shaking my god damn head. O'Meara treats me with all his glorious potential, then serves up this utter rubbish. 70's and 80's are OK. 60's are NOT. It's averaging out alright but jesus I cannot wait to move O'Meara on. Infuriating.
Lyons (78) – This sucks. On behalf of all Fantasy coaches, can taggers just f**k off please? Jarryd Lyons looked a brilliant pick, now he looks the first port of call for any opposition tagger. He'll still be good in the long run, but there will be some rough bumps on the way.
Zorko (55) – What is Zorko this season? The dude has no shame. He had 10 disposals, 8 tackles and 6 frees against. What kind of game is that?! Where are the Zorko owners at? Fear you may have lost a mate thanks to Zork? Just call 1800 GET A WIN and we'll see if we can sort them out.
Christensen (55) – Aaaaand it's back to Earth with a thud for me and Bundy. I'd love to scrap him this week but if Fritsch and Guthrie remain out my hands are tied. He's done his job, now it's time to upgrade!
D.Martin (73) – I didn't get to see this game, but I find this score hard to believe. The worst part is that Dusty had 26 disposals, 10 clearances and might still poll votes. Two weeks ago I honestly would have put Dusty as my number one trade target in midfield. An absolute bargain is on the way and his non-owners must be licking their lips. I know I am. He's going to bounce back, but it doesn't make this score any less sh*t. Some even captained him. Sometimes this game just sucks.
Petracca (69) – And sometimes certain players just suck. Christian Petracca is one of them. He's a very good footballer, but he's not great at Fantasy. Bad in fact. Very bad. Awful even. I've seen Glenn McGrath look more likely to get a ton. As soon as I get a chance for a fix up trade, he's out.
Hibberd (63) – Hibbo was BACK! For about 20 minutes… Sure he got a head knock but that's no excuse for ANOTHER SIXTY. I'll be going bargain hunting at some stage because there's no way Hibberd stays this sh*t. For his owners however, this is just another foot dug in the grave. Look after your mates who own Hibberd, they're in a fragile place.
Brayshaw (53) – I'd suggest some coaches have been spared disaster by the Melbourne coaching staff who dropped Brayshaw ahead of Round 1. At this rate his brother Andrew might even outscore him, and he's not exactly setting the world on fire. Midpriced mayhem *GONE WRONG*
McGrath (48) – Midpriced mayhem *GONE WRONG* PART 2. I can name 4 defender rookies who are comfortably better options than Andy McGrath at the moment. Hopefully nobody here is holding on in hope… Because there's no logic involved.
Sidebottom (77) – Taggers piss off. Sidey is in career best form, and from a Fantasy perspective you'd have to say his form is too good. It didn't exactly work out for the Bombers so let's hope sides continue to allow Sidey freedom. I somewhat doubt it.
Sicily (Irrelevant) – What a c**t. What a massive… I'll stop there. I'm still holding him and quite frankly, Doedee has earned his spot coming off the bench and Sicily is going to have to earn it back. HOW CAN YOU BE SO BRAIN DEAD. Does he have a brain? Can we get an IQ test please? Unbelievable.
Sydney Midfielders – Lastly it is with regret that I announce the passing of Sydney's midfield. They have been a staple on the Fantasy scene for years, but their tragic deaths will make room for a new batch of talent. There's none left here, with Parker (73), Hannebery (54), Kennedy (66) and Jack (39) quite frankly embarrassing themselves against a midfield held up by Ellis-Yolmen, Greenwood and Richard Douglas.
It's time for the Stubby nominations and I get the sneaky feeling there might be a clear winner…
Curnow – I was shocked when I noticed Ed Curnow was owned by over 8000 coaches. I must have missed something. That's double the ownership of Jack Macrae! Make yourselves heard!
Gray – Robbie Gray is in Brownlow form with another 32 disposals, 7 tackles and 10 clearances. Doing it all, plus he's a forward!
Gawn – Everybody at DTTALK owns him… Right? Now averaging 120 and simply unstoppable, winning 56 hitouts against the respectable Nankervis. Hot favourite.
Fyfe – 43 disposals, 23 contested, 13 clearances, 7 marks… Fyfe puts up some insane numbers. I thought we'd see this from him last year, it seems 2018 is the return of the Knyfe!
Cripps – You have to love how Patrick Cripps goes about his footy. If you could summarise him in one play, it was when he took an elbow to the nose and just carried on running with the ball and launching inside 50. He was taken off with blood streaming from his face seconds later. Gun.
Who gets your vote?
Loading ...
This Game Sh*ts Me
I haven't had to discuss our old mate captain hindsight as my team really hasn't had any scope for improvement this season. Round 5 was a killer. I wouldn't be surprised if a lot of us had at least one ton on the bench, if not TWO. I was in that boat. I could have easily increased my score by 154 points with very realistic alternatives. Not only are the rookie decisions costly, they're often outperforming our so called 'underpriced' players. Doedee pumps out a ton while Savage crawls to 50. Tim English continues to dominate while Christian Petracca can't even remember his last 100. Hell even Andy Brayshaw outperformed every single rookie midfielder I picked.
Not only did many of us butcher our rookies, the captaincy choice was crucial. I stood by and will always stand by the pig. However he is proving taggable and I don't like it one bit. Fyfe at home to the Doggies was just as safe a 110 as Mitchell should have been, with the potential ceiling to boot. Max Gawn is crushing everyone in his path. Sometimes this game takes guts! And a lot of guesswork. Sadly I can't seem to get either right. This game sh*ts me.
The Other Bits and Pieces
2005. I just made it! It's another average score, but I'm slowly creeping up the rankings, now at 5000. I've come too far to go away from playing the long game, so it's another double downgrade. Guelfi and Mirra need to come in, it's a shame I couldn't get them in last week. Cunico may come back to haunt me, we'll see.  Sicily holds with such fantastic defensive cover. That leaves me with $280k for either one big upgrade next week, or a couple of fix up trades. With Petracca, O'Meara, Sicily and Christensen all on notice a double upgrade may be on the cards. It's just nice to be injury free!
It's a quick turnaround so get those rage trades out of the system quickly! We go again in 48 hours… Until then. Good luck!
p.s Anyone going to the DTALK in Perth tomorrow, I will see you there legends!
Perth – Thursday 26 April, 2018
Paddington Alehouse
141 Scarborough Beach Rd, Mt Hawthorn, WA
Click to buy tickets
Click here to purchase tickets to the Perth show
Click here to RSVP on Facebook