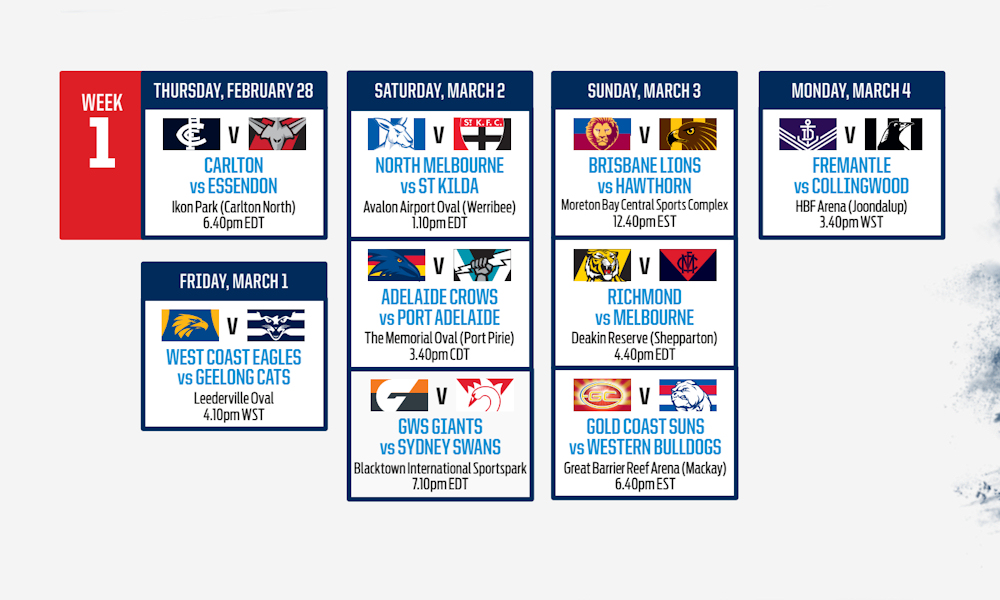 The DT Talk team updates each game of the weekend with our notes from them.
Carlton v Essendon – Ikon Park
Thursday 28 February – by Warnie
Click here for DT Live's scores/stats.
Firstly, it still sucks when your team loses to Carlton even in February.
There were a few players that are on the radar for Fantasy coaches from the Blues. The biggest one being No. 1 pick in last year's draft, Sam Walsh (MID, $270,000). We all knew he would be quality, but he was one of the best in his first 'real' game for Carlton. Walsh cracked the ton thanks to 28 disposals, five marks and four tackles as he played through the midfield and was pretty much everywhere. If you don't like paying the inflated priced for the top draft picks, change that strategy. Join the 41.3% of coaches who have him in their squads and lock him in.
Traded to the club last October, it's not hard to see why Will Setterfield (MID/FWD, $251,000) was a top 5 pick in his draft year and is the third most selected player in Fantasy Classic. Every chance to average 80+ like Walsh. Lock.
Fellow new Blue Nic Newman (DEF, $552,000) was all of the buzz when he was traded to Carlton. He's got a Fantasy game and his 97 points came from an impressive eight marks as he owned that defensive 50. He took a couple of the kick-ins – of which Freako tells us that 15 of the 17 were taken from outside of the square during the game and it seems that it was just a simple thing to do – but it won't be those that will see his points flow.
Patrick Cripps (MID, $793,000) looked bigger and stronger than everyone out there top scoring for the night with 115 (33 disposals, 2 goals). He's not currently in my side, but there's plenty of reasons that we could see him improve on his 109 average from last season.
Three goals to Michael Gibbons (MID, $170,000) – including two with his first two kicks within a couple of minutes of each other in the first term – helped him to a solid 60 points. We've talked up his VFL numbers that saw him average 110 last year for Williamstown, but he looks to be playing as a small forward. At 175cm, this is likely to be the role that he will play as a replacement for the retired Matthew Wright.
Some other takeaways from the Blues:
Kade Simpson didn't really look like getting out of second gear… the Nic Newman factor could be a reason for his 14 disposal and 55 point return despite playing 87% game time.
Roy is keen on Sam Petrevski-Seton. You couldn't do it in Classic, but third year and a midfield role should see him bumped up your Draft order.
Zac Fisher could be another Draft bolter. Bringing his AFLX form into the pre-season games, he enjoyed a game where he was able to run around in the guts collecting 26 touches and 96 points.
Ed Curnow as a forward isn't cool. Send him deep in your Draft rankings.
The midfield role that we were told about by Andrew McGrath (DEF, $518,000) last year, came 12 months later… well for tonight anyway. While he has spent a bit of time on the wing in the past, he was a bit more inside. Despite being a bit sloppy with his disposal (not that it matters in Fantasy), two goals in the last quarter boosted his score to 104.
Zach Merrett (MID, $736,000) shouldn't be crossed off any lists as yet. He played the first half, but looked a but slow and half a step behind the pace of the game – which was pretty quick early on which I put down to the new rules. Merrett has missed the last three weeks with an ankle (aka Tom Browne's ACL prognosis) and I'll let him off for this one. Dyson Heppell (MID, $738,000) also just played in the first half scoring 56 from 39% TOG as he went head-to-head with Walsh off the wing. Devon Smith (MID/FWD, $774,000) played in the second half with his bicep strapped.
Zac Clarke (RUC, $270,000) dominated the ruck to finish on 104 as well. The former Docker was playing without Bellchambers and McKernan only came into the game in the second half. Coupled with playing against Phillips and Lobbe (Kruezer out), he looked like a world beater. The Dons could go with a two-pronged ruck line up, but don't expect him to have 37 hitouts each week.
Other takeaways from the Dons:
Prized recruit Dylan Shiel is all class. He scored 58 from 51% TOG before icing his knee in the last.
Darcy Parish was on my watchlist – especially for Draft – but he was like a chicken with his head cut off… scoring 31 from 70% TOG. His 1 kick, 13 handballs and 0 marks affected his scoring.
The first goal of the game was kicked by Joe Daniher. You're not going to start him, but he looked confident early on and will end up being a Draft steal for someone.
Does Jordan Ridley get a look in? If so, he's cheap considering he scored 92 playing off half-back… but very mid-priced and not really someone you'd take.
West Coast v Geelong – Leederville Oval
Friday 1 March – by Anthony
Click here for DT Live's scores/stats.
West Coast
In terms of their playing style it was business as usual for West Coast in regards to the new rules. They kept possession with their kick/mark style. Biggest difference could be the amount of space their key forwards will have. Darling had a day out but we can only imagine how Josh Kennedy will benefit 1 on 1 in the goal square.
Francis Watson (DEF $170,000) showed why all us West Coast supporters have been keen to see him in the 22. Has speed and poise out of defence to set up options but also his tackling and second efforts are all brilliant to watch. Unfortunately he's fighting for a spot back there with Liam Duggan, Brad Sheppard, Lewis Jetta and Tom Cole. Did his chances no harm today however with 17 disposals at 75% efficiency and a team high 10 tackles for 95 points!
Jake Petruccelle (FWD $170,000) is another exciting youngster from West Coast and has been name dropped as first in line to replace LeCras. Unfortunately I'm still not convinced he's a strong fantasy option. Can still get lost in general play, isn't a high possession getter and doesn't tackle enough to supplement his score. Until any of those factors change there are better fantasy options out there. Finished today on 39 points.
Nathan Vardy (RUC/FWD $435,000) and Tom Hickey (RUC $547,000) split the ruck duties 50/50. Finishing with 54 and 53 points each, unless Vardy has more of an impact forward I wouldn't be choosing either in any format while they're playing together.
Elliot Yeo (MID $775,000) just carried on from where he left off last year. Played in the middle, matching up on Dangerfield when he was in there and then running free otherwise to finish on 99 points.
Luke Shuey (MID $634,000) On limited minutes to due an injury interrupted preseason but certainly made the most of his 39% Time on Ground. 17 disposals for 56 points says the Norm Smith medalist hasn't lost any of his appetite for the contest.
Keep in mind Shuey is priced at 87.3 this year after averaging 98 in both 2017 and 2016.
Oscar Allen (DEF $170,000) Played a great game as a tall forward option against an undersized Geelong defence. Finished with 3 goals in his 68 fantasy points but looks like he'll be too reliant on goals to be a good cashcow option when playing forward.
Dom Sheed (MID $539,000) Finished on 136 from a game high 39 disposals after going into another gear in the 2nd half. Unfortunately this correlates too well with when Shuey went off the ground. Keep in mind it took Gaff getting suspended last year for Sheed to pick up his scores then too. Sheed may still need to have one of the main mids missing to be able to score well but at his price it's worth keeping an eye on still.
Geelong
Geelong brought a young side over and really looked intent on giving their younger mids experience around the ball. With their usual big dog midfielders on limited game time or rotating through different positions to facilitate this, along with the late withdrawal to Tom Hawkins and early injury to Harry Taylor, this saw Geelong lining up in a vastly different way than you'd expect during the home and away season, so take their scores with a big JLT sized pinch of salt.
Brandan Parfitt (FWD $550,000) He benefit most from Geelong's lack of key forwards and midfield rotations with 3 goals and 21 disposals. Finished with 92 points and looked dangerous all day. Would need to see how he plays next week assuming Geelong play their full strength midfield to pick him with any confidence.
Sam Menegola (MID/FWD $716,000) If he was already in your team then keep him there, if he wasn't then maybe consider him again. Played limited minutes as he's coming back from a knee injury but was in absolutely everything once he got on the ground. Played predominately through the middle to finish with a massive 85 points from only 50% Time on Ground!
Luke Dahlhaus (MID/FWD $570,000) Not the greatest first outing in Cats colours. Looked off the pace and was caught with the ball or fumbled during his first few disposals then capped off his day by catching Rohan's elbow with his face. Spent the game floating across the half forward line looking lost and angry.
Darcy Fort (RUC $170,000) Split ruck duties with Stanley but nowhere near enough if you were hoping to use him as a temporary stepping stone till Mumford is back. Only took 1/4 of the hitouts and rested on the bench instead of forward to finish the game with 39 points.
Tim Kelly (MID/FWD $630,000) Possibly a victim of the Cats youth policy for their midfield today. Kelly was pushed to the forward flank with short bursts through the centre square. Looked lively when he was around the contest but wasn't near it enough. Finished the game with only 13 disposals for 53 points.
Charlie Constable (MID $170,000) Looked good across half back and through the middle. Solid body, good in traffic and has great game sense. 26 disposals from 71% Time on Ground for 90 points. Definitely pushed his case for selection but will he get a look into the midfield with a full strength Cats line up?
Jordan Clark (DEF $242,000) Easily the most impressive potential cash cow of the day. Spent the game in the backline and didn't look out of place at this level for a second. Loves to take the game on running out of defence and kicking which showed with a team high 9 rebound 50's. Finished the game on 78 points and has me scrambling to find the extra cash to get him into my backline.
Gryan Miers (FWD $170,000) Another young Cat who was given every opportunity to impress today. Floated across half forward and made the most of his opportunities looking very composed with ball in hand. Could be another handy cashcow option if he can score regular game time. Finished with 73 points.
Tom Atkins (MID $170,000) Mature age and recruited to bring tackling pressure around the ball, certainly did that leading the way for his side with a team high 7 tackles. Also boasted a disposal efficiency of 92% for his 14 touches. Looked great but may need to lift his disposal output a little more to be knocking on the door for selection. Finished on 61 points.
Mitch Duncan (MID $739,000) Found himself working across half back with the Cats midfield youth policy in full effect. Made the most of his time back there however getting himself involved anytime the Cats would try chipping it around, finished the game with 29 disposals for 111 points.
Patrick Dangerfield (MID/FWD $771,000) Split his time between forward and midfield. Whether this was due to the Cats midfield youth policy for today or Tom Hawkins late withdrawal leaving the Cats short up forward  or a mixture of both, Danger still got plenty of footy and could have had a better score if he'd been able to kick straight. Still, 108 points from 85% game time is a great return.
North Melbourne v St Kilda – Werribee
Saturday 2 March – by Sparksy
Click here for DT Live's scores/stats.
It was almost 40 degrees at the Avalon Airport Oval, and I reckon about 17 people braved the heat to watch this pre-season match against two teams that probably won't do much in the regular season. There was a mild amount of Fantasy relevance however, with quite a few rookies playing and a couple of mid-pricers we're looking at.
North Melbourne:
Leading all scorers was semi-irrelevant Defender Jamie Macmillan (DEF $530,000). Macmillan had 145 points from 88% Time on Ground (TOG) and swept across half-back, pushing up onto the wing. He had 40 disposals and 11 marks, which is more than serviceable. Macmillan seems to have a few of these games every year, but don't be fooled in classic, I'd say he's definitely only Draft relevant.
The main player that impressed me from the Roos is new recruit Jared Polec (MID $669,000). Polec had 108 from 78% TOG and basically had his own wing for the majority of the game. Saints tried a tactic where the wing nearest the interchange would come off after a goal and the new player would run straight from the interchange into Defence. This freed Polec up in the middle, and he definitely made the most of it after being mildly confused to start the game. He had 27 disposals and 9 marks, but I doubt he gets this much freedom every week.
Todd Goldstein (RUC $678,000) was good. Didn't have much competition but managed 100 from just 62% TOG. Wouldn't read into it too much.
Dom Tyson (MID $556,000) impressed me a heap! After considering him early in the pre-season and then disregarding him almost completely, the new Roo really put on a show, managing 105 points from just 66% TOG, with 26 disposals and 7 tackles. I'd be at least considering Tyson, especially in draft format. He's definitely under-priced, but I'm not sure he can do it this easily every week, especially considering that 18 of his disposals were uncontested.
Marley Williams (DEF $389,000) managed 102 from 84% TOG. He had 29 disposals and 7 marks, but with 23 of his disposals being uncontested I'm very hesitant to even consider him as an option. Maybe watch JLT2 and see what he can do. Great value if he can manage to do this every week or two.
Veterans Jack Ziebell (FWD $601,000) and Shaun Higgins (MID $681,000) both never left second gear with 57 (58% TOG) and 81 (55% TOG) respectively. I don't think either will go much better than they did last year, so you get what you pay for.
Other new recruits Jasper Pittard (DEF $515,000) and Aaron Hall (MID $626,000) were a mixed bag. Pittard managed 79 from 75% TOG with a similar role to what he had at Port. Hall injured himself in the first quarter, came back in the second quarter, then sat the rest of the game. He scraped 21 points from his 20% TOG.
Backup ruckman Tom Campbell (RUC $404,000) was actually surprisingly serviceable with 70 points from just 38% TOG. I wouldn't be fooled as he had next to no competition and I doubt he will get a game, but an interesting score considering the R2 troubles everybody is having.
The five North rookies I kept an eye on were Bailey Scott (MID $174,000), Luke Davies-Uniacke (MID $266,000), Nick Larkey (FWD $170,000), Ben McKay (DEF $193,000), and Tarryn Thomas (MID $256,000). LDU was the standout of the lot and looks like he's learnt from a supremely average first year. He had 81 points from 60% TOG and actually looked quite slick. I'd be mildly worried with his ability to run out a game, but still worth a look. Bailey Scott was another one who struggled to run out a game. He started like a house on fire but slowed right down, finishing with 62 points from 70% TOG. Larkey was less than impressive, although his score doesn't show it. He had 11 possessions and 7 marks, but 9 of those possessions were uncontested and I don't expect him to be this unchecked if he gets a regular season game. He had 63 points from 66% TOG. Early draft pick Tarryn Thomas was very hit and miss. Did some good things, but had only 44 points from 59% TOG and definitely not worth the price-tag.Lastly, Ben McKay was okay with 55 points from 87% TOG. With Scotty Thompson out Round 1 and Robbie Tarrant injured he may get an early game, but scoring and long-term job security will be an issue.
A few important things to note from North's side. Firstly, a lot of these scores will be distorted due to the amount of uncontested possessions North were allowed. I don't think this will happen every week in the pressure of the regular season, so I'd be inclined to take some of these, especially the Defender's scores, with a grain of salt. Also, North didn't seem to have a set player taking the kick outs and seemed to kick short from inside the square whenever they could.
St Kilda:
They had a few less Fantasy relevant players than North, but I'd argue the results were much better! Leading the team was popular under-priced option Jack Steele (MID $685,000) with 101 points from 79% TOG. Steele played in the middle and had a bit of every stat, with 18 disposals, 5 marks, 7 tackles, and 2 goals. He's 100% capable of getting more of the pill than he did today, so it's a good sign for the young Saint and all the coaches that own him.
Dylan Roberton (DEF $537,000) is an interesting Defender who has attracted a lot of interest from some Coaches. I haven't been convinced even slightly by him and at half time I had him almost completely written off as he had something like 17 points from 58% of game time at that point. He ended up proving me completely wrong however, managing 87 points from 81% TOG in the end. I still think there are better options but seems like he could be at least worth the price-tag. Other mid-priced Defender Shane Savage (DEF $593,000) was also solid with 86 from 82% TOG and it seemed to me like both of these players were responsible for St Kilda's kick outs.
Regular contributor Seb Ross (MID $779,000) stayed in the low gears as well. He had 23 possessions and 5 clearances for 78 points (76% TOG). Expect the same as last year I'd say.
Jack Billings (FWD $618,000) did enough to stay in my Classic side at the moment. He played almost all midfield and had 20 disposals and 4 tackles, even sneaking forward for 2 goals, giving him 86 points from 79% TOG. It looks like Billings will have that midfield role he was meant to have last year, now he just needs to capitalise on it.
Some people were looking at Lewis Pierce (RUC $319,000) as an R2 option to get some game time without Longer playing. Pierce got concussed less than 10 minutes into the game and never came back on. He did have 10 points from 11% TOG though, so take from that what you will.
The rookie options from the Saints were reasonably disappointing. The best of the lot was Matthew Parker (FWD $178,000) for sure. Parker had only 7 disposals and 2 goals, but it was the 7 tackles that impressed me, and hopefully impressed the selection committee. I'd say he's done enough to cement a spot in Round 1, but he did only score 56 (81% TOG) so don't expect much from him. Nick Hind (MID $170,000) was alright. He only played pretty much half the game (58% TOG) and I barely noticed him, but he managed a few Rebound 50's and got his way to 31 Fantasy points, so could be a potential option. Should gain defensive DPP if he plays the role he did today. Lastly, Callum Wilkie (RUC $170,000) was just outright poor. He rucked the second and third quarters and was just completely outclassed with 16 points off 46% TOG. He might actually get a game too, but I don't see him scoring enough to be worth it.
That's it for the North vs Saints game! I'll see you all tomorrow for Hawks vs Lions!
Adelaide v Port Adelaide – Port Pirie
Saturday 2 March – by Ricontop
Click here for DT Live's scores/stats.
The game was played in Port Pirie with temperatures hitting as high as 40 degrees. It was AFL at a high and exciting pace, very different from what we saw for most of the 2018 season. It will be interesting to see if this becomes the norm in 2019.
Adelaide:
I have a feeling that coaches will struggle with their R2 selection. I must admit I'm one of those coaches that feel the pain.  If you have Speakano English in your R2 then welcome to the club. Sam Jabobs (RUC, $591,000) struggled to find consistent form last year. I'm not sure he did enough in this game for me to select him as R2. He shared the ruck duties with Reilly O'Brien but I can't see this happening for the season proper. He only played 48% of total game time (TOG) for  34 fantasy points.  I think we can keep Jacobs on our watchlist, but he remains a pass for me in 2019.
If last year's form is any guide, I suggest you pay up and pick Rory Laird (DEF, $782,000).  This player can find the pill on any condition.  How will the new rules affect Lairds game style?  Well, he is Rory Laird, he was everywhere, an all and out ball magnet.  He loves his 1-2 game play to get that extra kick.  He comes at a high price, but every game I see him play, I suggest he is worth that and this game was no exception.  He finished with 114 fantasy points from 80% TOG.
Onto Matt Crouch (MID, $761,000) – he is currently selected by 11% of the fantasy coaches.  Matt Crouch shared the ball with Sloane and his brother Brad.  Just like last year, he consistently hit that tonne and he accumulated fantasy points at will. M. Crouch ended up with 104 fantasy points, 32 possessions (12 Kicks and 20 Handballs) and 7 marks from 77% TOG.  
Welcome to my team Brad Crouch (MID, $524,000). He started with 7 disposals in the first quarter and continued his good form for 4 quarters. He looks fit and is ready to go for round 1.  He is doing everything right at the moment to make fantasy coaches look for that extra 100K in the midfield.  He is in about 16% of all fantasy teams currently and I dare say after this game, that number will only go up.  He finished with 29 possessions and shared the top fantasy honours with Laird ending up with 114 fantasy point from 75% TOG. Brad Crouch is a lock!
Brodie Smith (DEF, $439,000) is one of those players that can take advantage of the new AFL rules and have an increased AFL Fantasy output in 2019. Coming off an injury from last year, he comes at a discounted price.  He is your classic 'mid-priced mayhem' player and in this game, he has put his hand up for a DEF spot selection (D3-D4).  Smith was not as prolific as Laird was in the backline, but he still managed to end up with 89 points (19 kicks and 8 Handpass) from 70% TOG. Definitely worth the look!
There will be a number of coaches that will once again flirt with picking Rory Sloane (MID, $653k).  Like Sidebottom, left untagged, Sloane can amass possession like the best of them. A tagged Sloane is a different proposal. There are no taggers in JLT games, so Sloane was allowed to run free. Sloane had 20 disposals by half time and ended with 28 by the end of the game. He scored 110 points from 67% TOG.
Port Adelaide:
This is the player I wanted to watch- Tom Rockliff (MID, $600,000). What version of the multiverse did we wake up to, to find the only playing Fantasy Pig at that price and with only 3% of overall fantasy selection?  Rocky was on the ground for only 60% (TOG).  When he was on, he looked good and was in the middle contesting centre bounces.  There are no signs of any shoulder issues which has plagued the pig for the last 2 seasons.  I don't think his overall fantasy selection will increased based on his output from this game but I'm keeping him on my watchlist! 
Bring on the Hoff (Justin Westhoff – RUC/FWD, $740,000)! We all remember what he did last year. Mr Fixit can go down back, in the ruck and up forward. With the inclusion of Lycett on the team, he didn't spend any time in the ruck, played mainly as a forward and then helped out down back late in quarters. Time will only tell but I can't see him playing any time as ruckman with both Ryder and Lycett available.  We did see Ryder go down with an injury late in the game.  I wouldn't be worried about Hoffs' fantasy points from this game (45 points from 55% TOG), but he will definitely lose points from not being asked to pinch hit as a ruckman. 
How many mid-pricers is too many? Well, Ryan Burton (DEF, $450,000) is another one of those players that can fill that spot for you.  He would be fighting against the likes of Newman, Brodie Smith and Zac Williams for that D3-D4 spot. Burton didn't impress me much on his first JLT outing for Port Adelaide, although it would be fair to say that not many of his teammates impressed any of us.  He ended up with 11 kicks and 6 handballs and 64 fantasy points (63% TOG). A pass for me.
Xavier Duursma (DEF/MID $236,000) had limited time on ground (58%) for a total of 46 fantasy points.  I don't think he did enough on this game to warrant selection from fantasy coaches. He does come with a DPP option but with that price tag, there are other young rooks that offer better value.  He played mainly in the midfield but didn't have the same impact as Butters.
Connor Rozee (DEF/FWD $262,000) played most of the game up forward for Port Adelaide.  He was on the ground playing deep forward for 76% of total game play (TOG). Rozee didn't find the pill often, he finished the match with 3 kicks, 3 handball, 4 mark and 4 tackles including 2 goals, one in the first quarter and one in the last quarter.  He managed 49 fantasy points and like Duursma, it will be hard for fantasy coaches to select him based on that performance.
Taken at pick 12 on this year's draft, Zac Butters (MID $248,000) had shoulder strapping early on the game, which didn't seem to affect him.  Butters looked impressive as a midfielder and if all reports are correct then he is a lock for a round 1 start. Butters led the Port Adelaide possession count at half time and he was the top fantasy scorer for Port ending up with 12 kicks, 13 handpass, 5 marks, 4 tackles for a total of 93 fantasy points (70% TOG). If Butters is selected for round 1, he will be a very popular pick for fantasy coaches.
GWS Giants v Sydney Swans – Blacktown
Saturday 2 March – by Tom
Click here for DT Live's scores/stats.
In what were relatively steamy conditions in Western Sydney, the Giants prevailed over their cross-town rivals in an affair which saw the home side control proceedings for the matches entirety. With no Josh Kelly or Toby Greene, it was up to the likes of Coniglio, Taranto and Whitfield to negate and overcome the established Sydney on-ball brigade, led by JPK and Parker, in what proved to be a game of high scores for a number of key individuals.
Sydney
Jake Lloyd (DEF, $738,000) Lloyd was arguably best on ground for the Swans. He played the sort of role which has seen him become a popular fixture in many defences. As the general across half-back flank, Lloyd had 4 marks to his name at quarter time and surged on from there, finishing the game with 9, accompanied by 24 disposals,  2 tackles and 99 points from 65% TOG . He's not available on the cheap, but may still be worth the price-tag judging by his start to the year. A near-on certain top six defender.
Luke Parker (MID, $694,000) Luke Parker played a typically robust game in the engine room for the bloods, amassing a standard 5 tackles in addition to 17 disposals, 3 marks, a goal and 81 points (73% TOG). With Dan Hannebery heading south of the border, Parker will need to recapture his best form if the Swans are to make it into yet another finals series under coach John Longmire.
Isaac Heeney (MID/FWD, $658,000) Isaac Heeney is a name many coaches would have either positioned in their forward lines or are considering  bringing in, after he completed his first full pre-season since joining the Sydney-siders. The blonde-haired star from Maitland was heavily involved throughout the night. After drilling his sides first of the encounter, he spent the majority of the game on-ball with short rests up forward. This could be the key to him cracking the allusive 100-point average, off the back of a slightly disappointing 2018. He put together a strong, all-round performance, finishing with 24 disposals, 5 marks, 5 tackles and 105 points (72% TOG).
Josh P. Kennedy (MID, $654,000) JPK got the cogs moving slowly, taking the first quarter to settle back into things before ramping it up closer to the final siren. Kennedy has been a fantasy star in years gone by and represents some value at $654k. He finished with 20 disposals, 3 marks, 2 tackles and 76 points (79% TOG)
Callum Mills (DEF, $522,000) Callum Mills has long been groomed for an eventual transition into the midfield, and did he chances of making that position his own no harm, collecting 83 points from 73% time on ground in what was a steady display from the high draft pick from 2015. Mills is quality at half-back, but his fantasy relevancy will surely improve if a move to the middle of the park finally eventuates.
Callum Sinclair (RUC, $673,000) The big ruckman is coming off a career-best season average of 91 points, and comfortably won his battle over Dawson Simpson at Blacktown. The former-Eagle managed 15 disposals, 5 marks, 28 hit-outs and kicked a goal for his 98 points from 80% TOG. Could he be an candidate for the tricky R2 position?
Other Swans worth noting include Harry Cunningham (MID, $544,000) who had 21 disposals and 84 points, former-Cat Jackson Thurlow (MID, $423,000) who opened his Sydney account with a 70 point showing, and Jordan Dawson (MID, $399,000) who managed 71 points.
GWS
Stephen Coniglio (MID, $801,000) If he wasn't already embedded within your midfield set-up, coaches surely would have to consider Stephen Coniglio after he put on an exceptional display in the guts of a Giants side deprived of rolls-royce Josh Kelly. Cogs was super busy early and never looked back, kicking the first goal of the contest and concluding the opening term with a healthy 59 points. He racked it up with ease in a typically industrious manner, with his hunger and tackling around the contest impressive as usual, concluding the night with 35 touches, 4 marks, 10 tackles and 147 points (82% TOG). He's expensive, but has an exceptional fantasy game and is an integral cog to the Giants seemingly annual flag aspirations.
Lachie Whitfield (DEF, $726,000) Spending most of the night in a role across the wing and half-forward flank, the classy Whitfield used his aerobic capacity to collect marks all over Blacktown International Sportspark. He clocked up 85 points (86% TOG) and should be considered, but I suspect the cheaper Williams will put many off.
Callan Ward (MID, $703,000) Whilst Callan Ward may be arguably the third or fourth best Giants mid, at-least from a Fantasy perspective, the skipper will more-than-likely be good for another 95+ average. Spending just 47% time on ground, the hard-nosed on-baller amassed 19 disposals, 3 marks and 62 points.
Tim Taranto (MID, $660,000) No-doubt a few sets of eyes converged on Tim Taranto in this clash. And he left potential buyers with plenty to ponder, collecting 33 touches, 10 grabs and 7 hugs and 140 points from a role in the midfield, aided nicely by a 41-point second term. Will he continue to be deployed in the middle when Josh Kelly returns? If so, he presents value at $660k.
Heath Shaw (DEF, $627,000) It was a typical showing from the veteran, who expertly used his football smarts and ability to read the play and dictate terms from the defensive-50. Shaw delivered the ball with precision all night, concluding the evening with 100% disposal efficiency, complementing his 28 disposals, 12 marks and 119 points (78% TOG). The kick-mark specialist clocked up a stack of +6's and is worth keeping track of, although his age may be of concern.
Zac Williams (DEF, $421,000) Williams burst out of the blocks with 14 disposals to qtr time. He made good use of his quality foot skills by kicking the ball whenever possible. However he went down with what appeared to be an ankle complaint late in the second quarter. Although he returned unrestricted by the injury, Williams' time on ground and, as a result, scoring never recovered. Still, he did enough to reinforce his position in many fantasy backlines.
Jye Caldwell (MID, $250,000) It appears as if coaches will be blessed with a few solid rookies this season, and if tonights showing was anything to go by, high draft pick Jye Caldwell should be added to the evolving list. Spending time up forward, Caldwell racked up 14 disposals, 3 marks, 5 tackles, a pair of goals and 81 points from 62% time on ground. Whether or not he makes the Giants round one side remains to be seen, but the signs look promising.
Jackson Hately (MID, $244,000)
The tough midfielder/utility spent the night helping the likes of Coniglio and Taranto around the contest, using his tall frame to advantage. He certainly appears ready-t0-go, whether that be in a midfield role or elsewhere on the field. He tackled hard, finishing with 4 tackles to go with 16 disposals, 4 marks and 76 points from 66% TOG. Hately certainly put his hand up to replace the departed Dylan Shiel in the GWS on-ball brigade.
Brisbane Lions v Hawthorn – Moreton Bay
Sunday 3 March – by Sparksy
Click here for DT Live's scores/stats.
I ended up watching my Hawks' Under 18's side taking on the Lions at Moreton Bay and, for a game with quite a lot of Fantasy relevance, it was a bit of a letdown. Brisbane picked apart the young Hawks side, who put a decent fight to be fair, and it was extremely interesting to see some players on my watchlist and how they performed.
Hawthorn:
Two things before we begin with the Hawks. As I mentioned, they fielded an extremely young side. The only two players I can think of who got a consistent game last year were Sicily and Impey. This means you should all take these scores with a grain of salt as many players will be back and stealing points from the young guys in the home and away season. Also, there were a lot of rookie-priced players on the field, so I tried to stick with those who I thought were Fantasy relevant.
Starting with a lower point and James Sicily (DEF $694,000) was slightly concerning with 72 points from 82% TOG. With no Gunston, Breust, or Roughead old SicDawg spent almost the whole game in the forward line. He did dominate up there, despite not kicking straight, but that worries me even more because he could now be seen as more useful up there. I think once those big names come back in, he'll slide down back, but I don't think you can pick him in Classic with that price-tag.
James Worpel (MID/FWD $480,000) has been touted all pre-season to be getting the midfield role vacated by the injured Tom Mitchell, but it was James Cousins (MID $329,000) who actually impressed! Worpel definitely played in the middle for the most part and was at the very least okay. He managed 84 points from 76% TOG, but he absolutely butchered the ball all game. I know efficiency doesn't matter in Fantasy, but it will matter to Clarko as I doubt he wants his clearances turned over straight away. Young Cousins was a true shining light, however. The kid has spent a while on Hawthorn's list now and has gotten a game here and there, but I think he could be the next big thing and he truly showed it yesterday, albeit against a young Lions outfit. The man had 29 disposals, 8 marks, and 4 tackles for a solid 111 Fantasy points (85% TOG), and he never looked like he was even trying. In all honesty, it does look like the midfield role will go to Worpel if yesterday is anything to go by. He had 9 clearances to Cousins' 5 and had 13 contested possessions to Cousins' 6, but I'd be concerned if Worpel didn't get more efficient.
As for the rookies, there were five that stood out to me or were on my watchlist before the game, and two impressed. Harrison Jones (DEF $170,000) came from absolutely nowhere and lead the Hawks in Fantasy scoring for the majority of the first three quarters. I've barely heard Jones mentioned in Fantasy circles, probably because he's unlikely to get a game, but his 21 disposals, 6 marks, and 4 tackles are sure to raise some eyebrows as he made his way to 79 points from 79% TOG.
The other young gun that impressed me (at least partially) was Oliver Hanrahan (FWD $170,000). Ollie got off to a flyer, he was everywhere in the first quarter with 31 Fantasy points and playing through the middle of the ground and on the forward flank. I was then very confused when he had managed just a measly 8 points in the second and third quarters and thought he must have gotten injured. However, the kid played the last quarter and managed 25 points, bringing his total to 64 from the game (75% TOG). Watch out if Ollie can play like he did in the first quarter for the whole game, but I reckon he's not quite up to the standard yet.
Mitch Lewis (FWD $170,000) was actually very solid, despite not scoring that well. He played both ends of the ground at stages and was a big presence. His 57 from 89% TOG is okay for a big man, but he could potentially play as a big target for the Hawks, freeing up Gunston to move down back. Could be a bolter for a Round 1 start.
Jack Scrimshaw (DEF $203,000) is the Grant Birchall protégé that I'm hoping is actually half as good as Birch. He did some good things, but not enough for my liking. Will be interesting to see if he slots in but his 56 from 83% TOG didn't do it for me.
Lastly, Jacob Koschitzke (DEF/FWD $170,000) didn't take the field, despite being named in the team. Obviously still recovering from a finger injury, but thought it was strange to name and then not play him.
Brisbane:
There were a few Lions I was very interested in watching today and Archie Smith (RUC $217,000) was one of them. With Stef's injuries keeping him out of JLT, people are speculating that Smith could take that role, or at least cement his spot in the side. Archie did very well in the ruck, with 25 hitouts and having 3 clearances of his own, but he struggled to give the Lions any advantage with his tap work. I'd say Smith will be in and out of the side all year, but I don't think he did enough to keep his spot with Stef in the team.
New midfield duo Lachie Neale (MID $729,000) and Jarryd Lyons (MID $689,000) did what they always do, just in different colours, scoring 97 (82% TOG) and 99 (82% TOG) respectively. Neale looked to be headed for a huge JLT score at half time, sitting on 77 from under 70% TOG, but slowed down a bit in the second half. Hawthorn didn't tag, but I think that if teams do tag against the Lions, they go to Dayne Zorko (MID $701,000) rather than these two. Zorko had 80 points from 77% TOG and all three of these guys linked up very well together. I'd say this is a deceptively potent midfield and will lead the Lions to a few more wins than last year.
Alex Witherden (DEF $639,000) is hot on the list of all Fantasy Coaches after the change in kick out rules, and for a good reason after managing 78 points from 63% TOG. I had a very big panic moment when Hawthorn missed their first shot of the game and Daniel Rich (DEF $519,000) picked up the ball, stepped 3 metres out the front of the goal square, and booted the footy straight down the middle of the ground. Fear not as Witherden asserted himself for the rest of the game, missing very few kick outs from that moment on, but it was a heart in mouth moment after that first kick out, especially as Rich managed a solid 93 (67% TOG). Definitely something to watch next week.
Another new prospect at the Lions, Lincoln McCarthy (FWD $305,000) was extremely impressive in his first game with Brisbane. He had 97 from 77% TOG, floating between the forward line and the midfield. He was actually very impressive to watch and had a team-high 8 tackles, showing hunger for the pill and at the opportunity he has finally been given. McCarthy is definitely a product of JLT hype, so don't jump on right away, but if you have the money and guts to take a risk, he could be one that genuinely slipped through the cracks.
The three Brisbane rookies of interest were not given a heap of game time, but made the most of what they got. Connor Ballenden (FWD $170,000), Brandon Starcevich (MID/FWD $202,000), and Ely Smith (MID $230,000) all played less than a half of football, with Ballenden and Smith playing less than a quarter. They scored 17 (23% TOG), 46 (38% TOG), and 24 (23% TOG) respectively, which is certainly not a bad output from the first-year players. I'd say all three of these guys will get a game at some point throughout the year, so keep a close eye on them and bring them in when necessary.
Richmond v Melbourne – Shepparton
Sunday 3 March – by Triggywiggy
Click here for DT Live's scores/stats.
Melbourne
Clayton Oliver (MID $792,000) started the game where he left off last season finding the ball at ease shaking off any concerns about an interrupted pre-season. He is back to being his handball happy self with … for the game. He also played some smart footy milking a 50m free kick, and then another 50m in the process of lining up, getting himself an easy goal.
Angus Bradshaw (MID $763,000) was s solid as ever and outscored all players on ground with 150 Fantasy points,  and could go even bigger this season than last. He looked like a mini pig and had 12 touches and 53 points at Quarter time alone, finishing the game with 37 touches. He might have lost Defender status, but after finishing last season averaging 124 in his last 3 you could argue he is underpriced based on todays effort.
Brayden Preuss (RUC $343,000) was given the job as the No1 Ruck for the Demons today in the absence of Gawn and those that have him in their side might want to reconsider. He got 21 hitouts and only 9 touches of the ball. He looked out of shape, and we didn't really get to see him up forward where he will play when Gawn returns.
Bailey Fritsch (MID $540,000) had a decent game but did spend great parts in the forward 50. Still 101 points is a decent score, but I wouldn't get him unless he gets the half back role that has been so often touted.
Rookie Marty Hore (DEF $170,000) took the kick-in duties for the Demons and on his first one played on for the easy +3, did again 2 minutes later but turned it straight over for a Tigers goal. Was still given the duties for the majority of the the first half and proceeded to play on every time, sharing duties with Salem who took over in the second half. He didn't manage to do much with the ball during normal play though, and was quite inefficient with his kicking. Still will play R1 and a score of 53 isn't bad.
Christian Salem (DEF $579,000) himself looked solid in a very Fantasy friendly role with 21 kicks, some from kick ins. He was also given a chance in the midfield. It remains to be seen how he will be used in R1 but he is definitely unique, and if given a similar role next week he could be a great Draft Sleeper.
James Harmes (MID $603,000) finished off last season very well averaging 103 in his last 5, and today showed why he did that. He was everywhere and registered stats in almost all fields with 6 tackles, 21 touches, 5 marks and even a goal. If he is sitting in the Draft pile in your draft league pick him up for the bench. I haven't got the guts to pick him in Fantasy as a mid only, but he could go over 95 this season.
Rookie Declan Kielty (DEF $170,000) was given the second half to ply his trade and performed with …. points. Despite being named a defender he played mostly in the ruck and running around the forward arch, but I doubt he will get a game anytime soon.
Tom Sparrow (MID $218,000) was also given a run out in the second half, but didn't do a whole lot and only scored 14 points and James Jordan (DEF/MID $206,000) who got 33 points from 90 minutes also didn't see much of the ball. Like Kielty I don't think either will play R1.
Richmond
We were under the impression that Dustin Martin (MID $674,000) would get more midfield minutes but he started the first quarter up forward. He looked off touch and was nowhere near the ball the entire first quarter, not an ominous sign. He managed to get back into the game over the 2nd and 3rd terms with a couple goals, but he doesn't look to be playing a new role based on todays outing. Despite 2 goals he only managed a disappointing …. points.
This year is going to be a tough one for picking ruckman and one option before today was Toby Nankervis (RUC $648,000). He started at full forward and stayed there the majority of the game. He managed to get a few goals, but that didn't do much to his score of … Not promising signs if you planed to have him at R2.
The surprise packet of the game was easily Noah Balta (FWD $170,000). He had 70 points at Half Time thanks to an amazing second term display. At 170k he could be a great option for our benches finishing with 18 disposals and 2 goals. He looked solid, took lots of contested marks, kicked some great goals, and was given some of the opportunity in the ruck.
Jayden Short (DEF $551,000) was a player many on Twitter requested me to track and he had a decent game with 29 touches and a goal. I'm not sure if he has had a role-change or this is a one off, but certainly some promising signs, and he looked very composed today.
Brandon Ellis (DEF  $538,000) was on many teams watchlist prior to this game, but I would suggest he would be pushed to the side after a pretty poor Fantasy display. It was average to say the least, and not much has changed from last year. He managed 19 touches, only 4 marks and looked lost at times. He averaged 74 last year, and looks to be doing the same this season.
Jack Riewoldt (FWD $616,000) could be in for another decent year as goal returns go with 5 scoring attempts today, but for only 2 goals and 3 behinds. He is an option in Draft as always, but don't consider him in Classic as only 8 touches is not going to translate to points.
Dion Prestia (MID $618,000) had a decent finish to the end of last year, but looked a tad unfit today and a bit off-pace. He did't get many marks and failed to register a tackle. There is upside here, but he is priced too high for what he showed today.
Bachar Houli (DEF $536,000) looked like the Houli of old with 35 touches and 106 Fantasy points. He has still got the odd good game in the bag, but he won't score like this every week? Surely not?
Gold Coast v Western Bulldogs – Mackay
Sunday 3 March – by Calvin
Click here for DT Live's scores/stats.
WESTERN BULLDOGS
Tom Liberatore (MID, $392,000) – Impressive. If you still have Libba rolling in your team, then well done. He scored 102 from 27 touches along with four tackles. Many people this week will be down sizing a premium midfielder to slot Libba back into the mix, remembering he's priced at an average of just 54. He attended 15 centre-bounces and looks to have dramatically effected his team mates like Dunkley and McLean.
Jack Macrae (MID, $890,000) – 40 touches, Macrae was Macrae. 131pts. If you can find the spare coin, then you might as well get the best Fantasy player we have available. He doesn't leave Melbourne for the first five weeks and in that time he plays Sydney (128 last year), Hawks (DNP), Suns (151), Collingwood (113) and Carlton (124 & 145)… that's an average of 132.2 if he can replicate that.
Tim English (RUC, $446,000) – speak-a-NO. Ok, so he shared the rucking duties with Trengove (15 hit outs) as English ended up with 16 hit outs and 59pts. The thing is, he played 85% game time and when you consider that only two Bulldogs players played more than 90%, he was given a fair crack. Witts smashed him. Witts had 47 hit outs and basically owned him all day. If English is your R2, you will need to come up with a plan B.
Lachie Hunter (MID, $765,000) – Like Macrae, found shitloads (32 touches) and although you won't grab him in Classic, very Draft relevant and might even improve on his average of 105.
Josh Dunkley (MID/FWD, $695,000) – abort? Dunkley only attended seven centre bounces as he looks to have made room for Libba. He played plenty (80%) and only scratched up 60pts. Very concerning with Libba returning.
Toby McLean (MID/FWD, 686,000) – Only six centre bounces for McLean, which is also disappointing. He scored 50pts from 79% time on ground. Dunkley and McLean need to play in the guts, didn't happen as much today as it did last year. "The Libba Effect" – this could be a real issue.
Marcus Bontempelli (MID, $671,000) – Solid. Did enough for his owners. 95pts from 30 touches. But remember it was only against the Suns.
Will Hayes (MID, $170,000) – continue to watch. 23-years of age, Hayes was pretty good with 59pts from 59% game time.
GOLD COAST SUNS
Brayden Fiorini (MID, $665,000) – This is the thing… the Suns won this game (only one for the year). However, the six top scorers from the game were all Bulldogs and Fiorini was the only player for the Suns to crack 90. This is what I have been saying all along. They will struggle to score, like today and when they get pumped by 100+ points, it will be way worse.
Anthony Miles (MID, $425,000) – Hard to judge here as he only played 55% game time for his 62. The positive, he lead the team in clearances with 21 touches.
Sam Collins (DEF, $246,000) – Scored 65 from the most game time played by anyone on the ground (91%). Look really good at times, however, what can he really average in this team? I think 65 is about his mark, which means he's quite expensive.
Izak Rankine (FWD, $266,000) – slotted a peach of a goal in the first couple of minutes and then that was that. 22pts for the game. You're not paying that much money for a Suns' rookie forward.
Jack Lukosius (FWD, $268,000) – Same boat as Rankine. 33pts from 66%, and all the media reports have these two kids as hopeful and exciting prospects. Yes they are, but not in Fantasy, not at this price and not this year.
Ben Ainsworth (FWD, $442,000) – Played just over half a game and out of nearly all the Suns, he was probably one of their best Fantasy players here with 74. Potentially a Draft smokey (late pick).
Fremantle v Collingwood – Joondalup
Monday 4 March – by Fry
Click here for DT Live's scores/stats.
Hot. It's been the flavour of the JLT so far with games being played in sweltering heat and that's how Fremantle started out. They converted early on the scoreboard aided by a strong breeze, but Collingwood pegged them back, controlling the final three quarters of the contest to cruise out 27 point winners. There is plenty to talk about following the final JLT game of the week, despite both sides missing some big names.
Key Players Missing
Fremantle – Nat Fyfe, Sean Darcy, Aaron Sandilands, Stephen Hill, Connor Blakely
Collingwood – Adam Treloar, Taylor Adams, Jeremy Howe, Jordan DeGoey, Mason Cox
Fremantle 
Players
Darcy Tucker (MID, $431K)
103 from 79% TOG
Led the way for the Dockers with a game-high 13 tackles. Spend the majority of his time in the middle or on a wing and played a run with role trying to contain the likes of Dayne Beams and Steele Sidebottom. Ross has shown in the past that he isn't against using a tagger and if Tucker is that guy in 2019 then I don't think he'll be scoring too many tons. Still, he could be a Draft sleeper if he can keep up the tackle count.
Rory Lobb (RUC/FWD, $485K)
97 from 83% TOG
Could Rory Lobb be the answer to our R2 questions? Probably not, but that didn't stop the former Giant from an impressive outing as Freo's sole ruck against the colossus known as Brodie Grundy. Managed 20 hitouts to go with 20 disposals, but it's worth noting Scott Jones was the only other recognised Fremantle ruckman.
Andrew Brayshaw (MID, $485K)
89 from 73% TOG
Interesting. Andrew Brayshaw looked right at home in the Dockers midfield, showing no ill-effects from his face connecting with Andrew Gaff's fist late last year. Gathered his 25 touches all over the ground and could be in for a breakout campaign. With a lot of other popular mid-priced midfielders, he may be too dear, but it's worth keeping an eye on Brayshaw in JLT 2.
Michael Walters (MID/FWD, $581K)
72 from 55% TOG
The 'ol Michael Walters hype train will be up and about after his 72 points came in just over half a game. With Blakely and Fyfe in street clothes, Walters seized the opportunity that comes with more midfield time, further causing us to question if he's a legitimate option. I'm not brave enough to pull the trigger, but he looked good with an important goal in the third and an equal team-high seven clearances.
Luke Ryan (DEF, $558K)
68 from 64% TOG
This wasn't the game that Luke Ryan faithful wanted to see. His performance could be summarised as fine, but a 24 point final quarter in junk time helped his score to respectability. Ryan didn't dominate the kick-ins like last season either with he and Nathan Wilson splitting the majority of the duties. Ryan could still be a decent option in your back six as he did chalk up a team-high six rebound 50's. Given the potential upside we expected it might be a wise move to pass on the kick-happy Ryan.
David Mundy (MID/FWD, $652K)
62 from 70% TOG
Those who have taken a chance on Mundy in their forward line will be happy to learn he played as a pure midfielder against the Pies. Leading the way for Freo with 21 centre bounce attendances, Mundy wasn't going to be empty his tank in sweltering conditions during his first pre-season hitout. He still managed to gather 19 touches, but 15 of them were handballs. Need to see more if we're going to start him.
Brett Bewley (MID, $170K)
57 from 39% TOG
Over 35% of coaches are taking a chance on Brett Bewley at the moment and his performance comes with mixed results. He was a non-factor in the first-half recording just two touches from very limited game time. In the second half, Bewley went on to score 46 points, capitalising on the fatiguing players around him. He spent some time in the centre and did look good to close things out, but after barely playing in the first half his fresh legs were definitely a factor in his production. Monitor in JLT 2.
Adam Cerra (FWD, $432K)
47 from 78% TOG
Not the greatest outing for Adam Cerra. To be honest with you I almost forgot he was playing, with Cerra finding it tough to crack into the Dockers midfield rotation. He had his moments, but it's hard to see him improving greatly on his 59.5 average from a season ago.
Griffin Logue (DEF, $216K)
32 from 66% TOG
Those of us who were expecting Logue to be a reliable cheap defender can almost draw a line through him. Came off late with an apparent hamstring injury, although it was may have just been a cramp. Keep your ears glued to Twitter for an update.
Jesse Hogan (FWD, $646K)
29 from 57% TOG
Virtually a non-factor with just six touches and no scoreboard impact. Was put on ice in the third quarter and it looks like Hogan will need time to find his feet at AFL level again. Avoid.
Collingwood Players
Scott Pendlebury (MID, $738K)
117 from 73% TOG
Just another day at the office for Dependlebury putting forward a best on ground performance with 34 touches playing a pure midfield role. It will be interesting to see if he continues to play heavy midfield minutes when Adam Treloar and eventually Taylor Adams return. For now, I don't see how Pendlebury won't maintain his triple figure average for an insane 10th straight season.
Steele Sidebottom (MID, $750K)
113 from 81% TOG
If Pendlebury was best on, then Steele Sidebottom was probably a close second. Didn't feature as heavily in the midfield as the Pies skipper, but that didn't stop him from recording 34 touches of his own and a team-high eight inside 50's. Seems set to be in for another season around the 105 mark.
Brodie Grundy (RUC, $871K)
101 from 84% TOG
Happy to just go through the motions Brodie Grundy toned up without even really trying. A game-high 48 hitout's helped his score, but he was capable of so much more easing himself into the contest with his sights set on much more important games. Still managed five tackles and 15 touches cementing his status as the must-have number one ruckman.
Dayne Beams (MID, $652K)
98 from 73% TOG
Another player just eager to get a run under his belt, Dayne Beams looked back at home in the black and white. Kicking Collingwood's first goal of the game, Beams didn't let a Darcy Tucker tag slow him down en route to 25 disposals. Some people question how all the Collingwood midfielders are going to score well this season, but after what I've seen from Pendles, Sidey and Beams I'm not too concerned. Even with Treloar to come back in the Pies recorded the third most points this week (topped only by West Coast and North Melbourne) and seem to to be a high scoring team again in 2019. They're that good.
James Aish (DEF/MID, $501K)
86 from 84% TOG
Could be one to keep an eye on. Aish split time with Darcy Moore as the Magpies go to 'kick-in specialist' as he chalked up 23 touches. A 37 point third quarter was his highlight when Collingwood put their foot to the floor and Aish may be in for a season in the mid 80's if he maintains kick-in duties.
Jamie Elliot (FWD, $385K)
66 from 64% TOG
He is dirt cheap, but can we really take the punt on Jamie Elliott? If his first half is anything to go by then we certainly can. Scoring 47 points over two-quarters Elliott looked lively inside 50 for the Pies. He finished with 10 touches and two goals, but if he was more selfish he could have had four goals or more, opting to make the team first play and set up easy goals for teammates. If he can boost his TOG in the second JLT and his score follows the same progression, Elliott looms as a steal.
Isaac Quaynor (DEF/MID, $501K)
48 from 66% TOG
It was a quiet first outing for Isaac Quaynor, but he did look like he was right at home in Collingwood's defensive half. Recorded 12 possessions and was a driving force from defense for the Pies. Shapes as a Round 1 debutant, but he may be given some VFL games to find his feet first.