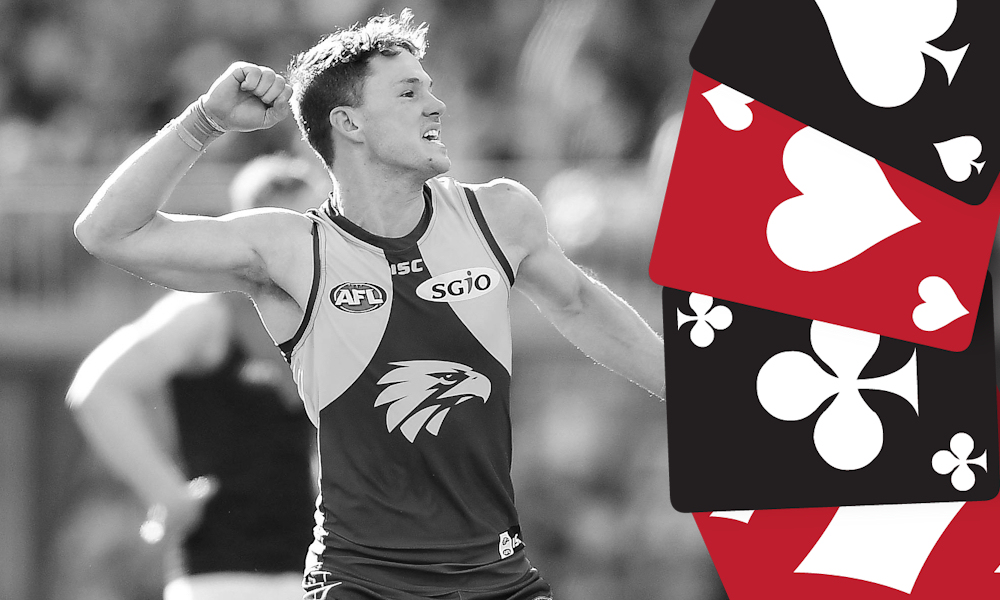 Name: Jack Redden
Team: West Coast Eagles
Position: MID
Price: $698,000
Bye round: 13
2018 average: 96.2
2018 games played: 22
Predicted average: 100+
Draft range: Depends on your league size but should be available to fill you last mid spot late.
Click here for 2019 Fantasy prices.
Why should I pick him?
POD
Those are the 3 letter I'm using to justify why you should select Redden next year. I believe Premiership midfielder Jack Redden is an absolute sleeper of a perfect 'Point of Difference' player for the following reason;
Slow start – Redden took a few games last season to get comfortable with his increased responsibility in West Coast's midfield. Scoring an average of 66.8 in his first 5 games of the season including a low score of 47.  The biggest factor in this was his inability during these 5 games to get his hands on the ball enough. Whether it was running patterns, team systems of generally just forgetting how to football, Redden touched the ball less than 20 times each of these games.
Things seemed to click for him in round 6 however, he found the ball 34 times and took that confidence into his next games averaging 110 over his next 5.
Finals – Particularly in draft but also when looking for a good POD it's a good idea to check how your player scored if they were part of the finals series.
The benefit of this is that finals scores aren't included in players yearly averages, so if you find a player who finished the season strongly in a way that should have them ranking higher than their average suggests, you can move them up your own draft board and hope your mates wont have looked that closely.
Redden averaged a whopping 129 over his 3 finals games including scores of 141 and a monster 162!
Ceiling – I just want to type that again, this guy scored 162 last year and not many fantasy coaches remember it!!
That aside, Redden has always had a decent ceiling and it's something you really need from a POD. Imagine it's down to the wire on the Sunday and the unique player you have left is capable of posting a score like 138, 143, 133 or 124. All scores Redden hit last year, plus the 2 mentioned above!
Tag-less – Redden plays in a midfield with Yeo, Shuey and Gaff. There is no chance a coach is sending a tagger to Redden before either of those 3. Which leads into the next point…
History – Over his career, Redden has had 100+ average seasons before. In fact, while he was playing for Brisbane, Redden averaged over 100 three times! So he is more than capable of getting there again and I believe the previous point helps. During those three 100+ average seasons, Redden never got past 29 disposals in a game. He built up his score with tackles but received plenty of opposition attention being one of the 2 best midfielders in that team.
At West Coast Redden floats around the field with barely anyone near him. He now sneaks forward for goals and just last year hit over 30 disposals seven times!
Add all these factors together and Redden could be the perfect POD/Sneaky draft slider capable of pushing over 100 for a season again. In fact, if you include last years finals series, Redden would have averaged 100.2.
Why shouldn't I pick him?
Consistency – While his first 5 games last year seem to be an anomaly compared to the rest of his year, they can't be ignored. Scores of 47, 67, 71 and 78 all happened and there's no guarantee Redden wont forget how to football again.
His run of games for the rest of the season however saw him score 5 times in the 80's, 6 times in the 90's and 6 over 110.
At his starting price last year you could accept 10 scores under 90 but you'd be hoping for a lot more this year paying for a player priced at a 96 average.
Other Options – Speaking of his price, paying close to $700k for Redden to take up a midfield spot will not look great at this time of the year when you could have a similarly priced Dustin Martin or Luke Parker sitting there instead. Perhaps even with this years stacked forward options you may be looking at needing more spaces for midfield cash cows?
Deck of DT Rating.
QUEEN – I wholeheartedly believe Premiership midfielder Jack Redden can finally average over 100 again becoming an excellent POD and value draft option. Keep him on your watchlist.
Picking a POD however is something you don't want to be second guessing. They can either be the player you're gloating about all year or cursing at each week, there's rarely a middle ground.
Loading ...
FOLLOW ME ON TWITTER: @anthonydsmith86 for all thing AFL Fantasy (and more). Got something to say about the deck? Use the hashtag… #DeckofDT.