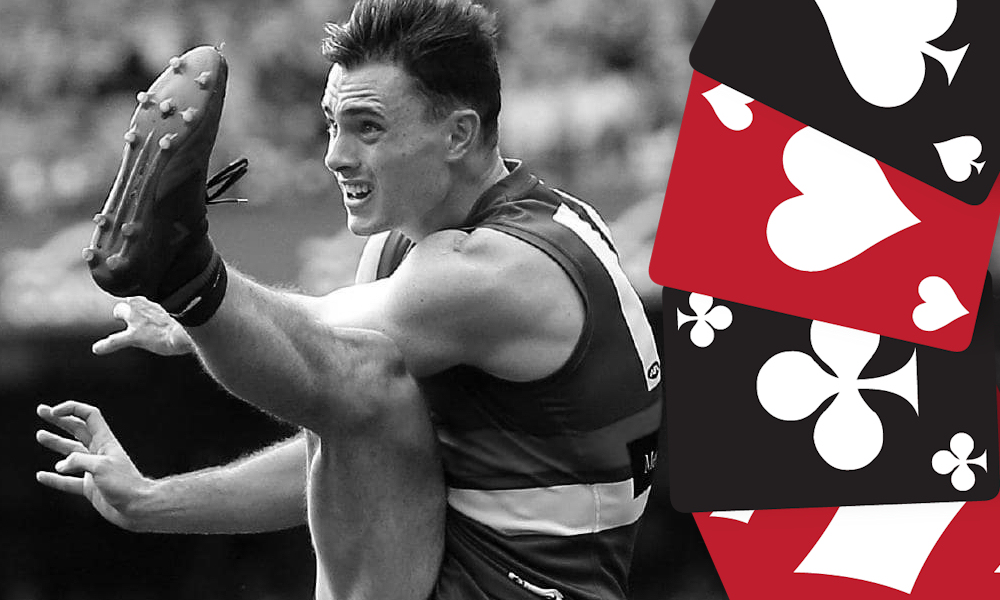 Name: Toby McLean
Team: Western Bulldogs
Position: MID/FWD
Price: $686,000
Bye round: 12
2018 average: 94.5
2018 games played: 22
Predicted average: 95
Draft range: 40-60
Click here for 2019 Fantasy prices.
Why should I pick him?
It seems like old mate Toby McLean is just always in the way when we are looking at Fantasy forwards, but I'm here to try to open your eyes to a number of factors that surround him.
The Battle
Now, I'm not setting out here to make this a Dunkley v McLean battle. But as it unfolds, this is what it will basically be. Firstly, I need to be honest and say, I have Dunkley ahead of McLean. However, it won't stop me from putting on different hats to look at it from all angles. McLean does have some advantages over Dunkley though, so let's go.
He'll be Unique
McLean will be so unique in your starting team it's not funny. This is the guy we all chased hard at some stage last year. Currently, according to the ever popular Drawing Board (dtlive.com.au) he is owned by just 3% of coaches.
Obviously, there has been a huge shift away from him and more of a move towards Josh Dunkley, and rightfully so , considering the way Dunkley ended 2018. The thing is Dunkley is owned by 61% of coaches. That's a massive difference between two players who are separated by 1.3pts on their overall average.
Tim Kelly is even rated higher at 12% and he doesn't even want to play for Geelong. Chad Wingard is at 20% and even Tom Lynch and Jack  Billings is three times more popular than McLean. Has the world going crazy?
He's got a Ceiling 
Unlike Dunkley, McLean has a ceiling. 143 and 152 are McLean's best efforts from 2018, both better than Dunkley's best of 132.
McLean is also a proven scorer and averaged 96 last year… but he has averaged 95 before, and will be around that figure again.
Before the Injury
McLean played the first half of the year on fire averaging 100 in his first 11 games leading into his bye. After his bye (when most of us traded him in), he got injured. A huge knock from Robbie Gray saw him score 49 and for those who saw it, you know what I mean when I say he looked very sore.
From this stage … he averaged 83 for the remainder of the year. A coincidence? I think not, something must have been going on there as he only scored over 85 once in the next five games.
Why shouldn't I pick him?
The answer here is obvious. Dunkley is better.
Firstly, Dunkley who is only $9K more. Let's face it, you're only going with one of these guys and you'll be picking the guy who ended the year averaging 112 in his last nine games… and that's not McLean who ended the year on very Mc-Lean run.
During that nine game run to end the year, Dunkley dipped as low as 96 whereas McLean dipped under Dunkley's worst score 8 times. Thats's in such a short amount of time.
Secondly, how good can the Dogs be? With Macrae hogging the ball and Libba apparently back into the mix, how much ball will there actually be. Even Bont sat forward more last year and surely that won't be the case again.

Find The Traders' podcast on: Apple Podcasts, Google Podcasts and Spotify.
Deck of DT Rating.
JACK – It's turned into a McLean v Dunkley article and I apologies for that.
But can you have them both? Both will be in the top 6-8 forwards by the end of the year. Both are guns and both will average around 95 this year (maybe Dunkley a little more).
The thing is, McLean will be so unqiue. 61% on the "Dunkey train" at the moment is massive, way overs in my opinion. When you consider that Hannebery is owned by 55% and even Brad Crouch at 60%, are we putting too many eggs in the Dunkley basket? There is no logical reason why he should be currently favoured more than these two guys.
With that said, I do like Dunkley more, but the 3% of coaches who like McLean, have a little gem in their keeping.
Loading ...
FOLLOW US ON TWITTER: @DTTALK and @CalvinDT for all thing AFL Fantasy (and more). Got something to say about the deck? Use the hashtag… #DeckofDT.