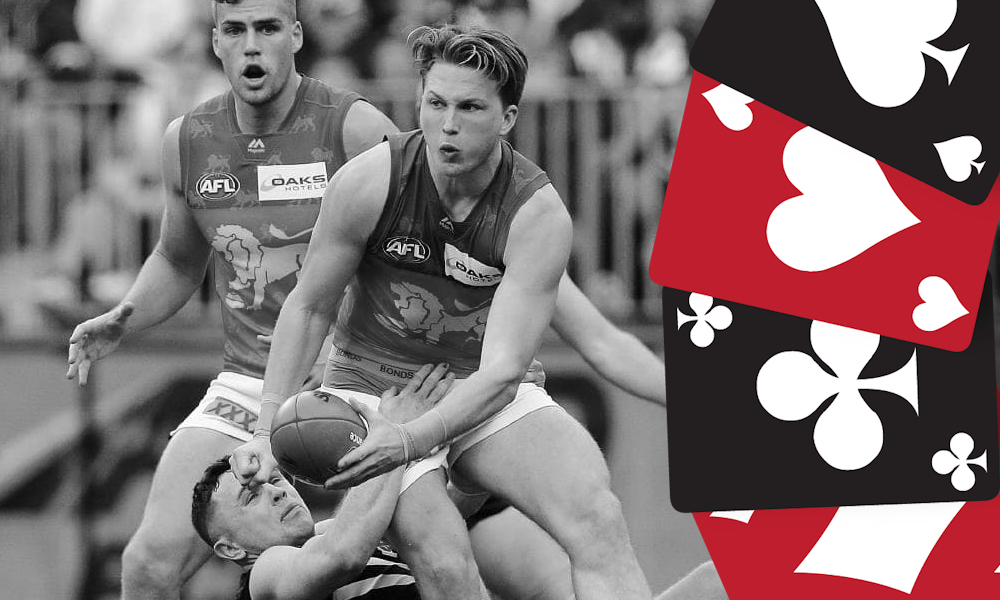 Name: Alex Witherden
Team: Brisbane
Position: DEF
Price: $639,000
Bye round: 13
2018 average: 88
2018 games played: 21
Predicted average: 98
Draft range: 4-6 DEF
Click here for 2019 Fantasy prices.
Why should I pick him?
Witho burst onto the scene in round 14 of his debut year and was a mark of consistency from the get go. In the last nine games of the season he didn't miss a game, or beat with five scores over 90 and one ton to average a remarkable 88, thanks largely to his ability to takes marks and rack up the pill across half back.
The young Lion star became a highly sought trade target in the back half of his second year after he really got going in round 12 with an impressive 25 possession and 12 mark game for 127. This is the Witho we had been waiting to see in a more attacking role in defence and he didn't let us down in the coming weeks with three more scores over 116 to finish the season including a career high 138 with 31 touches and 12 marks.
The former Geelong Falcon's elite scoring ability has him locked into the back line of my rolling 22 and I am expecting the hundreds to drop far more frequently this year while the quiet games will be very rare as he appears to have elevated himself as the go to man back there for the young Lions.
Due to a less attacking role than we expected to begin 2018, Witho was slow to get going and this, along with the round 22 game where he was injured on just 15, it makes him heavily under-priced. To reinforce how slow his start was, in the seven rounds he only reached his previous season average on two occasions. Therefore, the back end of the season is a minimum preview of what we can expect and in that time he averaged 94 excluding the injured game.
The 189cm, former pick 23 is in a young and improving team and their Fantasy numbers are expected to rise and from what I gather about Witho… he will make sure he is a part of it. He is a highly touted ball user by the Lions and coupled his ability to be creative in tough situations, they will go out of their way to have the ball in his hands, especially as they grow to rely less on Luke Hodge.
He has always known how to milk a few points from the kick in and the rule change is only going to assist him racking up a few bonus points.
Why shouldn't I pick him?
He is locked into my team so I am going to find it difficult to find many reasons not to pick him.
If he starts the season in a similar role to last year, it would be disappointing to not see the big guy ton up until round 12 and I would dare say he would be the target of a few rage trades… But lets be honest, he is going bang from the start.
Um… I feel guilty for cutting this section short, but I think you should just pick him.
From the horses mouth: I asked the great man to answer the questions about himself
Why should we pick you?
I'm not sure if you should! We're hoping that up here in Brisbane we will have a much better 2019 campaign and in that case, the ball doesn't venture down my end anywhere near as often! 
Do you think the new kick in rule adds a few points to your game?
Haha it's one of the most joked about things at the club at the moment… whether it is or isn't classified as a stat and the fight that will follow to take it in between Hodgey,Richy and I. If so it will no doubt add a few points to any player that kicks the ball in regularly.
You have averaged an amazing 88 for two years straight, what could a traditional '3rd year break out' produce?
I have no idea! I feel a lot fitter and stronger this year so I feel ready to go and I'm sure that's going to translate into strong on field performances and the added bonus of more fantasy points!
Why shouldn't we pick you? Eg risks associated
As highlighted above, hopefully we are a much stronger side this year and I don't have to do as much as the last couple of years giving me less opportunity. 
Rate yourself as a pick
Ace, King, Queen, Jack 
QUEEN 
Find The Traders' podcast on: Apple Podcasts, Google Podcasts and Spotify.
Deck of DT Rating.
KING – He just ticks all boxes as far as I am concerned. Due to a couple of circumstances mentioned earlier,  we are being gifted a top six defender that not only has the ceiling of a midfielder, he knows how to hit it frequently. He racks up midfield numbers across half back, recording over 27 possessions on five occasions after round 12 as well as taking nine or more marks six times. To rank him a king is a big call, but as you can tell, I'm going all in. I was accused of being a fence sitter after the Nic Newman article… No sitting here, Witho, in his third year break out season is IN!
Loading ...
FOLLOW ME ON TWITTER: @RoyDT for all thing AFL Fantasy (and more). Got something to say about the deck? Use the hashtag… #DeckofDT.