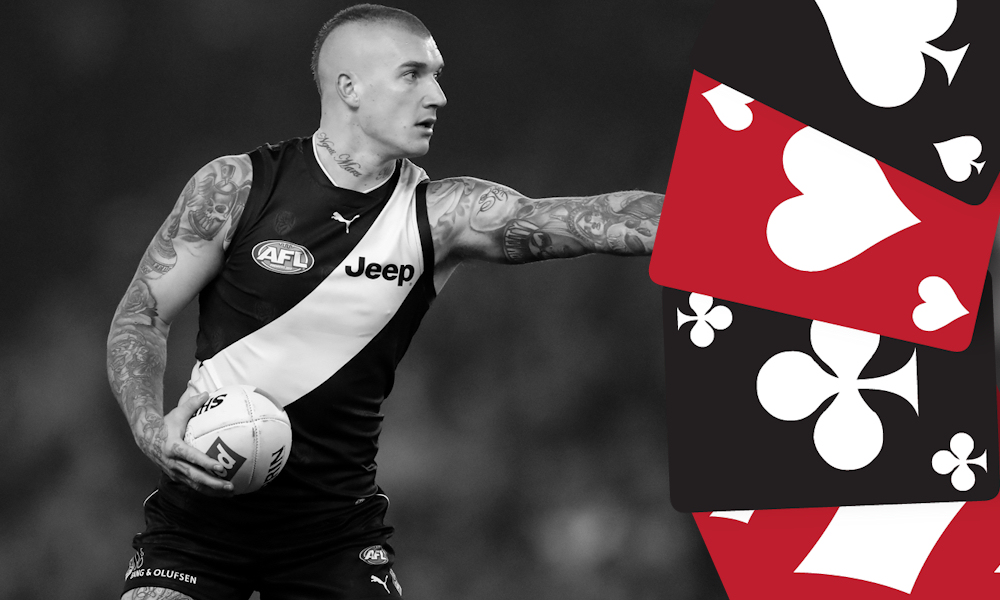 Name: Dustin Martin
Team: Richmond
Position: MID
Price: $674,000
Bye round: 14
2018 average: 92.9
2018 games played: 21
Predicted average: 105
Draft range: Late second, or third round
Click here for 2019 Fantasy prices.
Why should I pick him?
If you've followed anything I've written or said in the last 13 years of us doing DT Talk, you know that I'll hunt for any player who is has value – mostly getting excited if they're under-priced based on previous history. You could say it is a Fantasy Classic philosophy of the Warne Dawgs; looking for upside with every pick.
Dustin Martin has been a Fantasy stud since debut.
In 2010 he played 21 games of a healthy first season average of 71.4, improved that to 89.4 in his sophomore year, playing 22 games. From 2013, his average and games read 97 (22), 97.6 (21), 103.4 (22), 107 (22), 113.6 (22) and then last year, 92.9 (21). Martin's career Fantasy average is 95.5 and he has missed just five home-and-away games in 9 years – ie. played an incredible 193 games of a possible 198 – that isn't seen too often.
The upside in Dusty this year comes from his 2018 average of 92.9 being his lowest since 85 back in his third season (2012).
More than 20 points was dropped from his Brownlow year heading into last season. This was due to a couple of factors. The major one being Dusty played more as a forward which brought down his disposals by more than five per game on his previous two seasons and he recorded his fewest marks since 2012. Some coaches were calling for DPP, but he lined up as a forward 29% of the time, below Champion Data's 35% threshold for DPP.
Dustin Martin lined up as a forward 29% of the time in 2018.
The other was Richmond's Fantasy game. They scored the fourth fewest points in 2018 behind Gold Coast, Carlton and Fremantle and Dusty was their top averaging player and only guy to go at over 90 points per game with just five others to average more than 80. Initially I thought this was a drop off from 2017, but I looked back and the Tigers were the worst team in the competition for Fantasy points for in that year.
I'm predicting this to change as the game evolves this season; especially wit the addition of Tom Lynch. This should not only free Martin up from playing in the forward line as much, but he will be injected back in the guts and be a key contributor in getting the ball into the new-look forward line that will see Lynch and Jack Riewoldt as the key targets.
Martin scored 110 or more in eight of his games last season in comparison to the 13 in the season prior. Of those 13, nine were over 120 with top scores of 164 and 156. Last year Martin's highest score was 127 followed by 118. At the other end, Dusty scored less than 80 points half-a-dozen times with a Ben Jacobs tagged 48 included in that.
Why shouldn't I pick him?
I've probably mentioned the major reasons why you shouldn't pick him above. That is, you think that the Tigers will keep playing the same game style with Dusty up forward more and their low disposal numbers. Those concerns are definitely warranted. It's not like his average was injury affected as we see with some other players.
An interesting stat I found was that during his run of games between round 7 to 15 (7 matches) was the longest time he had gone without scoring a Fantasy ton since 2011.
While he is as durable as they come, he was hampered in the club's preliminary final loss to the Pies and struggled to 54 points. Dusty also missed one game last year due to flying to New Zealand to see his deported father. Could this be of concern in the future?
I am predicting, conservatively, that Dusty will average 105. Is this enough to be a top 8 midfielder? Definitely borderline, or unders… but at his price point of 93, there is minimal risk and at worst he is a stepping stone to one of the big dogs as he slowly makes some cash early on.
Deck of DT Rating.
KING – I have Dusty in my side at the moment. The strategy I'm employing, especially in the midfield, is picking those 'safe' guys who appear value. Martin ticks those boxes. There is some risk that the Tigers don't change things, but it's hard to see him have to spend as much time up forward with Tom Lynch in the side. Not that JLT is a real guide on a player like Martin – think back to his great mate Swanny during pre-seasons of the past – he will just do what he needs to do. In Draft I feel like he will have a bit of hype and won't be hanging around when other 100-type MIDs are taken despite being initially ranked on his 93 average. Most would bump him to that 105 range which could see him go mid-second round and maybe into the third. I have no problems with that range, but if he slipped to the third round, then I feel like you could have picked up an absolute bargain considering his durability. Let's hope he doesn't need to fly across the ditch too many times this year.
Loading ...
FOLLOW ME ON TWITTER: @WarnieDT for all thing AFL Fantasy (and more). Got something to say about the deck? Use the hashtag… #DeckofDT.