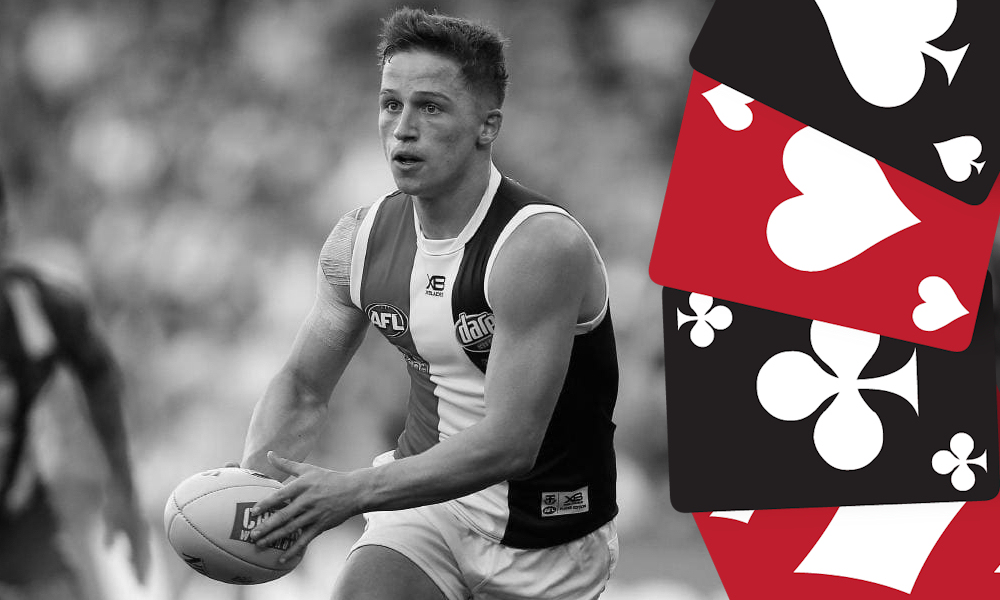 Name: Jack Billings
Team: St Kilda
Position: FWD
Price: $618,000
Bye round: 12
2018 average: 85.2
2018 games played: 21
Predicted average: 96
Draft range: 50-60
Click here for 2019 Fantasy prices.
Why should I pick him?
Hear me out… Or don't, because the more coaches that refuse to consider Billings the better. Looking beyond our hatred for him, there's a huge list of reasons why Jack Billings is underpriced and a great pick coming into 2019.
Firstly, Alan Richardson decided to deploy him as a permanent forward flanker for the first half of the season. This might have made a little more sense if the Saints had a midfield. Newsflash, they don't. How bad was it? Despite spending the last half of the season in the midfield rotation, Billings has been classified as a forward only. Expect that to change come the first set of DPP's.
You can't read much into pre-season positional chatter, however it's always nice to hear a player hoping to get extra midfield minutes. "I'm going to have to work really hard over the summer and show 'Richo' and the coaches that I need to spend more time [in the midfield] and help the side." Tick.
While I admit selecting Billings may cause a few sleepless nights ahead of Round 1, we saw the evidence between rounds 14-23. Every Fantasy coach in the country knows about his 54 disposal effort after being dropped back to the VFL, however he never got any recognition after his return to the side. The stats make for pretty reading.
Billings averaged 96.8 in his final 10 games after returning to the team, playing a lot on the wing and even seeing some centre bounces. He had at least 20 disposals in every game and scored below his average once. That's right, Billings scored below his season average once in the run home, and that was a respectable 75. His starting price is the floor, the stats say as much. His ceiling? We might not have seen it yet.
Billings was such a popular pick in 2018 due to his clear upside. He finished 2017 averaging 117 in the last month, and while we may have been optimistic an average of over 100 seemed a real possibility. He's still only 23 with his best football ahead of him.
I'm not going to get carried away. He will still spend plenty of time forward and the Saints will probably still be awful. However, having averaged 95 for a whole season and 97 in the last half of 2018, Billings looks a safe bet to add at least 10 points to his starting price. Who knows, if everyone is scared he could even be a POD?! I'm not one to hold a grudge, and I expect Billings to be one of my first picked.
Why shouldn't I pick him?
If only it was all sunshine and rainbows. Jack Billings is a right prick, don't get that mixed up. I've talked up his final 10 games, well in the 10 games between Rounds 2-11 Billings averaged 68. When he was dropped I ended up selling him for half a bag of peanuts. Even though he was playing up forward a lot, I swear he could have been playing in the stands from what I was seeing on TV. He was lazy, out of form and quite frankly useless.
If he has a slow start, it could be back to the VFL for another kick up the backside. As Fantasy coaches we can't afford anything close to what he dished up last season.
Can we trust Richardson? Absolutely not. Any coach who feels the need to bring up the noise of affirmation after his team loses has cracked. Billings will be a selection based on role, and we can only base that upon what we see in the JLT. Nothing out of Richo's mouth could convince me otherwise. You know what they say. Fool me once…

Find The Traders' podcast on: Apple Podcasts, Google Podcasts and Spotify.
Deck of DT Rating.
QUEEN – Thanks to his sh*t at football discount, Billings' price has him a queen in my deck. I don't think Billings is Dahlhaus 2.0. It was clear what the problem was. We saw the evidence we needed at the end of last season, 10 games is a good enough trend for me. We can't expect him to average much more than 95 with stints up forward, but I think he'll comfortably sit amongst the top 10 forwards and is a great underpriced option (with top 6 upside) to start with. He may slide in drafts, and if he does I won't be afraid to ride the Billings bandwagon once again.
Loading ...
FOLLOW ME ON TWITTER: @mattcraigdt for all thing AFL Fantasy (and more). Got something to say about the deck? Use the hashtag… #DeckofDT.