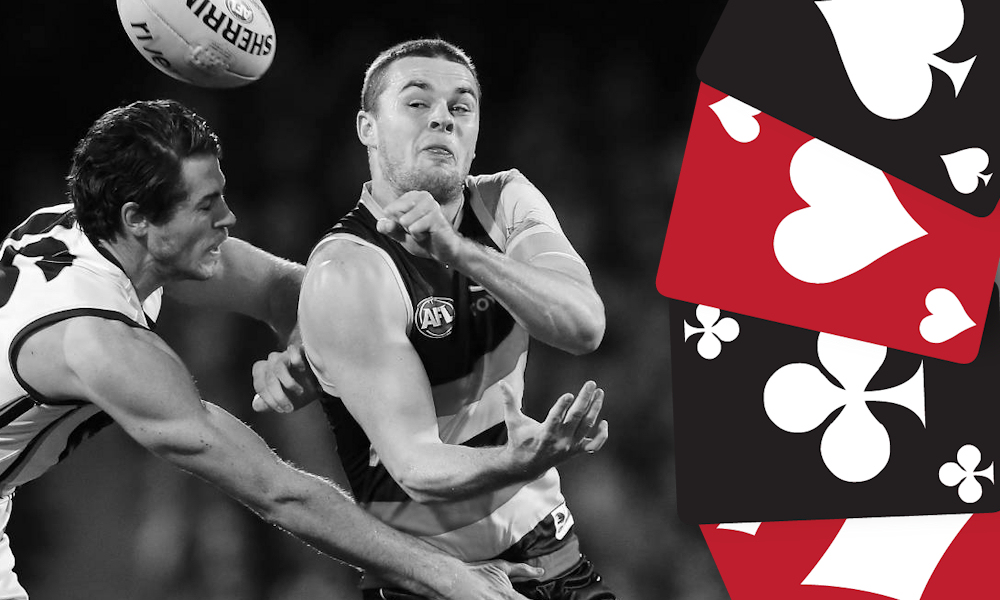 Name: Brad Crouch
Team: Adelaide Crows
Position: MID
Price: $524,000
Bye round: 14
2017 average: 103
2018 games played: 0
Predicted average: 102
Draft range: 40-60
Click here for 2019 Fantasy prices.
Why should I pick him?
Alright, I'll save you some time – You need Brad Crouch in your team for multiple reasons and this one my pre-season Fantasy friends is simple.
Crouch has had more than two months of pre-season training under his belt, and he's feeling pretty good.
"I'm feeling really good physically, I've been virtually pain free since I had the surgery in June," he said recently in an interview with AFC Media. "I'm doing about 80 per cent of the program at the moment and after Christmas I should be doing 100 per cent of the pre-season with the boys and building up to games," he said.
This is enough for me.  I'm guessing we will see him in the JLT Community Series and he will be playing round one.
If he plays… you pick him.
Brad Crouch is dramatically under-priced. This is a guy who played 17 games (plus three AFL finals) in 2017 at an average of 103, and an average of 121 in the Finals Series.
Although Brad has only played half the games over his career available, when he does he scores like a jet with averages of 92 (as a rookie),  93, 87 and that 103.
After his discount he is priced at an average of 71. He's easily 30 under what he has done and is more than capable of doing!
Why shouldn't I pick him?
At the start of last year Brad Crouch couldn't run. He couldn't do a single thing and hasn't done much for a long period of time.
"Once the 2018 season started, I virtually couldn't run, I was just in too much pain," Crouch told AFC Media.
This groin issue, ruled Crouch out for the entire season. He went in for surgery in June and after that, the 24-year-old did rehab for the next six months and continues to work himself back into some fitness.
"It was very frustrating missing an entire season, I've had a few injuries over the past few years, so it's been a frustrating time but I've just tried to stay as positive as I can, so I can get back to playing the footy I know I can play."
Key word here: FRUSTRATING!
For himself and his Fantasy coaches.
Since debuting in 2013, Brad's five seasons and games played have looked like this… 14-11-14-17-0
Brad has never… and potentially will never complete a full season and coaches will be full of frustration once again, if you choose to roll the dice with a player such as this.
With all the "hype" around Brad this year and his discounted price, starting without him could give you a leg up on other coaches across the game. An early injury, or late withdrawal will have you in a prime position from the word GO.He's currently in 60% of teams made by those over at dtlive.com.au
Just remember what happened to Zach Merrett at the start of last year.
This put all his coaches on the back foot in a big way, an unforeseen injury is horrific, but this is the question: IS an injury to a guy who has played just 50% of his games "unforeseen"? I think not.

Find The Traders' podcast on: Apple Podcasts, Google Podcasts and Spotify.
Deck of DT Rating.
QUEEN – The argument is a simple one. Risk v Reward. Can you select a player who is 'doing all the right things' after missing an entire season but he has averaged 103 before, and is priced at 71? Or with his record of only playing 50% of his games in his career with multiple injuries including a severe groin that floored him in 2018, is he too much of a risk?
The answer to me is simple… You pick Brad! BUT… we must see him in the JLT and he must be able to run. If I see a two legged Brad running around in the JLT… it's a done deal.
Loading ...
FOLLOW ME ON TWITTER: @CalvinDT for all thing AFL Fantasy (and more). Got something to say about the deck? Use the hashtag… #DeckofDT.