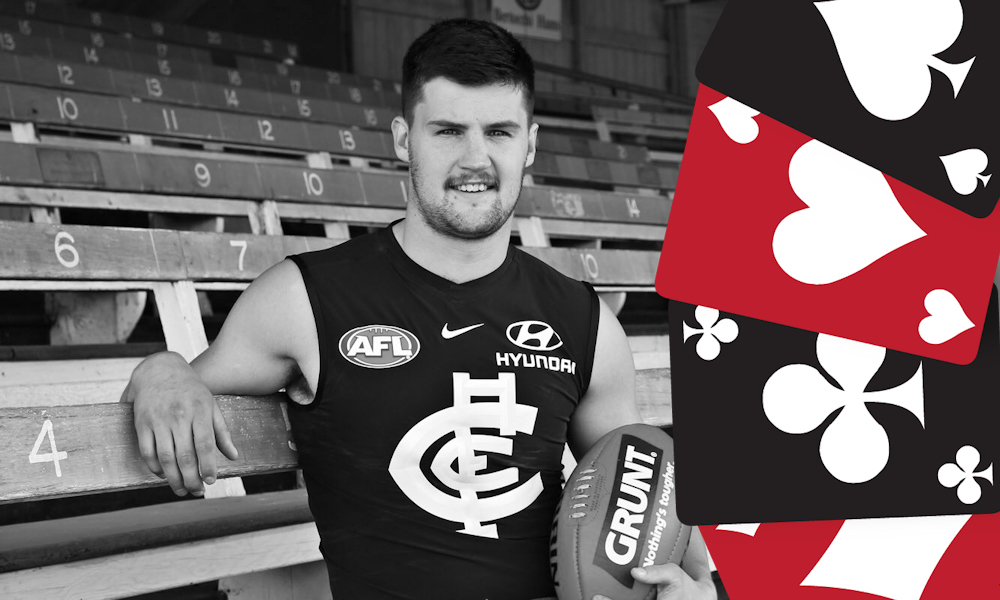 Name: Nic Newman
Team: Carlton
Position: DEF
Price: $552,000
Bye round: 19
2018 average: 76.1
2018 games played: 10
Predicted average: 88
Draft range: 8-10th Defender
Click here for 2019 Fantasy prices.
Why should I pick him?
Newman came from nowhere to dominate the Fantasy scene in his debut year. Well I shouldn't say nowhere, we knew he was a proven NEAFL Pig but he certainly showed snout on the big stage with five big hundreds, all of which were over 110 and included an impressive ceiling of 135, eventually averaging 87 over 18 games.
Now like ball magnets of seasons past at the Swans, he fell out of favour with the coaching staff who tend to frown upon talented ball winners, similar to those who go on to win Brownlow medals. I am not for one minute suggesting that Newman will go on to win a Brownlow, but with Sam Docherty missing for the 2019 season, he has been gifted an amazing opportunity to flourish with the developing Blues.
During the pre season last year there was a lot of talk about 'The Docherty role' which we quickly realised there is no one that can come close to filling the great mans shoes, so the role, so to speak is non existent. There is however, a lot of ball that that needs to be in capable, attacking hands to assist Kade Simpson who was too heavily relied upon last season and Newman is ready made to flourish alongside the veteran. Newman's ball use is highly regarded by the Blues coaching staff and expect to see plenty of it in his hands.
What the Blues drafted him for: The positives are three-fold for Carlton's newest recruit: efficiency, versatility and grit. His left foot across half-back is his main asset, hitting targets and launching his side in defence. He is equally adept in the back-line and along the wing, where he spent a fair portion of his time in 2017. Generally, his tackles stay stuck: Newman ranked elite in 2017 with a tackle efficiency rate of 78 percent.
Why shouldn't I pick him?
Only managed ten games and an average of 76 last year which showed a ten point decline from his previous season.
He is an awkward mid pricer, where a minimum ten point increase is required to be considered a successful selection.
Turned in some stinking scores last year which would be considered a season ending disaster if you put your balls on the line and pick him this year with six scores under 69 including a 50 and 44… that was from just ten games remember.
There is no guarantee he will play the half back/wing role that we are expecting him to seamlessly slip in to.

Find The Traders' podcast on: Apple Podcasts, Google Podcasts and Spotify.
Deck of DT Rating.
QUEEN – The guy had 35 touches in just his fifth game of footy and the Blues need guys who can consistently get their hands on the rock. Doc is down and when given an attacking role across half back/wing last year he had a couple of nice games with 104 and 119 from 24 and 22 touches respectively. His pre season has been outstanding and he is almost unrecognisable after dropping a noticeable amount of weight so with the release from the Horse hand break, I am expecting big things and a minimum ten point average rise. If there was ever an aligning of the planets for a natural ball winning half back to exceed expectation, this is it. It is a season defining, massive call to make that could go either way but I am expecting it to be a huge success.
Loading ...
FOLLOW ME ON TWITTER: @RoyDT for all thing AFL Fantasy (and more). Got something to say about the deck? Use the hashtag… #DeckofDT.