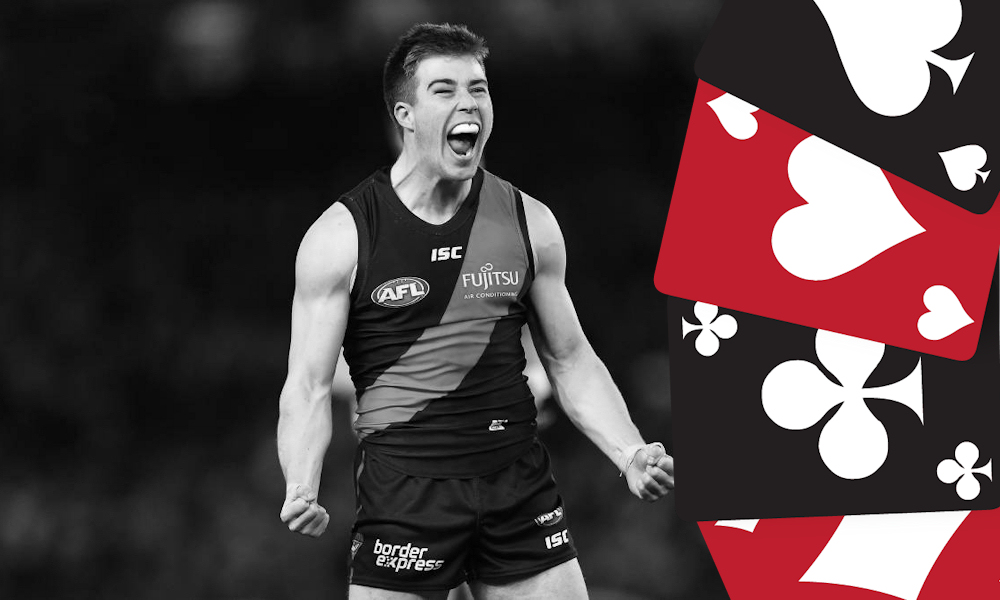 Name: Zach Merrett
Team: Essendon
Position: MID
Price: $736,000
Bye round: 12
2018 average: 101.5
2018 games played: 22
Predicted average: 115
Draft range: 6-10
Click here for 2019 Fantasy prices.
Why should I pick him?
In 2016/17, Zach Merrett was right up there as a must-have midfielder. In '16 he finished just a few points behind Patrick Dangerfield to be the second best Fantasy player of the year. He backed it up the following season with another 117+ average to be behind Dangerfield and of course, Tom Mitchell's stellar first year as a Hawk that saw him granted Pig Status.
Merrett was in the conversation for this honour at the time starting the year in tremendous form averaging 125 over the first 10 rounds; including seven scores over 120 and a top of 150.
Across his two big seasons, Merrett posted 120 or more in more than half of his appearances putting him right in the frame as a captain option. In Draft for the last two years he was a consensus top 3-5 selection.
The 23-year-old's average of 101.5 was a massive burn for the coaches who opted to draft him as high as pick 3 this year, despite playing all 22 games. Concussion in round one which saw him have a kip in the middle of Etihad Stadium saw his night finish early for 23 points. The next week he went to WA and copped the Bailey Banfield tag and scored 78. Just 13 touches and 60 points in round three against the Dogs saw his price plummet $182K after starting the year as the third most expensive player; one many – including Roy and Calvin – started with as he was a 'safe' premium.
While there were a few tons mixed in there with a couple more stinkers in the first half of the season, after round 10, Merrett averaged 114.1. This ranked him third behind Mitchell (135.6) and Brodie Grundy (119.9) for the top averaging players in that time.
Looking ahead to this year, there is no doubt that at his price of $736K which is based on that 101.5 average, his worst since his second year of footy, he is a bargain. The selection almost feels too easy.
Why shouldn't I pick him?
Injury isn't a worry as he's missed just one game in the last three years (suspension) and he played through the concussion issues – maybe not a great call at the time for his 2018 owners, but good for his new price.
The major concern is the tag.
In the second of Merrett's 117+ seasons, he copped some attention which didn't produce completely awful scores, but only scored one ton – albeit a 144 – from round 18 to the elimination final. This was enough for Monty from FanFooty to make a big call about how he is tagable and dropped him significantly (30+) in his draft rankings. He ended up being 'right' with this, but it was helped by his round one concussion. Fantasy Draft coaches would have been pretty stoked with his end to the year if they picked him up in the third round based on those rankings!
As mentioned earlier, he copped the Banfield tag in round two at Optus Stadium. Maybe it was some of the after effects of concussion or the second gamer's complete sacrifice of his own game, but it was a tag and Merrett didn't handle it. He did cop some attention in those first few rounds – including vs Hawthorn (64) and Carlton (81) – but worked through it later in the year. That 114.1 average after round 10 did include some tags from Sydney's Hewitt and West Coast's Hutchings, but his 99 and 103 were respectable given the circumstances. Merrett's return bout with Banfield saw him score 112.
The only change in personnel at the Dons that would affect his output is Dylan Shiel. Most Fantasy coaches and footy pundits agree that this should help the midfielder. Merrett should benefit in the sense that this only 'real' concern about his game, the tag, is more likely to go to Shiel as it has in a lot of his games for GWS.

Find The Traders' podcast on: Apple Podcasts, Google Podcasts and Spotify.
Deck of DT Rating.
KING – As close to an ace as you can get. For a bloke who has gone 117+ twice, missed just one game in the last three years, shown a ceiling and had the infamous pig status term thrown around, to get him priced at just over 100 is an absolute steal. At worst he goes at around 110… but going off his back-half of the season average and what he did in the two years prior, that is a conservative figure. It would take something pretty significant for me not to start with him and he will be one of the most popular players this year. Lock him in and throw away the key! As for Draft, he's unlikely to be that top 5 pick that he has been over the last couple of years, but there is no way he'll be going around the 101.5 mark that he will be initially ranked. Adjust those ranks to at least in the group of the 110+ players, but with his durability, if he is still there after the first round, I would be very surprised. With captains on, I would be feeling alright to take him at approx. pick 6.
Loading ...
FOLLOW ME ON TWITTER: @WarnieDT for all thing AFL Fantasy (and more). Got something to say about the deck? Use the hashtag… #DeckofDT.