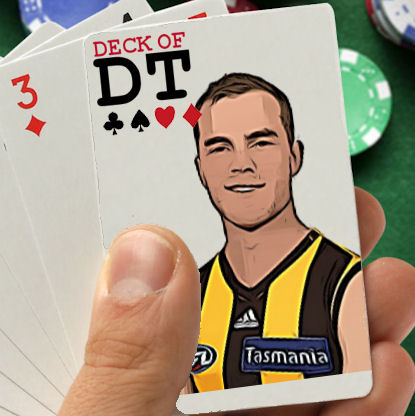 Name: Tom Mitchell
Team: Hawthorn
Position: MID
AFL Fantasy: $896,000
Bye Round: 12
2017 Average: 127.2
2017 Games Played: 22
Predicted Average: 125
Draft Range: 1… no range, just pick him first!
Click here for DT Live profile.
Why should I pick him?
Titch is now a Fantasy Pig.
Oh, that's not enough? You want me to go on?
The background needed is that we all knew that Tom Mitchell has a Fantasy game about him. We saw that at the Swans at times despite Horse throwing him in the green vest, making him play less than Fantasy friendly roles and even some NEAFL stints while wearing the red and white.
His final two years up at the Swans saw averages of 106.7 (17 games) and 105.6 (22 games) before heading to the Hawks for what was the best Fantasy season of all-time; an average of 127.2 (22 games). That's right, the best ever. Swanny was the first Pig in the pen who knocked out an average of 133.5 and Rocky who has the world record season average of 134.7 haven't scored as many points as Titch has in a single season. That is arguably more important – the fact he is durable and can be relied upon week in, week out.
Mitchell's first season as a Hawk was something special. It took until round 19 for him to produce a score under 100. And yep, that was a 94 (he knocked out 99 the following week) so sadly he didn't go the whole season with 100+ in each game. The numbers per phenomenal. While only one score was over 150 – a thumping 177 against Collingwood in round nine when he collected 50 touches and Bucks didn't think they should be giving him any attention – Titch had one score (115) below 122 for the opening nine rounds. It was amazing.
An average of 36 disposals for the season with five marks and seven tackles is a statline that screams piggery – but what is amazing is that he did this with a kick:handball ratio of 1:1.5. This isn't a trait of a good Fantasy player, but if you're getting the pill that much, then the extra point is being made up… and some!
Looking ahead to this year, the big question is do you start with him? Being priced at $896K, that is 7% of your salary cap… and if you made your team up of Titch's, you're only going to be able to fill 14 of your 30 spots.
The short answer is yes.
Some coaches like to wait on a player that is 'fully priced' or in other words, priced based on their high average from the previous year that is their personal best and at best maintains it, or more likely performs below that level. There is a possibility that Tom Mitchell can go to another level. In round one they Hawks take on the Pies. In his last four games against Collingwood, Tom Mitchell has scores 135, 177, 132 and 138. All of those scores are higher than his breakeven and he could in fact go big and be worth over $900K after the first round (let that number sink in!).
Even if he averages less than last season, it would have to be significantly less to drop him to a value that you could upgrade to, otherwise it's a 'sideways' (or upgrade) from a premium that you have already selected in the hope they'll be in your team all year.
Why shouldn't I pick him?
$896K is a lot of money.
With a potential lack of rookies/players under $200K, we will be paying a few more dollars for our cash cows and the old faithful Guns n Rookies may not work as well as it has done in the past. It could be more of an Underpriced Guns and Higher Priced Rookies strategy to use it to full effect.
If you 'somehow' think he's going at 115 or below, it would be worth waiting on him. He'll drop more than $100K over those first few weeks and possibly be 'value' at the byes. The kick:handball ratio could be a reason to be scared off, but think about those numbers reeled off before. That's no reason to be worried.
One factor – and we didn't see much of it last year – is how the Fantasy points are spread in the Hawthorn midfield when a fully fit Jaeger O'Meara is there. Not that I think it would matter. In O'Meara's best game in the yellow and brown, round 23 last season, he scored 101… while Mitchell still knocked out 120 in a display that saw 32 disposals next to his name as well as seven marks and six tackles.
There isn't anything that I can justify not starting with him. If you don't and it comes off, you've got lucky! Either nailing the right mid-priced and value premium options or Titch has picked up an injury or his form somehow goes against all logic and drops off. You won't be a genius, you've just been kissed on the dick by the fantasy fairy.
Deck of DT Rating.
ACE – With four weeks (and one day) until lockout, don't go wasting your time on thinking about this selection. Yes, he'll most likely drop a bit in value, but how will you realistically be able to get him? It won't be a downgrade and an upgrade… it'll be multiple. If you've got him from the get-go, you skipper is locked in and you don't have to stress about not owning a pig. Ham is the best meat you can get in Fantasy – even if the beef from the prime cash cows tastes good. Lock him in and if you've got Pick 1 in your Draft league, you'd be silly to even contemplate anyone else.
Loading ...
FOLLOW ME ON TWITTER: @WarnieDT for all thing AFL Fantasy (and more). Got something to say about the deck? Use the hashtag… #DeckofDT.
Thank you for reading the Deck of DT articles this year! Once again it has been an awesome series with plenty of players put under consideration – or crossed off lists. Huge props to our writers. Without the team of legends that we have here on DT Talk, we wouldn't have the best fantasy site on the web! Click the image below to check out all of the cards and get excited – we have four weeks of the pre-season to go with plenty of great stuff coming on dreamteamtalk.com!