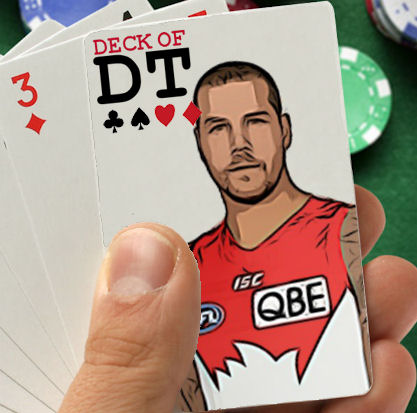 Name: Lance Franklin
Team: Sydney Swans
Position: FWD
AFL Fantasy: $677,000
Bye Round: 14
2017 Average: 96.1
2017 Games Played: 22
Predicted Average: 95
Draft Range: 2nd or 3rd round (top 4 forwards)
Click here for DT Live profile.
The Bondi Billionaire is the subject of today's Deck of DT and he presents us with a ton of questions. Last season Lance 'Buddy' Franklin single-handedly won some coaches their leagues with his booming left foot helping him bag 10 goals and 171 Fantasy points in the Fantasy Grand Final. At 31-years old, his prime is behind him, but he can still make a decent contribution to the world of Fantasy.
Why should I pick him?
For two years straight Franklin has played all 22 games for the Swans. His only other season playing every home and away game came in 2008 when he famously bagged 102 goals. Should he play all 22 games again in 2018, there's little doubt that he will be a top six forward or at worst one of the top eight.
With the exception of a dirty day in Round 20 last year, Buddy was pretty consistent throughout the entire year. He had nine tons and had eight other scores in between 80-99. His numbers from the 2016 season are pretty similar as well with very few nightmare games, which is noteworthy for those looking to invest in the star.
The way that Buddy goes about his footy check all the boxes from a Fantasy perspective too. He takes a lot of marks, kicks a lot of goals and he isn't a fan of handballs. He's no Heath Shaw, but if Franklin is anywhere within 70 metres of the goal there's about a 0.2% chance a handball is coming. All of these factors result in him putting up some massive numbers, with four scores of 125+ last year. No other key forward boasts the ability to throw up those type of numbers on a semi-regular basis.
Being a big game player and a guy that shines in the spotlight, we could see some big hauls from Franklin this year. He currently sits 10th on the all-time goalkicking list (860 goals) and with the likes of Peter McKenna (874), Leigh Matthews (915) and Matthew Lloyd (926) within striking distance, I can see Franklin's eyes lighting up already at the thought of moving his name up the list.
Why shouldn't I pick him?
The biggest concern for ageing players is seeing their bodies break down. By no means is Franklin finished at 31, but the 271 games he has played are starting to take their toll. There's a real chance that we won't see Buddy at all this pre-season after off-season surgery on both his knees and his ankle.
Sydney's general manager Tom Harley remains adamant that Franklin is fit and in great shape building up strength in his legs after his multiple surgeries. Being on a modified pre-season program isn't exactly what owners want to hear out of the Swans camp regarding Lance.
There are stretches in games were Buddy goes missing and fails to rack up a ton of touches. There may not be a bigger X-factor type player who can win a game off his own boot. However, as he gets older he could show signs of losing that 'spark' which would see his scores drop. I still think we are a few years away from seeing that version of Lance, but it's something that still needs to be considered.
Priced at an average of 96, Franklin is the second most expensive forward in the game behind Sam Menegola. With nearly 20% ownership a ton of people are paying up for Franklin, but the likes of Swans teammate Isaac Heeney or Saints young gun Jack Billings offer the potential to score much higher and come at a cheaper starting price.
Deck of DT Rating.
KING – Franklin probably deserves to be an ace, but the age factor is holding him back for me. A slow start and the growth of younger Swans (Heeney, Papley, Hayward and Florent) could see his average take a little bit of a hit, but I'm expecting to average in the mid 90's without too much sweat.
It might not be the smartest decision to start with him in Classic considering all the potential cons. If he can play all 22 games at an average of 90-95 though he offers a plug and forget forward that you don't have to worry about on a weekly basis. The same can be said for Draft and it wouldn't surprise me if Franklin was the first forward taken in some draft leagues.
Loading ...
FOLLOW ME ON TWITTER: @alexandergfry for all thing AFL Fantasy (and more). Got something to say about the deck? Use the hashtag… #DeckofDT.