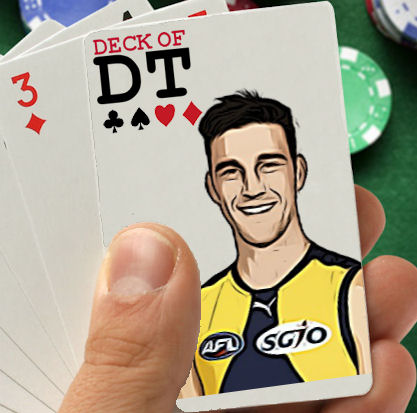 Name: Elliot Yeo
Team: West Coast Eagles
Position: DEF
AFL Fantasy: $692,000
Bye Round: 12
2017 Average: 98
2017 Games Played: 21
Predicted Average: 95+
Draft Range: 10-20
Click here for DT Live profile
Why should I pick him?
Full disclosure, at the time I'm writing this- I am finding it hard to select which side of the fence I am in with respect to selecting Yeo on my starting line-up.  I have picked him in and out of my team so many times now it feels like 'Groundhog Day'.  Elliot Yeo's average last year was 98, this makes him the 4th highest defender. Along with Docherty, Laird, and Simpson they form the top echelon of defenders in 2017.  This is also why he comes at a premium price of $692,000.  Now I feel like there is a bit of pressure with this write up because Yeo is Calvin's boy.  So, the question I ask myself is, why should we pick Elliot Yeo in 2018?
Another full disclosure, I am a tragic and diehard West Coast Eagles fan. I watched a lot of the WCE games last year and I saw Elliot Yeo's 'break out' season.  He is of course the reigning club champion but let's talk fantasy. Let's look at his figures closely in the last 2 years, with a greater focus on his 2017 season.
Last year, he played 22 games at an average of 98.3, if you take into consideration his donut in round 17, his average falls to 93.9.  Now some of you might say that "you can't count that donut and that "it shouldn't affect his average". In AFL Fantasy stats it doesn't and that's why his average is 98.  But at his price if you are staring with him, I feel it's important to consider that donut.
Let's compare his average points in 2016 (79) as oppose to 2017 (98). It is evident that his 'break out' season also reflected his AFL Fantasy scoring. Last year, he started off with a bang and produced 8 tons before the bye (8/11). Before the WCE bye, his average per game was 108, this comes with a ceiling of 152 and a bottom of 73.  After the bye, his average was 88. If you picked him at the start of the year, you would have been very happy with those scores.  Elliot Yeo is a beast when he is on, he can accumulate points very quickly. If you watch his games last year, you would have looked at some of his half time points and just stared with awe. Yet there were also games last year where you would have thought, ''yeah, it's one of those nights", "the string is broken", but he got a ton or scored a decent 80+.
How does Yeo score his points? Let's go deep dive into his stats. Let's look at how he has scored his points in 2017 (see table below).
Can you pick a trend in that data? Look closely, "you bet your house", "I will eat my hat" when Yeo is given 'the role' and allowed by opposition to intercept the long ball, he will score a ton! Last year, in all but 1 of his 9 tons, his mark count was 8 or higher.  But of course, you say, "that's a +6 if he kicks the ball!".  With Yeo it is all about what position and role he plays for WCE. If he is left to play his game, he can produce that ton like a Yoyo on a string!
Why shouldn't I pick him?
Now there's two sides to the story, the question I ask myself is, "In 2018 which Yeo will we get?" Another disclosure, I didn't start with Yeo last year and I brought him in after the WCE bye. I copped a donut and I also saw his average go from 108 to 88, because of this, I might still be a bit angry at him.  Without Mitchell or Priddis, he is another one of those players that are rumoured to have more midfield time.  The issue is that Yeo plays on the backline, as a forward, and in the midfield. This is not just in one season but sometimes in one game.  Normally you would also think that more midfield time means higher scores.  Yeo is like Docherty, he will score better in the backline than in the mid, only difference is that Yeo's marks are intercepts!
The big issue I see with Yeo is that he might still be underdone.  There are reports that indicate he suffered from hip soreness late in the 2017 season and this has delayed his training in 2018. At a hefty price of $692K, he better be playing most of his games. Last year he played 22/23 games and in 2016 he played only 19/23 games.  If he doesn't play any pre-season games, will you pick him on your staring side?
Is the string broken? If you look at both 2016 and 2017 data, Yeo's average after the bye doesn't read well.  Even if you just focused on the 2017 data, that's 20 points differential, on the negative side. With injury concerns in 2018, most will look for value in other players that have a much lower price tag.  With both Jake Lloyd and Jack Crisp available at a lower price will you be one of those coaches that will look for value elsewhere?
I can't finish a write-up without looking at his vanilla meter. If early selection are any indications, he is certainly not a unique. Laird is the most selected defender (49%) followed by Yeo (28%), Lloyd (22%), and Simpson (19%).  If you want to bet against the trend and play the 'short selling' game, Yeo can be that player.  The plan would be to watch his price go lower, then buy low at just the right price and enjoy the high scores.
Deck of DT Rating.
KING – There will be a lot of coaches that will sit on the fence regarding Yeo.  He is certainly one of those players that can go either way in his AFL Fantasy.  When you talk about Yeo, you really don't mention the word 'consistent' in an AFL Fantasy sense. Fit and in the right role, he is a King and he is an ideal pinch hitter in your side. I still believed that he will be amongst the top 6 defenders by season's end. Yeo's late and interrupted start in 2018 is not ideal.  The significant issue I see is that he is a bit underdone so his scores will be affected which means that he will also bleed cash. Am I picking him this year?  I think I'm still on that fence.
If there is anything specific you want answered, make sure you add me on Twitter @magtuto so I can answer your Q's.  Go unique!