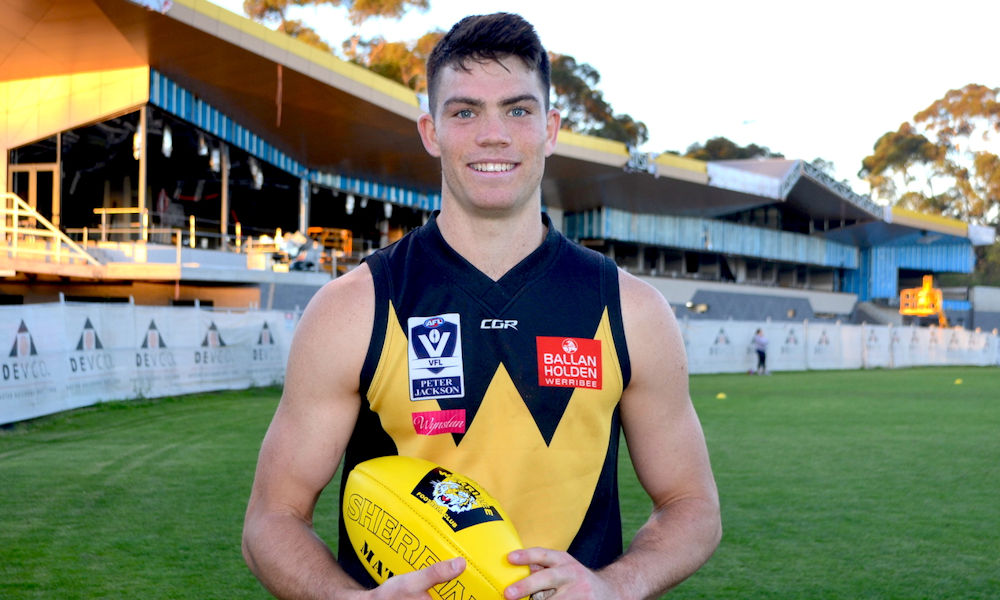 Rather than priority picks, the AFL decided to award Gold Coast and Carlton Special Assistance picks of players, quote, "who have previously nominated or been eligible for the Draft or were previously listed with an AFL Club prior to the upcoming 2018 NAB AFL Draft (this right can be on-traded)".
Gold Coast were allowed and picked up three players, while Carlton had to ability to grab two. The Blues ontraded their selections during the recent NAB AFL Trade Period.
At this points we're not sure what they will be priced at. As he played with Fremantle, Sam Collins has data that will allow him to be priced based on previous form. As for the other four, they could be basement priced, but due to the fact they were able to be taken before the Draft, they may have a premium price added as they are essentially pre-selections. A suggestion could be to price them $50K more than basement price which lumps them all with the 25th pick overall in this year's draft. A $20K price premium is probably about right looking at what Carlton did with their players they ontraded.
Here is some information on the five mature-aged Special Assistance selections for the Suns and Blues.
Sam Collins – Gold Coast
FORMER CLUB: Werribee (VFL)
AGE: 24-years-old
POSITION: Defender
Collins was selected by the Dockers as a mature-age pick in 2015 and played 14 games across two seasons at an averaged of 57.7 points. In 2018 he moved back to Victoria to play for Werribee, winning the club's best-and-fairest and finishing third in the VFL's JJ Liston Medal (league B&F).
The 194cm intercepting defender won Peel Thunder's best-and-fairest in 2017. Collins will most likely receive a 30% discount on his 2017 AFL average of 49.5.
Collins' fantasy scores and stats from his last six rounds of his outstanding season for Werribee can be seen below:
Rd 15 vs Essendon – 128 (25d, 16m)
Rd 16 vs Northern Blues – 118 (25d, 15m)
Rd 17 vs Richmond – 107 (23d, 7m, 5t)
Rd 18 vs Coburg – 114 (23d, 14m)
Rd 19 vs Box Hill – 105 (22d, 4m)
Rd 21 vs North Melbourne – 87 (17d, 11m)
Sam Collins took 110 intercept marks in the VFL this season – the most @championdata has ever recorded by any player in any competition. Jeremy McGovern (90 in 2017) ranks 2nd. #2019AFLProspectus #SuperCoach #AFLFantasy

— Fantasy Freako (@FantasyFreako) October 16, 2018
Josh Corbett – Gold Coast
FORMER CLUB: Werribee (VFL)
AGE: 22-years-old
POSITION: Forward
Corbett's 2018 campaign for Werribee was cut short when an eye injury ended his breakout year in the VFL mid-season. He was named the Fothergill-Round-Mitchell medallist for most promising young talent (Bayley Fritsch, Luke Ryan, Nic Newman and Kane Lambert were former winners).
Corbett kicked 22 goals in 9 games while averaging 7.6 marks per game. The 190cm forward scored 102, 63, 73, 81 and 29 (inj.) in his last five VFL appearances.
"I probably like to think I'm more of a typical centre half-forward in between the arcs and then can impact the scoresheet if needed," Corbett said.
"I like to think that my marking and my endurance is also something else that I can bring to the SUNS and continual contests and making a contest for those around me."
Chris Burgess – Gold Coast
FORMER CLUB: West Adelaide (SANFL)
AGE: 22-years-old
POSITION: Defender/Forward
Burgess has spent time playing as a key position player at both ends of the ground, starting as a defender with a long, accurate kick. With contested marking one of the big positives in his game, he was moved forward for West Adelaide at the end of 2017 and spent this year playing as a key forward kicking 18 goals.
In his last five SANFL games, the 194 cm swingman scored 53, 105, 73, 62 and 86.
Nathan Kreuger – Geelong (ontraded from Carlton)
FORMER CLUB: South Adelaide (SANFL)
AGE: 19-years-old
POSITION: Forward
Overlooked on draft night last year, the 195cm key forward who has the ability to play back, kicked 22 goals from his 13 SANFL games this year. As a key position player – and a young one at that – we don't expect huge Fantasy numbers. Kreuger's most recent scores for South Adelaide are as follows: 47, 58, 67, 57, 88, 60, 47.
It is unlikely that Kreuger will have opportunity at the Cats, especially early on, and will probably be a project player spending plenty of time in the VFL.
Shane McAdam – Adelaide (ontraded from Carlton)
FORMER CLUB: Sturt (SANFL)
AGE: 23-years-old
POSITION: Forward
McAdam is originally from the remote Halls Creek in northern Western Australia has been turning heads for Sturt in the SANFL where he was only one of two mature-age players invited to the National Combine. At the 2015 WA state combine, he 185cm medium sized forward equaled the running vertical jump record (102cm) set by West Coast star Nic Naitanui. He went on to finish first in the 20m sprint (2.89s) and second in the agility test (8.04s). It's fair to say that speed is one of his best attributes.
The nephew of Gilbert McAdam kicked 31 goals from his 17 games this year with most recent Fantasy scores of: 57, 51, 91, 56, 70.