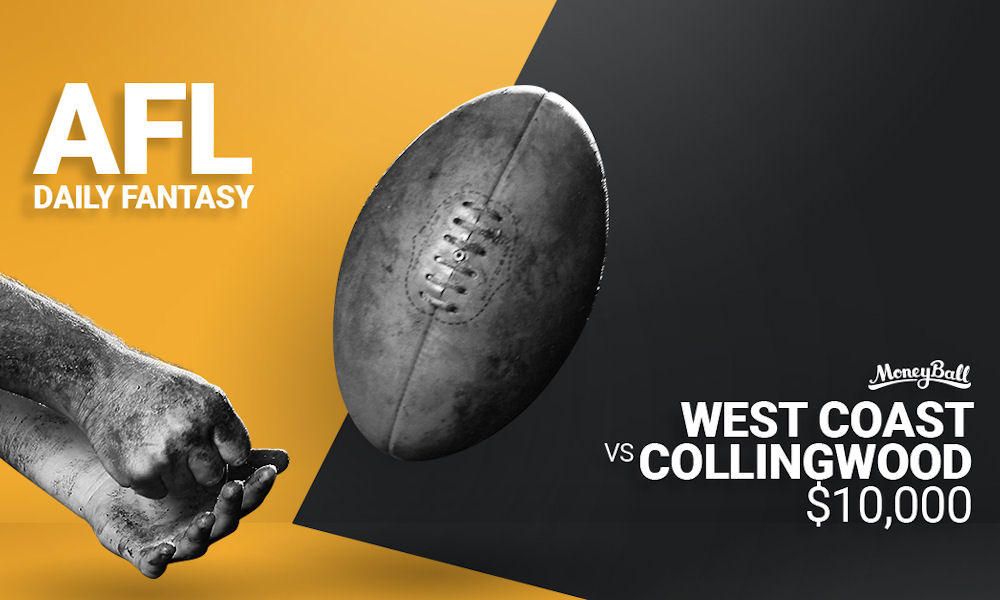 Tbetta here, and welcome to the self-proclaimed top resource for keen Aussie rules Moneyball punters! DFS (Daily Fantasy Sports) is taking off around the world and Moneyball have the perfect platform for you to turn your AFL Fantasy prowess into cold hard cash. Signing up is easy – head to moneyball.com.au and you could be ballin' within minutes.
If you're unsure how DFS works, be sure to head to the 'Help' section for all the info you need to start cashing in on your AFL Fantasy knowledge.
Click here to subscribe on iTunes.
West Coast vs Collingwood
BEST PICK: Jack Redden ($9,400 MID)
Redden is the form player of the competition heading into this game, fresh off a monstrous 162 last week, thanks to gaudy figures of 31 disposals, 13 marks and 9 tackles. He's really starting to show what made him such a fantasy phenom as a young Lion – his ability to consistently hit solid numbers in a range of statistical categories without necessarily dominating in any specific area.
His history against Collingwood this year highlights that:
Round 17: 135 AF (30 touches,  8 marks, 7 tackles)
QF Final: 141 AF(32 touches, 12 marks)
Redden simply has to be at the top of your wishlist in the final game of 2018, especially in West Coast stacks – he averages 124 in Wins since the Bye.
BEST PICK: Taylor Adams ($9,700 MID)
The return of Treloar hasn't hamstrung Adams in the fashion that it did earlier in the season, with Taylor still consistently hitting healthy totals, clearing 110 in 4 of his past 5 outings. He loves playing the Eagles too, producing scores of 99, 140, 106, 83 and 118 against them over his career, his best record against any team. Much like the way Adams plays his footy, picking him in Moneyball is no-frills and not particualrly sexy, but it pays dividends.
BEST STAT: Brodie Grundy ($10,900 RU)
There are legitimate concerns about the combo of Lycett/Vardy and their ability to match rucks at ground level after they kept Gawn to just 11 disposals last week. In isolation, that isn't much. But when you pair it with his production against West Coast this year:
Round 17:  68 AF (worst score for the season)
QF Final: 110 AF (9th-worst score for the season)
As you can see above, Grundy averaged just 16 disposals vs West Coast this year, which is a significant 5 touches less than his season average. Do you know what Grundy's scores with less than 16 touches this year looks like? 84, 101, 68 and 89. Ouch.
On the flipside… This is Brodie Grundy, the best ruckman in the competition, up against two battlers. But most crucially, it's at the MCG, where he's pumped out 147, 147, 111 and 134 in his last few appearances at the home of football.
BEST STAT: Jeremy McGovern ($6,100 DEF)
This recommendation is solely due to the match-up, and doesn't take into account the reported hip corkie that McGovern has dealt with this week. His last 3 games vs Collingwood look like this:
Round 18: 86 AF (18 touches, 8 marks)
Round 17: 107 AF (22 touches, 12 marks)
QF Final: 89 AF (18 touches, 9 marks)
These numbers are no coincidence. Collingwood has conceded the most points of any team to Key DEF's this season, including allowing the 5th-most marks of any team this year. And we all know how much "Mits" loves a clunk – McGovern's scores with more than 8 marks this year (84, 101, 76, 86, 98, 107 and 89) are his exact 7 highest scores for the season.
BEST VALUE: Dom Sheed ($7,300 MID)
Once again, Count Sheed is getting the job done without Gaff, soaking up the extra +6 combos:
With Gaff: 20 touches, 3 marks, 69 AF
Without Gaff: 27 touches, 6 marks, 94 AF
He managed 97 AF against the Pies in the Qualifying Final (he didn't play in Round 17) and will be approaching lock status at this price, especially as he's collected at least 27 disposals in his past 4 games – a feat that only he and Steele Sidebottom can claim heading into the grand Final.
BEST VALUE: Liam Ryan ($4,900 FWD)
Worth a long look if you think Eagles win… But not someone you want in Collingwood stacks!
Wins: 14 touches, 2.3 goals, 73 AF
Losses: 9 touches, 0.8 goals, 39 AF
BEST VALUE: Chris Mayne ($6,700 FWD)
This is your classic moneyball selection in the traditional sense – a no-name player getting the job done statistically. Mayne has become an intriguing story in the lead-up to this GF berth, averaging 86 over the past 3 weeks and scoring at least 72 in 4 of his last 5 appearances.
BEST RETHINK: Steele Sidebottom ($9,600 MID)
With his last 3 scores of 71, 48 and 98 against the Eagles, I don't know how you can pick Sidey here. He was tagged by Hutchings in the former pair of those games, and was eventually given the job in the third after Sidebottom exploded with 16 touches and 60 AF in the first half of the Qualifying Final. Obviously, he only scourged together another 38 points after the main break after being reunited with his shadow.
Alarmingly, no player has topped the ton in Hutchings' last 10 games as a tagger, with his opponents over the past month averaging 23 points less than their regular output. I'm not mathematical genius, but Sidebottom's 105-point average, minus 23 = 82 AF.
BEST RETHINK: Mason Cox ($5,400 RU)
West Coast are the hardest team for Key FWD's to score against over the last 5 weeks, which admittedly has a lot to do with the fact that Cox was absolutely destroyed by West Coast's backline the last time they met; 5 touches, 2 marks and 18 AF was all he could muster in that final. McGovern intercepted the majority of high-balls into the 6'10" monster, while Barrass and Hurn mopped up the rest in what is a significant structural advantage for the Eagles.
Like most key forwards, Cox relies on marks to score:
Scores with less than 3 marks this year: 40, 30, 28, 18.
Scores with more than 7 marks this year: 82, 114, 85, 108.
So the question is, with that critical RUC slot up for grabs in Moneyball, do you think he can defy the West Coast defenders and have an influence in the air?
Always remember to gamble responsibly. If you're having problems with your betting, you can get help at Lifeline or talk to someone at Gambling Help Online.