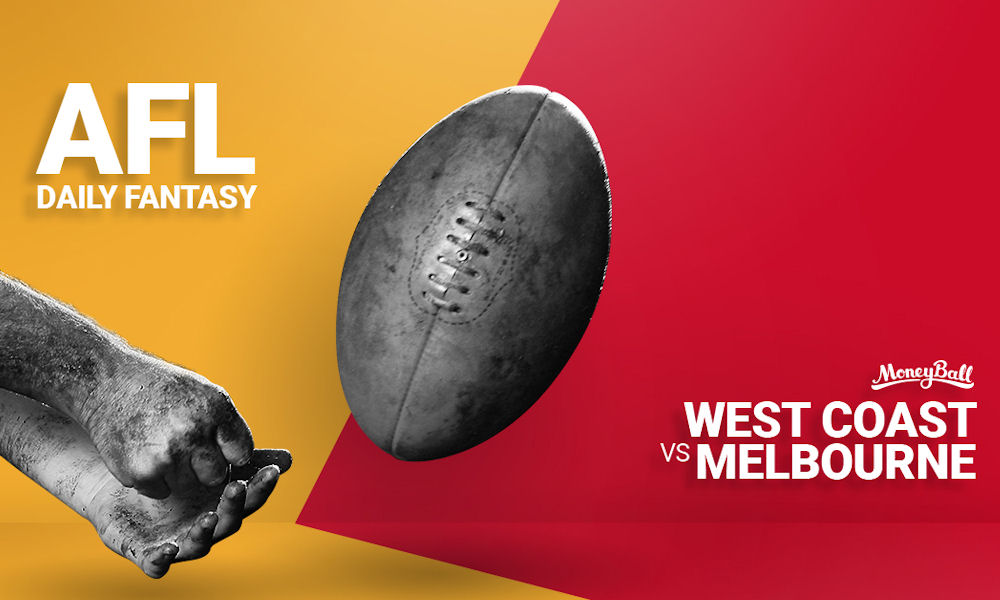 Tbetta here, and welcome to the self-proclaimed top resource for keen Aussie rules Moneyball punters! DFS (Daily Fantasy Sports) is taking off around the world and Moneyball have the perfect platform for you to turn your AFL Fantasy prowess into cold hard cash. Signing up is easy – head to moneyball.com.au and you could be ballin' within minutes.
If you're unsure how DFS works, be sure to head to the 'Help' section for all the info you need to start cashing in on your AFL Fantasy knowledge.
Click here to subscribe on iTunes.
West Coast vs Melbourne
BEST PICK: Max Gawn ($9,400 RU)
Despite a strong start offensively as Naitanui's replacement, Lycett is being seriously exposed as an area of weakness as the capable ruckman line up to knock him around. Gawn (111), Martin (105) and Grundy (110) have disposed of him over the last 3 weeks, which means that Gawn has now scored 120, 96 and that 111 in his past few against West Coast.
Interestingly, over the last 3 years (basically since he's been a premium ruck) Gawn's averaged 112 whenever he catches a plane to play, as opposed to just 100 in Victoria. The guy loves a challenge and there will be none bigger than a facing West Coast on their home deck surrounded by 60,000 feral opposition fans. Lock.
BEST PICK: Elliot Yeo ($10,500 DEF)
What an end to the season this guy has put together, hence the price. Not only has Yeo recorded a 127-point average over his last 7 games with a lowest score of 107, he's also finished.as the top-scoring Eagle in 5 of their last 7 matches – and top 3 in the other couple. And he's no longer the downhill-skiing Yeo-Yo of old. He's actually very pickable in Melbourne stacks, averaging a hefty 118 in losses this year!
Yeo loves playing at home too, busting out 117, 118, 134, 113, 130 and 144 in his last gallops on Optus. The only issue here is his price-tag, and it might require some creativity to earn his signature.
BEST STAT: James Harmes ($8,500 MID)
Did you know that Harmes is the highest averaging Demon over the past month? Since he started tagging he's taken his game to a new level, he's averaging 113 over the past month – Gawn (107), Brayshaw (105) and Oliver (90) don't even get close. The workhorse has recorded 10 and 11 tackles in the finals series so far and I expect he'll get his hands dirty again on Saturday.
BEST VALUE: Sam Weideman ($5,100 FWD)
Weideman has been ridiculously good value since Hogan went down injured:
With Hogan: 9 touches, 3 marks, 0.4 goals, 45 AF
W/O Hogan: 16 touches, 6 marks, 1.8 goals, 84 AF
He's got a worrying floor, but honestly, I don't see him as the same player as the guy who's gone under 50 in half his games this season. He's roaming, he's taking marks and he's hitting the scoreboard. Get him in.
BEST VALUE: Dom Sheed ($7,100 MID)
As we've talked about over the past few weeks, Sheed has stepped right into Gaff's link-up role since he went all Fight Club in the Derby and his scoring is showing it:
With Gaff: 20 touches, 3 marks, 69 AF
Without Gaff: 28 touches, 6 marks, 95 AF
Sheed has been the Eagles' highest disposal winner in 2 of his last 3 outings, which makes him pickable in cash games, GPP's, Melbourne stacks – you name it.
BEST VALUE: Liam Ryan ($4,600 FWD)
Think the Eagles will win? Ryan is the salary-saver you want.
In Losses: 9 touches, 0.8 goals, 39 AF
In Wins: 13 touches, 2.5 goals, 72 AF
BEST RETHINK: Clayton Oliver ($9,700 MID)
Oliver has copped the Hutchings tag in their last two clashes with West Coast for scores of 84, 75, and I don't see any version of events where he doesn't get it again. Damningly, no player has topped the ton against Hutchings in his last 9 games as a tagger. From Oliver's perspective, he's only scored over 93 once from his 7 tagged games this year, and hasn't reached the ton one over the past month of action. It'll require a mighty effort for him to reverse the trends here.
BEST RETHINK: Jack Viney ($8,700 MID)
As good as Viney's looked, he might be one to avoid in GPP's due to his minutes, as his TOG has hovered around 66% in both of his finals performances. This really limits his ceiling, playing almost 20% less of the game than his midfield counterparts. For instance, he racked up a huge 11 tackles versus Cats, yet finished with just 89 AF. And the next week, he collected 27 disposals against the Hawks, and only finished with 81 AF to his name.
Always remember to gamble responsibly. If you're having problems with your betting, you can get help at Lifeline or talk to someone at Gambling Help Online.