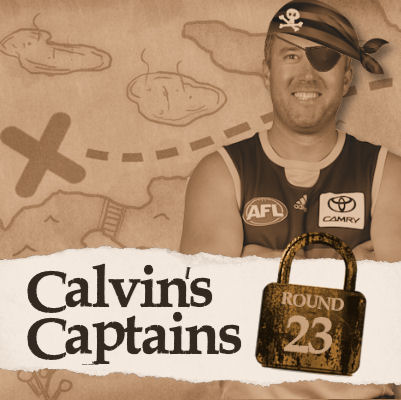 RUCK PIG
Oink, oink… Brodie Grundy.
Coming off a monster 147 last week, this ruck-pig has been in awesome form all year and sits #3 ranked on form over the last three weeks.
He meets Sean Darcy and the Dockers this week, a team that ruckman have been dominating in recent weeks with Sandilands on the sidelines.
The rookie Abbott (109) had a day out last week against Darcy and before that it was Lobbe (103) and Lycett (103) who toned up as well. The thing is, they're not even any good and they all managed triple figures.
Grundy played against Fremantle earlier this year and scored 131 that day but went head to head with Apeness.
This will be Grundy's first game at Optus Stadium, but that won't matter. When he has played away from the MCG this year, he has averaged 127 (seven games), seven points better than his overall average.
He will be the top captain option I'm picking for the top 100 coaches this week which is amazing considering people thought this article was a waste of time.
TO TITCH, OR NOT TO TITCH?
This is the biggest question of the round.
Some people are even trading the pig this week, anticipating the issues that Tom Mitchell may face this week. The first decision you need to make though, will he be your captain?
TO TITCH
He has served us so well all year. It seems like a crime, turning our back on the Pig this week. This game is at the SCG against the mighty Swans and when Mitchell has played outside of Melbourne this year, he has turned it on and averaged 148.
The other thing I like is Sydney have been giving up some points in recent weeks to midfielders. The top three scoring midfielders last week from GWS averaged 119 and before that the top three Demons averaged 111.
Yes, he will also be tagged but how effective will it be? Hewett will go to him again but the positive side of this is, he hasn't been overly great in recent weeks holding his opposition.
Last week he didn't tag. The weeks before that he went to Oliver (127), Adams (134) and Merrett (99) and together they averaged 120.
Based on all this… things are looking ok.
NOT TO TITCH
He plays Sydney. His worst team after he has posted scores of 58, 94 and 108 against them since leaving them two years ago. He will be tagged by Hewett who dominated him earlier this year when he only managed 20 touch and 58pts (worst score for 2018). To make matters worse, that wasn't at the SCG where he plays this week.
Sydney are the 4th hardest team to score on at the moment and last week, we saw the effect of a hard tag when Jack Steele clamped him down. This is not unusual for Titch who has been held this year on several occasions, remembering he has scored under 90 four times.
VERDICT: I'm not touching it. For the first time this year, he will not make my top five and will be traded out of my team. A pig can pig… but there are way too many alarm bells ringing for this one.
SEB-SATIONAL 
The Kangaroos have given up so many possessions in recent weeks and subsequently, lots of Fantasy points. In fact, they have given up the 2nd most in the last three weeks and the overall most 120+ scores (7). See the midfielders who have been doing the damage in the last two weeks.
Matt Crouch – 46 disposals, 136pts (season high)
Rory Laird – 41 disposals, 138pts (3pts off a season high)
Lachie Hunter – 44 disposals, 142pts (2pts off a season high)
Caleb Daniel – 40 disposals, 125pts (season high)
Marcus Bontempelli – 35 disposals, 120pts (2pts off a season high)
Jack Macrae – 40 disposals, 118pts (just a jet)
Enter the Etihad specialist… Seb Ross.
Ross currently sits at #1 ranked on form with previous scores of 107, 143 and 160. Now, he only scored 91 against the Roos earlier this year but on that day, he was tagged by Ben Jacobs who looks to be done and dusted for the season. Before that tag, he had 3×100+ scores against them in the three games leading in.
I'm very excited about this guy this week and he could produce something massive here and with just 3.8% ownership, you could have just found yourself a little gem. Thanks me later.
AS EASY AS IT GETS
The Gold Coast Suns are continuing to bleed points and still rank as the easiest in the game to score points against. Patrick Dangerfield is my pick of the Geelong boys here after averaging 123 in his last three games. He scored 96 on the Suns earlier this year and before that he carved them up with 119, 128 and 138.
Gary Ablett has been a popular traded in played for this game and rightfully so. He played against his old club earlier this year with 119 but last week only posted 95, his worst score at home this year. He still managed 84% time on ground though, which was a concern of mine leading in. But I'm pleased with what I see.
A big smokie could be Mitch Duncan. Previous scores for Mitch against the Suns look great with 102, 128 and 109 but it's his form and new role that has let him down with an average of just 94 in his last three.
Sam Menegola had 96 last week but scored his second-best score of the season when he had 125 on the Suns earlier this year.
Despite not scoring over 90 in his last two games this year, Joel Selwood should be a target after smashing out a 136 when he last met these guys. This game should be a Geelong smashing but at the same time it's a bit of a dead rubber. Geelong can most likely only get to 7th and with 8th spot pretty much locked away, this one could be nice and bruise free for a high possession Fantasy game.
JUST QUICKLY CALVIN…
Lachie Hunter v Richmond @ the MCG:  Continued his hot form and is averaging 117 in his last three and even posted 131 last year on these guys. 
Patrick Cripps v Adelaide @ Etihad Stadium:  82 on the Crows this year, but that was on the road where his numbers drop a fair bit.
Buddy Franklin v Hawthorn @ the SCG:  Hates playing his old team with 0x100+ in his last seven. With Frawley injured and in doubt, maybe he'll break the trend.
Steele Sidebottom v Fremantle @ Optus Stadium:  With Freo giving up the second most 100+ scores (15) in the last three weeks, Steele will be good here like he has before when he scored 131 and 127 in his last two games.
Zach Merrett v Port Adelaide @ Adelaide Oval:  I love Zach here with scores of 121, 151, 128 and 118 in his last four against Port.
Jack Macrae v Richmond @ the MCG:  Averaging 125 in his last three and only posted 96 on the Tigers last year. Loves the MCG though where he has scored 133, 123, 116 and 139 in his last four games. Richmond can be tough though… but Jack is better.
Rory Sloane v Carlton @ Etihad Stadium:  Hasn't hit 100 for two weeks and only had 83 on Blues last year. Should be better.
Dayne Zorko v West Coast @ the GABBA:  Averages 123 in his last eight games at home and scored 147 on these guys way back in 2016 in his most recent game. Hutchings tagged Oliver (75) last week and I'm guessing he'll target Zorko this week as well. 
Clayton Oliver v GWS @ the MCG:  GWS are the 2nd hardest team at the moment and after being tagged to 75 last week, OC should be better here. Had 105 on the Giants last year.
Taylor Adams v Fremantle @ Optus Stadium:  Averages 119 in his last three against the Dockers and is averaging 117 himself over the last three weeks. Tick, tick.
Rory Laird v Carlton @ Etihad Stadium:  Bounced back with a he 138 last week, his first 100 in five games.
Max Gawn v GWS @ the MCG:  Last year, Max dominated Mumford and the Giants for 140pts. He's only against Lobb here, and last week Sinclair (90pts) scored well against him with 34 hit outs.
Angus Brayshaw v GWS @ the MCG:  #2 man on form at the moment and had 142 last week. This guy is a freak and a must have when we start 2019.
Lachie Whitfield v Melbourne @ the MCG:  82 last year against the Demons and only has 1×100+ in his career 6 games against them. I'm expecting <100 here.
Matt Crouch v Carlton @ Etihad Stadium:  Carlton are the third easiest in recent weeks to score against and this year he had 106 against them. Crouch had a season-high 136 last week and had 123 in his last game at Etihad.
Dayne Beams v West Coast @ the GABBA:  144, 88, 125, 113, 117, 129 and 117 are Beams' last seven games against the Eagles at an average of 119. Coming off 133 last week and back at the GABBA here. Great ingredients for a huge score.
Stephen Coniglio v Melbourne @ the MCG: Had 79 at the half last week to then only managed 15 more for the game. Injured? No idea. Not touching this despite having 101 and 125 on these guys in his last two.
Marcus Bontempelli v Richmond @ the MCG:  In form! 117, 120 and 103 are his last three scores.
Scott Pendlebury v Fremantle @ Optus Stadium:  107 last year against the Dockers.
Josh Kelly v Melbourne @ the MCG: 131 on Melbourne last year. Very unique to bring in… if he's named and if you trust he's ok.
THANKS LEGENDS 
For the final time in 2018, Calvin's Captains is done and dusted.
Thanks for all the loves and hate over the course of the year and supporting this piece that takes up sh*tloads of my time to write. Knowing that you guys read this to make it what it is, make it totally worth while and enjoyable.
See you all next year for what will be another amazing year of Fantasy footy, bought to you by the leaders in the games, our team at DT Talk. Cheers an good luck for all those in the big GF.
Last one legends and this one is bigger than ever with no Titch in the mix https://t.co/isCryGgNwY

— Calvin (@CalvinDT) August 22, 2018