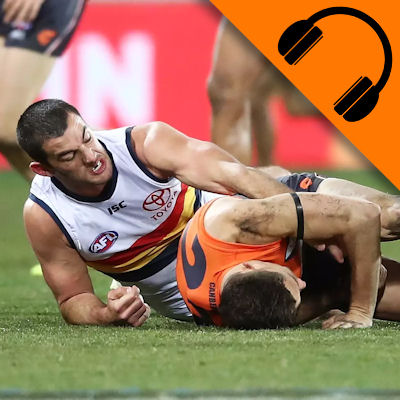 Click here to subscribe on iTunes. (Please leave a rating and review to help us move up the charts).
It's the penultimate round of the season, meaning AFL Fantasy coaches have their preliminary finals. No more second chances, the equation is simple; win and you're into the Grand Final, lose and it's time to book your end of season trip… or start planning for Fantasy in 2019.
In the super-competitive Bacon Cup, Roy and Warnie will face-off this weekend to book a place in the big dance. With the Warne Dawgs having the edge over destROY in recent weeks, it will be interesting to see what moves are made. Warnie is keen to bring in Mitch Duncan to nullify one of Roy's point of differences due to the Cats' favourable match up.
The boys run the numbers to see which teams have the best Fantasy match ups for the final two rounds of the season. Geelong take on Fremantle this weekend, the fourth easiest team to score points against and then Gold Coast in the Grand Final. Both games are at GMHBA Stadium making Gary Ablett, Patrick Dangerfield and Sam Menegola popular options to trade in.
Some coaches want to go against the trends to find a point of difference. Some unique options are discussed for the underdogs in their leagues.
Points for and against – Season
CLUB
PTS
FOR
>100
FOR
>120
FOR
PTS
AG
>100
AG
>120
AG
ADE
1593
3.9
1
1598.1
3.3
1
BL
1572.6
3
1.1
1543.3
3.1
1.1
CAR
1464.8
2.7
1
1632.3
3.8
1
COLL
1677
4.7
1.9
1534.9
3.3
1.1
ESS
1612.1
3.6
1.1
1533.4
3.1
1
FRE
1518.2
3
0.9
1630.9
3.7
1
GC
1447.6
2.2
0.7
1692.9
4.4
1.7
GEE
1575.5
4.2
1.2
1551.9
3
1.1
GWS
1593.4
4
1.4
1546.9
3
0.6
HAW
1638
3.5
1.3
1525.8
2.8
0.7
MELB
1654.8
4
1.3
1544.5
3
0.6
NM
1517.1
2.5
0.6
1566.9
3.1
1
PA
1609.3
3.4
0.7
1493.4
2.8
0.9
RICH
1515.5
2.3
0.5
1559.2
3.3
1.5
STK
1562.7
2.9
1.1
1616.5
4
1.2
SYD
1553.3
2.8
0.6
1533.7
2.8
0.8
WB
1549.7
3.4
1
1627.9
4.3
1.2
WC
1592.2
3.6
1.1
1507.1
2.9
0.8
Points for and against – Last 3 rounds
CLUB
PTS
FOR
>100
FOR
>120
FOR
PTS
AG
>100
AG
>120
AG
ADE
1622
4.3
1.3
1514
1.7
0.7
BL
1559.3
2.7
1.3
1548
3.3
1
CAR
1481
3.3
0.7
1587
3.7
1.3
COLL
1615.3
3.3
1.7
1557
2
0.7
ESS
1671.3
4
1.3
1498.7
2.3
1
FRE
1461.3
2.7
0.7
1658.7
4.7
0.7
GC
1376
1.3
0
1755
4.7
1.7
GEE
1540
4.3
2.7
1566
3.7
1
GWS
1657
4.7
2.3
1456.7
2.7
0
HAW
1753.7
4.3
1
1519.3
3
1.7
MELB
1669.3
3.7
1
1568.3
3.7
0.3
NM
1528.7
3
1
1579.7
3.3
2
PA
1542.3
2.3
0
1520.7
4
1.7
RICH
1539.7
2
0.7
1548.7
4
2
STK
1539.3
3.3
1.3
1686.3
6
2.7
SYD
1577.3
3.3
0.3
1579.3
2.7
1
WB
1541
5.3
2.3
1564.3
3.3
0.7
WC
1570.3
3.7
1
1546.7
3
0.7