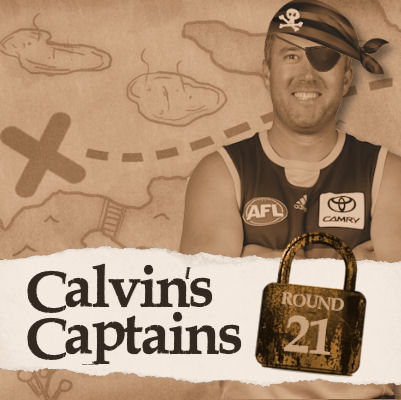 MASTER CLASS
Every year when I do Calvin's Captains, I get to see patterns in statistics and there are none greater than Gary Ablett's record against Hawthorn.
I can see why Selby (2017 Fantasy Winner) has chased the great man, because he will be amazing on Saturday afternoon.
Despite only scoring 76 last week, he will turn that around here, especially after he had 138 on the Hawks earlier this year. In fact, he carries a lowest score against Hawthorn of 129 in his last 10 games. Yep, that's not a typo, a lowest score of 129 in his last 10. Here they are in case you don't believe me….
138, 153, 138, 129, 157, 132, 139, 175, 147, 135
Patrick Dangerfield also loves playing these guys and posted 128 (39d) last week. He had 118 against these guys earlier this year and they're his second favourite team to play against behind Adelaide with 8×100+ scores against Hawthorn in his last 9 games.
LOVING THE MATCH-UP
When he comes to playing Collingwood, no one is better than Dayne Zorko. He had a huge 176 against them last year and 124, 122, 104 and 130 before that. With previous scores of 128 and 115 at Etihad where he plays this week, the writing is on the wall that he'll be huge like he has before.
Anyone playing Gold Coast gets us excited and this week Dusty Martin gets his turn. Melbourne posted 7 tons against the struggling Suns last week and they didn't use a tag. Dusty has scored 112, 137, 140, 100 and 120 in his last five against them and he had his second-best score of the year (114) last week.
Dusty has scored under 95 a massive 12 times this year though, and after Oliver (154) and Brayshaw (143) went bananas last week on the Suns, Dusty should have a good day as well.
On the flipside, Taylor Adams for some reason hates playing the Lions with just one score over 100 against them in his career 5 games. He is coming off 2×130+ games in the last three weeks and makes his way into the Warne Dawgs team this week. I like the move but consider this one flagged.
KEEP ME AT HOME
FACT: Patrick Cripps prefers to play in Melbourne and hates traveling.
This week, Cripps is on the road as he travels to Perth to play Fremantle. On the road, he averages just 81 this year.
Compare that to the MCG (120) and Etihad (111) and you get the picture.
Yes, he still should be fine, but this is a huge concern for those who own him or are looking to bring him in the week. He is coming off 118 at an average of 132 in his last three. However, on the road he hasn't been anywhere near the player he is in Melbourne.
Click here to subscribe on iTunes. (Please leave a rating and review to help us move up the charts).
HIP HIP MACRAE
Let's just get this nice and clear… Jack Macrae will be big this week against the Kangaroos.
Coming off a huge 132 on the weekend, Macrae hits the Roos with some good form and an awesome history that has seen him score 137, 102, 114 and 116 in his last four.
Add to this, Macrae meets them at Etihad where he has a lowest score of 107 there from his last six games.
This has all the ingredients I look for when selecting a captain and this week, Macrae will be up there with the best of them
WE L

O

VE BAC

O

N
We love bacon and there is no one in the game at the moment who can pig it up like our very own Tom Mitchell. He is averaging 164 now in his last three games and after having 95 in the first half last week from 29 touches, we all thought our very first 200 was on the card for the first time this year.
This week, he meets Geelong. They can be rather tough on their day but with this one being at the MCG, I'm not overly concerned. They do have Scooter Selwood who has the ability to tag, but he hasn't had a run with job for ages and shouldn't get tapped on the shoulder for this one.
Mitchell scored 137 (40d) against the Cats earlier this year in round two and was tagged that day by Blicavs. So there is a chance he will be tagged again.
Last year, he scored 147 and 125 on the Cats and should be right again here to pump out another 130+.
JUST QUICKLY CALVIN… 
Stef Martin v Collingwood @ Etihad Stadium:  McInerney had 17 hit outs last week and Stef managed just 67pts. Archie Smith 2.0 is happening again. Trade!
Joel Selwood v Hawthorn @ the MCG:  Scored 110 on the Hawks this year, but that's his best effort in his last seven games against them. No thanks.
Max Gawn v Sydney @ the MCG:  After Grundy scored 150 for the third time in his career last week, surely Max Gawn has a field day against Sinclair and the Swans this week as well. He scored 111 last week but only managed 81 when he last played against the Swans.
Zach Merrett v St Kilda @ Etihad Stadium: Zach has been awesome and comes off a 134. He scored 144 on the Saints last year, but I fear a tag from Jack Steele may slow him down this week.
Josh Kelly v Adelaide @ UNSW:  153 and 126 are his last two scores but he might be tagged by Knight here who held Polec (79) last week. He's just too good at the moment though.
Scott Pendlebury v Brisbane @ Etihad Stadium:  Got injured on 72 against the Lions in his last game and posted 125, 106 and 104 on them before that. He didn't take a mark last week and should be great as always.
Lachie Whitfield v Adelaide @ UNSW:  No Port player scored 100 last week against the Crows but Whitters has been awesome in recent weeks averaging 121 in his last three.
Dayne Beams v Collingwood @ Etihad Stadium:  120 and 116 are his last scores against his old team.
Steele Sidebottom v Brisbane @ Etihad Stadium:  Last time they played, Steele had 110 and was one of seven Pies to ton-up. Even scored 139 against them last year.
Stephen Coniglio v Adelaide @ UNSW:  Cogs had his second-best score ever last week of 144 and scored 106 and 134 in his last two games against the Crows.
Justin Westhoff v West Coast @ Adelaide Oval:  Polec is the best averaging Port player of the last three weeks with just 95. Not touching them.
Clayton Oliver v Sydney @ the MCG:  Scored just 91 on the Swans last year and will 100% be tagged by George Hewett. Look out those bringing in the man with hot form and hot hair.
Matt Crouch v GWS @ UNSW:  Beast Mode! 116 and 115 are his last two on the Giants and his form is mega hot with 134, 123 and 121 in his last three. GWS scare me a little though.
Brodie Grundy v Brisbane @ Etihad Stadium:  A huge 150 last week was what we love from our ruckpig. Had 111 against Stef earlier this year and toned up for the third time in a row. Goldy only had 59 on Stef last week, but this guy is a fair bit better than that.
Josh Dunkley v Kangaroos @ Etihad Stadium:  A 127 last week was his season's best as he carries a lowest score of 99 in his last six games. Roy is right! Jet!
Angus Brayshaw v Sydney @ the MCG:  Predicted a huge game from him last week and he didn't disappoint with 143. Bit tougher here though.
Seb Ross v Essendon @ Etihad Stadium:  A career-high 160 for Seb last week, has him at the #5 man based on form in the last three weeks. Should be good again here with previous scores of 71, 111 and 137 in his last three against the Bombers.
Jack Redden v Port Adelaide @ Adelaide Oval:  138 was what he scored on the Power this year and has had 133, 93 and 110 in recent weeks. I think with Gaff out, he could benefit massively.