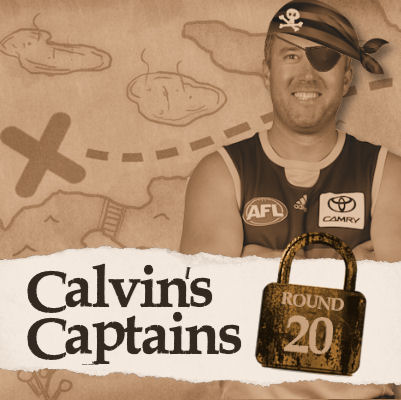 SHOWDOWN AND DERBY TIME
Just putting it out there… Matt Couch loves a showdown. With previous scores of 97, 116, 111 and 118 in this game, I'm expecting big things. Especially from a guy who has gone 123 and 121 in his last two games. Bryce Gibbs only managed 74 in his first Showdown and finally scored a respectable 113 on the weekend.
Forthe Power, Ollie Wines is certainly one to watch and potentially not trade on this week for those considering the move. 101, 101 and 118 are his last three scores this year but in Showdowns he has managed 100, 66, 124, 113 and 124.
Will Banfield run with Andrew Gaff on Sunday afternoon? I highly doubt it. He has been 'tagging' in recent weeks but doing a shit job about it and fair enough if you want the coach to use you in another position. He started on Shuey (111) when these teams met earlier this year.
Gaff though has been on fire at home scoring 8×100+ scores from his nine games there this year with his only blemish being 96. With 120, 114 and 109 next to his name in his last runs against the Dockers, I'm expecting another 120+ here.
Lachie Neale won the medal last time these teams met but on that occasion, Hutchings didn't play. He has been doing jobs in recent weeks and if he goes to Neale, he won't be scoring the 138 he did earlier this year.
THIS IS JUST GETTING RUDE
With an average of 168 in his last three games, Tom Mitchell is taking his pigness to a rude level. Pig Domination. He scored 119 against the Bombers this year and even posted 128 and 130 prior to that.
His scores of late have been unbelievable as this pig chases himself down a Brownlow Medal. Not only are the Hawks fighting to stay in the eight, he really has something to play for in more ways than one. There will be no trotter coming off the pedal anytime soon.
The thing here is… Essendon rank as the hardest team to score against in the last three weeks conceding just 2×100+ scores and no scores over 120. Last week, Sydney didn't manage a single ton with Luke Parker (96) their highest scorer.
For history against the Bombers and form he gets two massive green tick here. The Bombers scare me slightly though but no where near enough to turn your back on this swine this week.
HOWEVER…. with everyone locking in the pig this week, maybe he goes under 85 like he has on four occasions this year? Could this be your ticket to a hat, or even the car. People will be playing it very safe here and in your first final, if your looking to get a leg up against an opponent who has a kickarse team… then this if an angle you can play.
Can @RoyDT go back to back tonight on the 8? ??I'm out of finals but I've still got stuff you might want to hear. https://t.co/LVD7qJPpH8

— Calvin (@CalvinDT) August 1, 2018
TALL TIMBER
Max Gawn meets Witts this week and I'm very unsure of what to expect. Previous ruckman against Witts have scored 80 (Lobbe), 70 (Sinclair), 132 (Goldy) and 152 (Grundy).
Max has scored 99 and 91 in his last two games and managed 111 on the Suns earlier this year with scores of 106 and 138 before that.
But if you're picking any tall timber, it has to be Brodie Grundy who is averaging 118 this year. He scored 133 against the Swans last year and is coming off a huge 147 last week.
He's a cut above the rest at the moment and up against Sinclair this week, he sits as safe as a house in my #2 spot this week.
JUST QUICKLY CALVIN…
Dayne Zorko v Kangaroos @ the GABBA:  128 on these guys this year and even posted 116 and 110 prior to that. Averages 122 at the GABBA in his last six games and should be awesome again with no tag in sight.
Jack Macrae v St Kilda @ Etihad Stadium: Jack Steele. Will he tag Macrae? He went toward (73) last week and most likely will run with the guy who hasn't tonned up against the Saints in his last three games. They're his worst team to score on with just 1×100+ score against them in a career seven attempts. Whitfield (130) and Kelly (126) found it easy last week on the Saints… but they weren't tagged.
Steele Sidebottom v Sydney @ the SCG: A nice 120 last week was what coaches wanted to see, and he even had 126 on the Swans last year. Enter George Hewett though and now I'm worried.
Zach Merrett v Hawthorn @ the MCG: Hawthorn tagged Zach with Cousins earlier this year to 64 and although he's not playing, they may run with a similar plan here. On fire though and ranks as the fifth most inform player in the game at an average of 117 in his last three.
Scott Pendlebury v Sydney @ the SCG: Pendles is in some form scoring 125 and 112 in the last two games. He posted 115 last year on the Swans and might even cop some attention from Hewett himself.
Josh Kelly v Carlton @ Etihad Stadium: Averages 110 at Etihad in his last three games and had 107 and 103 in his last two against the Blues.
Dayne Beams v Kangaroos @ the GABBA: With 5×110+ scores at the GABBA in his last six games, and coming off 133 in his most recent there. Had 129 last week and 137 against the Roos earlier this year. BANG!
Patrick Cripps v GWS @ Etihad Stadium: 162 last week, makes Cripps the second most inform guy in the game. There are four teams this gun hasn't scored over 100 against and the Giants are one of them.
Stephen Coniglio v Carlton @ Etihad Stadium: Blues can give up points like Mitchell (187) found out two weeks ago and Steven (136), Steele (126) and Billings (120) before that. Cogs had 98 last week.
Patrick Dangerfield v Richmond @ the MCG: 66… I shouldn't need to say anything more. He only managed 75 against the Tigers earlier this year as well.
Clayton Oliver v Gold Coast @ the MCG: This could be nasty (if he doesn't cop a tag). With the Suns giving up the most points in the last
three weeks and the most to midfielders this year, Oliver should cash in like he did this year when they met for a nice 122.
Joel Selwood v Richmond @ the MCG: 64, 70 and 73 are his last three scores. Pass.
Lachie Whitfield v Carlton @ Etihad Stadium: In ripping form averaging 131 in his last three and even had 125 on the Blues last year (his third best score for the year). Hates playing at Etihad though with just 1×100+ score there from a career seven visits.
Mitch Duncan v Richmond @ the MCG: Solid form of his own at the moment but only managed 70 against the best team in the game at the start of the year.
Angus Brayshaw v Gold Coast @ the MCG: You couldn't do it could you? This could be something amazing… but geez you'd need to be gutsy. Just 80 on the Suns earlier this year… but I'll tell you now. Could be massive!
Dusty Martin v Geelong @ the MCG: Averaging just 87 in his last three games as we still wait on him to come good. It will come, but a pass for now after his 76 against Geelong earlier this year.
Gary Ablett v Richmond @ the MCG: Hot form averaging 117 in his last three and loves playing at the MCG. Bit tougher here against the Tigers, who he had 90 on earlier this year.