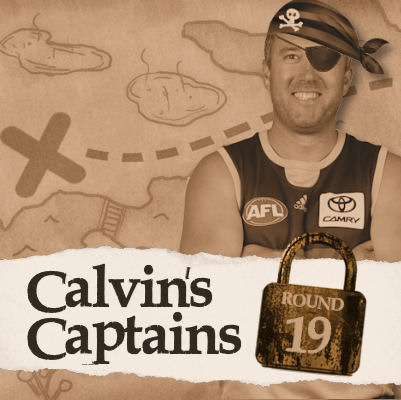 TWO LACHIE'S MEET THEIR WORST
When I saw that Lachie Whitfield played the Saints this week I got excited. St Kilda give up a truck load of points to Small Defender/Midfield type players with names such as Jayden Short (98), Darcy Byrne-Jones (95), Dan Houston (85) and even old mate Michael Hibberd (88) scoring well in recent weeks… my point is, these guys aren't actually any good so imagine what Whitters could get if they can do this.
The thing is, Whitfield has stunk against the Saints over his career averaging 61 (six games) which is rubbish when you compare it to his best team the Bulldogs (avg. 106 from five games).
His form has been hot though with 114, 150 and 105 coming in his last three but for some reason… he hates playing these guys.
Just like Lachie Neale hates playing the Hawks. He scored 95 on them last year and only has 1×100+ score against them in his career nine games.
To make matters worse, the Hawks have given up 0x120+ scores in the last three weeks along with just 3×100+ scores during this time as well.
BRINGING HOME THE BACON
The great Tom Mitchell bought home the bacon again last week with another huge 187 from 46d, 9t and 9m. To top it off, that's off the back of his 157 from round 16.
Now… he will most likely be tagged by Bailey Banfield this week, but Zach Merrett (112) and Ollie Wines (118) brushed that off with ease in the last two weeks.
Mitchell scored 130 on the Dockers last year and this week, he gets his first run at the brand spanking new stadium over in the west.
The great man is now averaging 129 this year. Just to put things into perspective for you, the two other Fantasy guns last year in Dangerfield and Merrett, well they have only scored over what Tom is averaging once each this year.
In previous weeks, midfielders have scored reasonably well against Fremantle with Dev Smith (121), Merrett (112) and Zaharakis (101) posting well last week and Oliver (141), Viney (109), Beams (112) and Berry (91) in the weeks before.
They're the fourth easiest for midfielders to score against and there is absolutely no reason to turn our back even slightly on this swine this week.
TAGGER ALERT
This is a tough one, but expect Patrick Cripps to cop attention from either Sexton, Touk, Lonergan (last week went JPK late in the game) or even Nick Holman like he did earlier this year when he scored 95.
Although the Suns give up the most amount of points in the game by a mile, their taggers can damage our premium players. JPK (134), Parker (119), Crouch (117) and Beams (133) have all dominated these guys in recent week and although he should be fine but this has now been flagged.
Sometimes George Hewett tags, and sometimes he doesn't. He's one of the best in the game though so Zach Merrett better look out. Zach has been awesome averaging 125 in his last three and carries a lowest score of just 106 at Etihad in his last four games. He scored 86 and 120 against the Swans last year.
The Poisonberry (Jarrod Berry) was at it again last week tagging Sloane to just 77. Joel Selwood could be his target this week despite only managing 70 and 73 in his last wo games.
In the past though against the Lions though he has torn them apart with scores of 113, 102, 111, 146, 139 and 104. They're his favourite team to play but at GMHBA this year he hasn't scored over 100 in his last three runs.
Or… maybe Gary Ablett cop the attention. Off the back of 110 and 110, Gaz is back and scored 105 against them last year.
How good has Clayton Oliver been? But we have a new tagger on the scene. Adelaide's Riley Knight is his name and he went with Dayne
Beams last week for his 85pts. Oliver scored 119 against the Crows earlier this year, but if this match-up happens, he won't be getting that again.
This week, Ben Jacobs will return, but to what degree I don't know. Andrew Gaff might be his target but I really can't see it happening. But it might so we better flag it.
Gaff scored 144 against the Kangaroos last year which was in round one. That means, there has been 41 games since they last met. Bizarre when you think they've played the Giants twice in the last ten weeks! He scored 125 when he last played in Hobart and still should be right in this one whether pesky Jacobs plays or not.
Finally, will Jack Steele run with Josh Kelly? He scored 111 against the Saints last year and is coming off 115 last week. Steele had a run with Cotchin (67) and Dusty (90) last week and will definitely get the role again, but who with is the big question. Kelly tops the list but maybe Coniglio or Whitfield might need to watch their back as well.
JUST QUICKLY CALVIN…
Stephen Coniglio v St Kilda @ SPO: Averages 116 at home this year and loves playing the Saints where he has scored 112, 115, 123 and 132.
Dyson Heppell v Sydney @ Etihad Stadium: 99 and 61 against the Swans last year and only 91 last week. Pass.
Steele Sidebottom v Richmond @ the MCG: Steele has been down lately scoring just 94 and 48. His record against the Tigers isn't much better with 81 and 64.
Patrick Dangerfield v Brisbane @ GMHBA Stadium: Posted 150 against Brisbane last year and is starting to look much better after a huge first half last weekend. Finished on 107 but still has some work to do before we even consider him as an option.
Scott Pendlebury v Richmond @ the MCG: Solid as here with scores of 125 this year on the Tigers and 110 in 2017.
Josh P. Kennedy v Essendon @ Etihad Stadium: The Bombers are tough at the moment conceding 414pts a game less than the easiest team in the Suns.
Dusty Martin v Collingwood @ the MCG: 101 against the Pies this year already and has scored 86, 110, 114, 126, 109 and 107 before that. Form not great though, coming off 90 and 91 but we know he'll fire-up soon.
Dayne Zorko v Geelong @ GMHBA Stadium: Had a career-high 181 against the Cats last year but before that he was only averaging 71 in the three games prior. Hasn't scored triple figures in two weeks.
Bryce Gibbs v Melbourne @ Adelaide Oval: Averaging 89 in his last three. No thanks. He's a trade, not a captain.
Jack Macrae v Port Adelaide @ Adelaide Oval: When at MARS, Macrae has scored 149 and 151. His last two games against the Power we're very different. One was that 149 there… the other an injured 44. The Giants all scored well against the Power last week with Coniglio (116), Kelly (115), Whitfield (114) and Ward (113) getting it done. Jack will have no troubles here.
Jarrad Witts v Carlton @ Metricon Stadium: If Kreuzer doesn't return for this one, look out. Even Ceglar (97) scored well against Lobbe last week and with scores of 132, 79 and 124 in his last three games, this could get very nasty.
Matt Crouch v Melbourne @ Adelaide Oval: Matt had 103 on the Demons earlier this year, but they are just too tough at the moment, despite Geelong have 7×105+ on them last week.
Brodie Grundy v Richmond @ the MCG: Nank can give up big scores. In fact, Richmond are the second easiest this year for ruckman to score against (avg. 94). Grundy has scored well in his last two games against Richmond with 115 and 123.
Dayne Beams v Geelong @ GMHBA Stadium: 0x90+ in his last three against Geelong.
Max Gawn v Adelaide @ Adelaide Oval: Adelaide rank as the third hardest for rucks this year giving up just 74 points per game. Max has only scored 74 and 79 on them in his last two games and only Ryder (101) and Grundy (126) have scored over 100 against them this year.
Peri-Time and tonight not only will we chat #AFLFantasy but @RoyDT tries his luck with #8. C'mon boys!!! https://t.co/BWPj22MAid

— Calvin (@CalvinDT) July 25, 2018