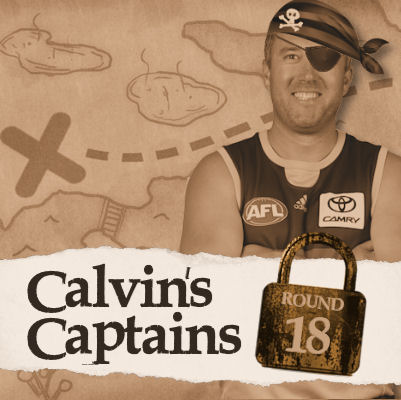 LET'S HAVE A CHAT BRODIE
This Thursday night (19th) get along to have a chat with us and Brodie Grundy plus so many more legends for our Melbourne LIVE Show.
Last week… all good things came to an end  for our mate Brodie Grundy who scored just 68 which ended his run of 100+ scores that he has had going since round two.
This was flagged… but not a problem I honestly thought we'd have. Anyway, it did, so let's move on.
He will be up against Goldstein this week who has been giving up some points to his opponent. Sinclair (105) and Witts (134) were his most recent opponents which gives us great hope that Grundy will bounce back this week.
He scored 103 against the Roos last year and we can't just write off a star like this off after one game. Expect a big bounce back from the great man, especially after we have a chat to him on Thursday night on our LIVE show in Melbourne that you can come along and see.

YO GABBA GABBA
At the GABBA, Dayne Beams is a different man. He scored 113 there in his last game which gave him 4 scores over 110 in his last five runs.
He scored 144 against the Crows last year and this week goes for his 5th straight 100+ score against them.
Team mate and captain Dayne Zorko had 119 last year on the Crows and despite only managing 96 last week, he is still averaging 100 in his last three and should be great here.
Stef Martin failed to cash in last week against Ceglar and scrapped his way to the same score for the second week in a row of just 96. Against Adelaide though his record is pretty bloody impressive with scores of 107, 151, 136 and 123.
For the Crows, my best pick is Rory Laird. He loves playing these guys and has posted 114, 110 and 100 in his last three games against them. Coming off scores of 122 and 110, he's heating up and actually plays better on the road where he has gone over 110 four out of five times this year.
Matt Crouch will get busy here but Brisbane are actually ranked as the #1 hardest in the game to score on in recent weeks, only giving up 6×100+ scores.
Finally, we have Bryce Gibbs but his history against the Lions is horrid with only 1×100+ score coming in his last 6 games against them.
Before the LIVE Melbourne Show 2mrw night, join me for some #AFLFantasy chat and much more. https://t.co/JVdAmd2fGD

— Calvin (@CalvinDT) July 18, 2018
SNOUTING ABOUT
How dare I drop Tom Mitchell to #3 in my Captain rankings? He came out on fire with a massive "F#%! You Calvin" with 117pts in the first half. Now he only managed 40 for the rest of the day, but he was on fire and looked like being the first person this year to crack the 200 mark.
This week, he sits back on top. Against the Blues… who have not only given up the most points in the last three weeks, but the second most 100+ scores (16).
Curnow is the only danger here of tagging… but he hasn't been and shouldn't start this week. Jack Steven (136) who is mega taggable avoided it last week as Jack Steele (126) and Billings (120) had a field day against Carlton.
As a Hawk, Mitchell scored 143 against these guys last year and 61 (played in defence) and 143 when he wore the red and white for the Swans.
At Etihad, Mitchell hasn't set the world on fire this year scoring 96, 135 and 83… but I'm tipping that to change in this easy game.

Click here to subscribe on iTunes.
BIG TIME SMOKIES
Joel Selwood nearly made my top 5 this week, but he's up against Melbourne who can be very tough on their day. His numbers here are simply amazing though with scores of 122, 137 and 126 coming in his most recent games against them which includes 6×120+ scores in his last seven games. He only managed 73 last week… but did have 127 and 120 before that. He's #6 in my top 5 this week.
Those who are trading out Luke Parker think again (Warnie). The Suns have given up 6×120+ scores in the last three weeks (ranks them #1) and against the Suns in the last three games he has scored 117, 121 and 102. The downside here is that this one is at the SCG, a ground Luke hasn't scored triple figures at this year from seven games.
Lachie Neale averages 109 under the Etihad roof in his last 6 games and even scored 100, 86, 138, 126 and 131 on the Bombers in his last five games. Only averaging 87 in his last three though but his history here suggests he'll be great.
After 125 last week, Dyson Heppell should continue his run as his last two scores against the Dockers sit at 102 and 121. Zach Merrett could also be big but copped a tag from Banfield earlier this year to just 78. Banfield went to Wines (118) last week, as he went on to be the top scorer for the Power.
Before being tagged against the Dockers, Zach had scores of 144, 124 and 121. His form is hot as well with 138 and 124 coming in recent weeks. I'm expecting a tag again though which could mean anything for Zach this week.
JUST QUICKLY CALVIN…
Dusty Martin v St Kilda @ Etihad Stadium: Many are looking to bring in the man this week. He scored 117 and 73 against the Saints last year. With only 1×100+ against them (last game) in his career 12 games, for some reason he struggles making these guys one of his worst teams to score against.
Max Gawn v Geelong @ GMHBA: 138 against the Cats already this year and with 11×110+ scores next to his name this year, he looks the goods.
Steele Sidebottom v Kangaroos @ the MCG: Ben Jacobs tag? Looks that way and after coming off a 48, he's a risky captain here.
Josh Kelly v Port Adelaide @ Adelaide Oval: Injured? I'm hearing rumours. He had 127 and 112 against them in his last two and should be ok… if he plays.
Patrick Cripps v Hawthorn @ Etihad Stadium: A nice 122 last week but hasn't scored over 100 against the Hawks in his career 3 games. Predicting a low 100 score here.
Angus Brayshaw v Geelong @ GMHBA: GUN! 128, 113 and 116 are his last three scores and he just keeps getting it done week in and week out. Geelong at Geelong though…
Scott Pendlebury v Kangaroos @ the MCG: 75 last week and just 99 in his most recent game against the Roos back in 2016
Patrick Dangerfield v Melbourne @ GMHBA: 117 last year against the Demons was his best score against them in his career 10 games (easily his worst team overall avg. 76). A freshly named forward, but this one looks tough despite his 151 last week.
Andrew Gaff v Bulldogs @ Optus Stadium: The weather in Perth might be the only thing to slow Gaff down but I'm not fussed. Bulldogs have given up 19×100+ scores in the last three weeks (ranked #1) and Gaff is averaging 134 over this time. He averages 115 at Optus Stadium and scored 92, 130 and 146 in his last games against these guys. Nasty!
Todd Goldstein v Collingwood @ the MCG: In form with scores of 125 and 132 in his last two games but only has 1×100+ score against the Pies in his last 5.
Jake Lloyd v Gold Coast @ the SCG: Never scored over 100 against the Suns in his career five games. Should change here though you'd think.
Jack Redden v Bulldogs @ Optus Stadium: Form of 135 and 143 is amazing. How long can he keep this up though?
Justin Westhoff v GWS @ Adelaide Oval: Hasn't scored 100 against the Giants in his last 6 games with scores of just 69 and 51 coming in his last two. Different player to what he was though.