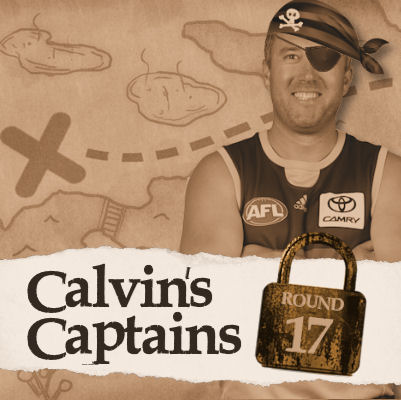 The LOOP HOLE
Here we go again, with a Thursday night game (Adelaide v Geelong) we have the option to LOOP our captain and vice captain.
1 – Place your VC on a player who is playing on Thursday night (Laird).
2 – Make sure you C is locked away as well (Mitchell), not on player in this game.
3 – If Laird (for example) scores 123+, lock this score in by moving a player who isn't playing onto your field and give them the C. This will get you a zero and activate the VC scores x2.
4 – If you don't like the score, keep the C on your next best option as you normally would.
LINE FOR ROUND 17…. Is 123+
It's Wednesday and we know what time it is. All you #AFLFantasy questions covered right here and much more. https://t.co/5oxFsy5TNP

— Calvin (@CalvinDT) July 11, 2018
BEST VC OPTIONS
For the final time… we have another loop hole option here and for this one, we all should have someone to have a crack at.
Sitting as my best option here is Joel Selwood. His form of 127 and 120 is great and in his last runs against the Crows (who can give up sh*tloads) he has scored 137, 115 and 117.
Mitch Duncan is ok after scoring 110, 104 and 97 against the Crows last year and as for old mate Dangerfield… who knows what we will get.
Patrick Dangerfield loves playing his old team and every time he plays them he smashes them. 121, 112, 131, 118 and 129 are his five scores against them since switching to the Cattery but bugger me, can he be trusted after his 76 last week? Or what he has done this year?
As for Ablett… that's a no thanks and that leads us to the Crows.
Sloane will get tagged by Scooter Selwood so we can cross him off and focus more on Matt Crouch. Coming off scores of 117 and 120, Matt is a great option here after scoring 122, 110 and 89 against Geelong last year. Rory Laird sure has the ceiling we need in a VC but last week, Jake Lloyd scored 112 against Geelong, the first 100+ score against them from a defender since Kade Simpson (124) in round 10.
With that said though, Laird scored 127, 76 and 65 against Geelong last year and has looked great since returning with 110 and 102.
Hey… it's the last free hit we get, enjoy and good luck.
DITCH THE TITCH?
After two sub-100 scores in the last three weeks… do we ditch Tom Mitchell?
THE 10 FACTS
He's a pig… and no matter what I say here, I'm just stating the facts. A pig can go massive on their day and you should have him as your captain based on this… but here are the other facts you need to know.
He plays at Utas, a ground he has traditionally scored very well having 84, 145 and 147 there this year.
He scored 149 from 46 touches against the Lions earlier this year and had 132 against them in 2017.
Mitchell is a pig.
He will be tagged. Brisbane have only won three games this year, two of them in the last two weeks when Berry has been tagging. He tagged Fyfe before he was injured and then went to Neale and held him to 67 points over the last three terms. Berry tagged Cripps (96) last week and if it wasn't for Cripps' 10 tackles (40pts) his score would have been much worse. Brisbane are winning with this tagging move so they will tag again and Titch is at the front of the line.
Titch has struggled with a tag. That's obvious. His numbers are dramatically effected when he cops attention which limits his uncontested marks and easy +6's.
Titch is a pig.
Brisbane have been tougher to score against over the last 5 weeks conceding only 2×110+ scores to midfielders. Collingwood have given up 9 if you want a comparison (all in losses to their opposition).
Mitchell let us down last week with 96, but did have 195 the week before… and 84 the before that.
He's a pig.
Click here to subscribe on iTunes. (Please leave a rating and review to help us move up the charts).
GAWING TO BE HUGE
Over the last 6 weeks (and the year), rucks have smashed the Bulldogs. Whether it's Roughead/Boyd or just Boyd, it doesn't matter as they have gone about their work at an average of 116.
Rucks v Western Bulldogs (last 6 weeks)

McEvoy 107*
Stanley 104
Goldstein 118
Ryder 102
Gawn 141
Grundy 124

*broken cheek bone half-way through the 4th
Max Gawn is in that group… 141 his second-best score of the year and this week he might even beat that. That game was at Etihad, and for Max… he prefers the MCG where he has scored 6×100+ scores from 7 games there this year.
His form is red hot with 124, 135 and 113 and that's with him missing easy goals over this period kicking 1.3.
Selecting Gawn at #1 does worry me though, because Roy was right on the podcast when he stated…
ROY (09/07/18) – "As good as he is, we've never nailed Gawn as a captain"
Roy you are dead right. Absolutely spot on. It comes with a risk, a big one… but based on what I see in front of me this week, I think it will all change against a team who are the second ranked easiest in the league for ruckman to score against… like Max has already proved this year.
Trust me Roy… Max and I have this.
Next Thursday, be sure to catch us and all our special guests: Brodie Grundy, Matthew Richardson, Nick Maxwell, Adam Oxley and Tim Broomhead for a huge night of Froths and Fantasy fun. These nights are gold. My guitar is packed and ready to pump out some tunes for what promises to be a wicked night.
WATCH THE TAG!
Gold Coast are easy to score against…. For some.
At the moment they have the ability to roll with two taggers. Alex Sexton and Touk Miller.
Last week it was Sexton's turn as he ran with Higgins (75). This week it will be either Zach Merrett or Dyson Heppell in the firing line… or both.
Heppell has scored 111, 108 and 122 in his last games against the Suns and was on fire last week before finishing on only 97. Whereas for Zach, he is back doing what he does best.
Merrett has averaged 111 in his last three games this year and out of the two, he's the easiest to tag and will most likely cop the attention this week.
The next tag we need to flag (and it's only a flag) is Greenwood to Andrew Gaff.
Gaff has been amazing with scores of 146, 148 and 114, and up against Collingwood he should continue this. If this game was at Optus… he'd be much higher up my top 5 I can tell you that.
Collingwood have given up 9×110+ scores to MIDS in the last five weeks but he copped this tag last year and was held to just 51. So why wouldn't they do it again? Well… he might.
The thing is… Greenwood wouldn't be able to run with Gaff at the moment with the way they both are playing. But sometimes taggers tend to 'have it over' their prey and tend to back it up again and again.
It's a small concern, but Greenwood hasn't even been tagging. Brush this one off… but just keep it in the back of your mind.
In the same game, watch out for Hutchings to continue his tagging roles after he held Josh Kelly to 89 last week. Steele Sidebottom should be his target and Steele only has 1×100+ against the Eagles in his last 3.
Finally, Patrick Cripps scored 143 against the Saints last year which was his second best score ever. Watch out for a tag from Jack Steele though who held Wines to just 69 last week.
CONCERNS FOR GRUNDY?
No not really… how can there be when Brodie Grundy has scored 100+ in every game since round one.
But I will tell you this. Only Sam Jacobs (106) has scored 100+ against Nic Nat this year. The Eagles rank as the second hardest in the game for rucks to score against (avg. 74 for the year), but this should change this week against a guy who is averaging 121 this year.
In his last three games against the Eagles, Grundy has scored 127 (Petrie/Vardy), 127 (Lycett) and 82 (Nic Nat), with his only blemish being the one against the big man himself who he plays this week which was back in 2016.
Grundy will Grundy I know… but these are facts you need to know.
NO LIONING AROUND AT UTAS
As we know, the UTas ground is so much bigger than others it's not funny. Sitting at 15m longer than Etihad and 16m wider, the space on the ground means that it is the most Fantasy friendly ground in the land.
Despite Hawthorn being very tough to score against at the moment, I'm expecting Dayne Beams and Dayne Zorko to have great days.
Beams has been in ripping form averaging 119 in his last three and is coming off a huge 133 last week. He had 119 against the Hawks earlier this year and should be great again.
Just like Beams, Zorko had a nice 114 last week and loves playing against the Hawks with previous scores of 134, 125 (@UTas) and 106. Over his career, they rank very high in his favourite teams to play.
The issue here is… the Hawks can be restrictive. Both will be fine and should racked up good numbers on the big ground, but the Hawks do scare me a little and that's why they just miss out on my top five this week.
Legends! I have an #AFLFantasy song competition for anyone coming to our show at the Bells Hotel on the 19th of July. @mattricho0 will be the judge and first prize includes a carton of Furphys and @PostHigh goal posts. Show tickets available at https://t.co/qzKzal9a5e for $20 🍻 pic.twitter.com/14C86U6aoY

— Adam Roy Davey (@RoyDT) July 11, 2018
JUST QUICKLY CALVIN…
Luke Bruest v Brisbane @ UTas Stadium: Yes he has been on fire kicking 6.2 goals last week for his 151, but a captain like this can be a disaster too.
Clayton Oliver v Bulldogs @ MCG: Gun, breaking records each week and he's coming off a career-high 141. Had 105 on the Dogs earlier this year and might cop attention this week from Dunkley. Maybe.
Devon Smith v Gold Coast @ Metricon Stadium: Will avoid the tag here and could be huge after his 150.  Very hit and miss and let's not forget he had 69 two weeks back. Could pay off though if you have the guts.
Scott Pendlebury v West Coast @ the MCG: Yes! Has scored 13×100+ scores in his last 14 games against the Eagles which makes them his all-time favourite team to sore against. Had 123 last week and is looking good for this Sunday clash.
Josh Kelly v Richmond @ SPO: Sorry… but not touching anyone playing the Tigers at the moment. He'll be good, but no thanks.