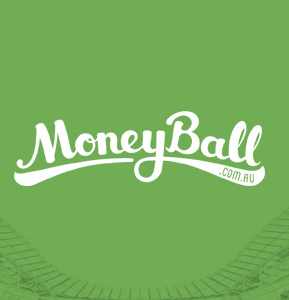 Tbetta here, and welcome to the self-proclaimed top resource for keen Aussie rules Moneyball punters! DFS (Daily Fantasy Sports) is taking off around the world and Moneyball have the perfect platform for you to turn your AFL Fantasy prowess into cold hard cash. Signing up is easy – head to moneyball.com.au and you could be ballin' within minutes.
If you're unsure how DFS works, be sure to head to the 'Help' section for all the info you need to start cashing in on your AFL Fantasy knowledge.
St Kilda vs Richmond
BEST PICK: Toby Nankervis ($7,600 RU)
Given that St Kilda has conceded the 2nd-most points to RUC's this year, we were always going to be looking closely at the big fella lucky enough to face them. Nank is no different, despite being the kind of ruckman that thrives more off better ground-level work than cashing in on aerial dominance. This idea is illustrated by Toby's scores this season when notching 6 or marks: 97, 131, 119 and 107. That last score was earned earlier this year against the Saints, and joins the 119 he busted out on them last year to make Nankervis the easiest pick you'll make this Friday night.
BEST STAT: St Kilda Midfielders
Richmond simply don't care if you accumulate meaningless stats against them, and there's no purer evidence of that than the fact that the Tigers haven't assigned a single midfield tag this season. They back in their game-plan and their unique style instead, and what do you know – they're the reigning Premiers and sit atop of the AFL Ladder in the tapering stages of 2018.
Seb Ross ($9,200 MID) has been a beneficiary of this Richmond swagger for the past couple of years, owning a record of 132, 134, 82 and 133 against them in his last 4 starts. Ross has been down the past couple of weeks (67 and 77) but is primed for a bounce-back here, and has ceiling covered with 6 scores over 118 this year.
Similarly, Jack Steven's ($8,300 MID) most recent meetings with Richmond have bore fruit; scores of 103, 122, 83 and 134 to be exact. He could be an absolut menace here, as Steven's scores when reaching the magical 30-disposals mark the year is 133, 134 and 136.
BEST VALUE: David Armitage ($6,900 MID)
Armitage has been on fire ever since returning from his curious VFL stint, posting 96, 110, 105 and 110 over the past month. These numbers are standard for a veteran midfielder of his quality, and honestly, we expected them from him to start the year. But that's okay – we now have a safe Moneyball ton waiting for us at a slither under $7k.
BEST RETHINK: Jack Billings ($7,200 FWD)
As we alluded to last week, Billings is a downhill skier of the highest order:
2018 in Wins:  27 touches, 1.7 goals, 110 AF
2018 in Losses:  19 touches, 0.3 goals, 69 AF
While this trend was looking pretty juicy with Carlton as his opponent, coming up against the reigning Premiers – who are being quoted at $1.13 odds – it's more of a violently flapping red flag when it comes to his selection this Friday night.
Collingwood vs North Melbourne
BEST PICK: Shaun Higgins ($9,000 MID)
Higgins has been a marked man lately with all the Brownlow buzz, but he'll get a reprieve this week as Collingwood simply don't tag!
Last 3 scores Tagged: 98, 75, 98.
Last 3 scores Untagged: 119, 123, 105.
The Pies give up the 3rd most "Captain" type scores over the past 5 weeks, so I'm all over Missy this weekend.
BEST STAT: Todd Goldstein ($8,400 RU)
Goldstein's last 4 scores (118, 93, 132, and 125) looks like the monolith of old, but there's no dodging the fact that he has the unenviable task of facing Grundy this week. In a poor omen for the North big man, the highest score by a ruckman versus Grundy in the last 9 weeks is a measly 82, punctuated by 4 dirty scores under 65 in that stretch.
BEST VALUE: Paul Ahern ($4,300 MID)
Why fix what ain't broke? Ahern is getting the job done lately, pumping out 82, 88, 78 with disposal tallies of 22, 22, 21 in those games. He's been named in the guts this week, so it's full-steam ahead for the former early draft pick.
BEST RETHINK: Steele Sidebottom ($9,900 MID)
Sidey has now been identified as "taggable" by opposition teams, so he'll keep getting shadowed until he can show he can break it. The numbers aren't pretty; he's been tagged on 3 occasions this year for totals of 77 (Devon Smith), 81 (Miller) and 48 (Hutchings) – and it's no coincidence that these are his 3 lowest scores for the season.
With Ben Jacobs sadly still dealing with lingering concussion symptoms, it'll be interesting to see if North break the mould and give another youngster a tagging job.
Sydney vs Gold Coast
BEST PICK: Jarrod Witts ($8,000 RU)
Despite Sinclair's impressive feats, Sydney have conceded the 2nd-most points to RUC's since Round 10. Witts carved out 110 from 44 hitouts against the Swans last year, but it remains to be seen what the addition of debutant Darcy Cameron ($3,500 RU) will do to the natural order of things here. Common sense suggests he'll play second fiddle as a key forward (he's ranked 8th for goals in the NEAFL this year) and will have little interaction with Witts. Still, it's one to monitor.
BEST STAT: Luke Parker ($8,500 MID)
As we say each week, Gold Coast has conceded by far and away the most points to MID's this year including, crucially, the most raw disposals. This is great news for Parker, who boasts scores of 127, 97, 102 and 118 when he collects at least 25 of those bad boys this season. His last 3 scores of 102, 121, and 117 against the Suns is just a nice statistical cherry on the cake.
BEST VALUE: Colin O'Riordan ($3,800 DEF)
It was a faultless fantasy debut for O'Riordan last week, replacing the veteran McVeigh with solid numbers of 84 MB from 17 touches and 8 marks. Fantasy Freako reported that he notched a game-high 10 intercept possessions on debut and that's good enough for me at a bee's dick above basement price.
Essendon vs Fremantle
BEST PICK: Devon Smith ($9,300 FWD)
Coming off scores of 150 and 122, it's hard to ignore the trajectory of Devon Smith as a fantasy player as we delve deep into the season. Tackles are a huge barometer for his scoring and the fact that he laid 13 of them amongst a team-high 115 AF against the Dockers earlier this year is an excellent sign. Devon's scores this year when applying more than 7 tackles looks like 115, 91, 117, 96, 113, 150 and 122, so we could be in for another belter here.
BEST STAT: Zach Merrett ($9,800 MID)
There's two ways you can look at Merrett this week:
Very positively. He's posted 8-straight scores over 98, including thumpers in 124 and 138 over the past fortnight. The Dockers are giving up a bit, with at least one midfielder scoring 109+ against them in each of their last 7 games. He even loves playing under the roof at Etihad, with scores of 121, 121 and 106 in his past few there.

On the flipside, the dreaded tag is a legitimate concern. Merrett scored just 78 against the Dockers last time with a

Banfield

tag, who's been back to his shadowing ways of late.
BEST VALUE: Tom Bellchambers ($6,900 RU)
Rucks vs Fremantle without Sandilands:
Martin: 110 from 46 hitouts
Gawn: 124 from 42 hitouts
Ryder: 51* from 18 hitouts (left the game injured well before half time)
Bellchambers is back in form with a 93 against the Gold Coast, and this is a perfect spot to see whether he can build on that momentum with an easy match-up.
BEST VALUE: Sean Darcy ($5,900 RU)
After proving his fitness last week with 103 against Port, Darcy puts his hand up for the old double-ruck play, with Moneyball's FLEX slot a perfect spot for the man-child. He averages an incredible 83 over his career 10 games – all without Sandi – but just make sure he's cleared fit to play before locking him in as he was reportedly experiencing groin soreness during the week.
Brisbane vs Adelaide
BEST PICK: Rory Sloane ($8.900 MID)
Sloane's last 5 uninjured games against Brisbane have resulted in dreamy scores of 100, 160, 117, 117 and 111 – with the latter score seemingly a key number for the Crow after pumping out back-to-back 111's this year. Brisbane opted not to tag Titch last weekend; will they let another gun run free this Saturday night?
BEST PICK: Stefan Martin ($9,400 RU)
Stef absolutely destroys the Crows with 123, 136, 151 and 107 in his last few meetings – and those were with Sam Jacobs at the peak of his powers. Martin is an extremely safe pick in DFS, producing just the single score under 90 in his past 14 games.
BEST STAT: Dayne Beams ($9,300 MID)
Adelaide give up the most "Captain" totals of any team, conceding 5 scores of 140+ to midfielders already this year. Ceiling is exactly what we're looking for in Moneyball, and with Grundy's airball last week, Beams is now the outright leader for 110+ scores since Round 6. I talk him up every week because he's simply that good, and boasting scores of 107, 113, 107 and 144 in his last four against the Crows doesn't hurt from a selection-confidence point of view.
BEST VALUE: Hugh McCluggage ($6,600 MID)
With scores of 111, 102, 91, and 95 over the past month, how can you resist taking a little nibble at Hugh? There's no obvious role change or logical reasoning behind his sharp improvement in fantasy beyond a young player taking the next step – here's McCluggage's splits since the bye:
Pre-Bye: 17 disp, 2.6 tackles, 69 AF
Post-Bye: 25 disp, 5 tackles, 100 AF
Geelong vs Melbourne
BEST PICK: Joel Selwood ($9,300 MID)
The veteran hasn't been getting the kudos he deserves in fantasy this year, pumping out 9 scores over 110 for the year – good enough for 4th-most in the league behind Titch, Grundy and Gawn. In fact, Selwood's current trajectory of 106.9 would be his 2nd-best average over an entire season, behind a huge 109.2 in 2011 when scores were undoubtedly harder to rack up.
As for this week in particular, Joel loves the Demons, averaging a monster 123 over his past 11 clashes against them! 8 of those were over 120 too, which is actually insane. If you're a superstitious punter, this is the play for you!
BEST STAT: Max Gawn ($9,800 RU)
As we said last week, Maxy destroys teams with a weak RUC division and Geelong is at the top of the table in that capacity. Gawn already has a strong record against them with career (uninjured) scores of 96, 139, 95 and 138 against the Cats. That 138 was from earlier this year, where he missed a shot after the siren to win the game… Reckon he'll have any extra incentive to dominate this week?
BEST VALUE: Jay Kennedy-Harris ($4,100 MID)
JKH was solid with 76 last week, fitting in line nicely with his AFL average of 77 from his past four games. He's not the forward pocket specialist we saw when he first burst onto the football scene, spending a heap of time up on a wing last weekend. And you can certainly see why, with Kennedy-Harris has dominated at the lower level as a midfielder this year, ticking over at a brisk 105 from his past 7 VFL games.
Carlton vs Hawthorn
BEST PICK: Jarryd Roughead ($6,500 FWD)
Carlton give up the most points to Key FWD's this year, especially over the past few weeks:
Westhoff – 2 goals, 6 marks, 113 AF
Hipwood – 6 goals, 7 marks, 110 AF
Marshall –  2 goals, 8 marks, 114 AF
Like most key forwards, Roughy scales extremely well with a kicking filthy bag – his scores when booting 3 or more this year looks like 75, 90, 94 and 112.
BEST STAT: Jack Gunston ($7,500 FWD)
Does Gunston go to the backline with Sicily out? The Teamsheets certainly suggest he will, with the utility named smack-bang at CHB. For the uninitiated, this is a significant development – last year Jack went back when Hawks lost Birchall (on top of Frawley) at around this time:
2017 as a FWD: 16 touches, 5 marks, 79 AF
2017 as a DEF: 25 touches, 7.5 marks, 99 AF
When Gunston notched 8+ marks as a backman last year he pumped out 98, 132, 127 and 106, so you definitely want to invest in him against the hapless Blues this week.
BEST STAT: Kade Simpson ($9,100 DEF)
Want an excuse to pick Simpson this week? The veteran never produces 2 bad totals in a row, as evidenced by his bounceback performances after scores under 80 this year:
66 vs NM. 131 vs West Coast the week after.
69 vs WB. 112 vs Adelaide the week after.
61 vs MEL. 124 vs Geelong the week after.
After 72 vs STK last week… What will he have against Hawthorn this Sunday?
BEST VALUE: Jonathon Ceglar ($5,900 RU)
It was just a modest 62 for Ceglar last week, but that was against the 3rd-hardest RUC to score against in Stef Martin; and notching a solid 30 hitouts in his first game as a solo ruck is an encouraging sign. Carlton concede the 5th-most points to RUC's this year, and Ceglar won't even have to deal with Kreuzer this weekend either. I'm taking another nibble.
West Coast vs Western Bulldogs
BEST PICK: Andrew Gaff ($10,300 MID)
The wingman loves playing at home, averaging 118 in his last 8 games at Optus and is almost an auto-selection there these days. Compounding his value is his affinity to the Bulldogs with scores of 148 and 130 last year against them – which turned out to be 2 of his 3 highest scores for the season. The Bulldogs concede the 5th most disposals of any club and Gaff will lap that up, pumping out 110, 154, 148 and 146 when he collects more than 32 touches this year.
BEST STAT: Scott Lycett ($7,000 RU)
No NicNat is the obvious element in play here, but is he worth the salary? Well, since 2014, Lycett has played 8 games as the big banana for averages of 15 touches, 28 hitouts and 91 AF. Extremely positive numbers.
Lycett's gifted a match-up against the team who's conceded easily the most points to RUC's this year, with the lowest score a ruckman has manufactured against them in the past 6 weeks being 102. The icing on the cake here is that Lycett pumped out a season-high 112 against the Bulldogs earlier this year. Lock him in.
BEST VALUE: Josh J. Kennedy ($6,700 FWD)
The Bulldogs concede the 2nd-most points to Key FWD's this year, so naturally we cast our eyes over the Eagles' forward division. JJK didn't play against Bulldogs in Round 2 this year, but Darling capitalised in his stead with 4 goals. Overall, 5 West Coast forwards kicked multiple goals against this Bulldogs backline in that game.
Of course, it doesn't hurt that Kennedy historically smashes the Bulldogs in Perth! His last three meeting that criteria:
7 goals, 14 marks, 157 AF
2 goals, 8 marks, 84 AF
3 goals, 9 marks, 107 AF
BEST VALUE: Josh Dunkley ($7,600 FWD)
The sunnavagun has seen a significant role change since returning to the side after being dropped and spending a month in the VFL:
Rounds 1-9 as a FWD: 16 touches, 82 AF
Rounds 14-17 as a MID: 24 touches, 99 AF
Port Adelaide vs GWS
BEST PICK: Dawson Simpson ($5,200 RU)
Without Ryder, who legitimately rucks for Port? They've named Dixon there on the Teamsheets, but can they realistically afford to take their best clunker out of the forward line? With Jarrod Lienert ($3,500 DEF) named to make his debut, there's a fair chance that it frees up Dougal Howard to be thrown to the wolves with Westhoff in support. Either way, this dog's breakfast is great news for Simpson, as only 1 ruckman has failed to score 90+ against Port in their 7 games without Ryder this year.
BEST STAT: Justin Westhoff ($9,000 MID)
Even though he doesn't step up with the main role, there's no doubt that Westhoff benefits from the extra contest proximity when Ryder misses. In fact, 3 of his 4 highest scores this year came when Ryder was out injured (132, 118 and 113). He's been highly consistent all year, but without Patty in the side, Westhoff adds a little ceiling to his soup this weekend.
BEST RETHINK: Josh Kelly ($10,400 MID)
Kelly's last two against Port looks like 113 and 127, but they're a different side this year. In fact, the Power are actually the hardest team for MID's to score against and, on top of that, they also allow the least tons of any team at just 2.38 per game. With Josh in a bit of a slump of his own (89 and 88 in the past fortnight), I'll be giving him a miss despite the obvious potential for the young gun to rip a game apart on any given Sunday.
Always remember to gamble responsibly. If you're having problems with your betting, you can get help at Lifeline or talk to someone at Gambling Help Online.