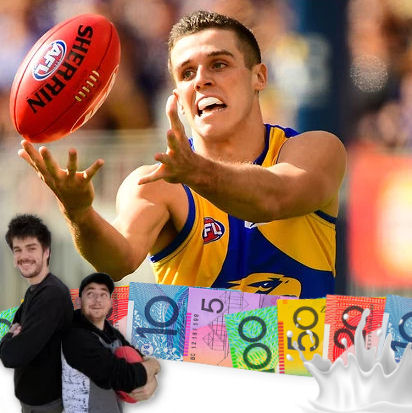 It was looking like such a productive week for our rookies, plenty of happy coaches and then on the last Sunday one of our key cash cow rookies go down.  Got to love this game! We wish you a speedy recovery Liam Ryan.
Anyway, here's our review of the key rookies following all the Round 3 action.
Those That Matter 
Collingwood Vs Carlton
We got a mix bag from our rookies in the first game of Round 3. The clear standout was Sam Murray (Def. $292,000, -14 BE), who dashed his way to 90 points and the Round 3 Rising Star nominee. What Murray lacks in disposal polish, he more than makes up for with his ability to take the game on. He is now settled in the back six at the Pies, and with a low breakeven he is clearly a rookie to continue holding on to and playing on your field. A rookie who you will not want to play on your field, or hold on to for too much longer, is Jaidyn Stephenson (Mid/Fwd. $301,000, 40 BE). On paper Stephenson didn't do too much wrong, with 100% Disposal Efficiency, the reality is though, there were only six disposals. The unfortunate fact for Stephenson is that Blair, Elliot, De Goey and Fasolo all played strong games in the reserves. When this is combined with the fact that Wells is supposably only one week away, you can't help but feel he is playing on borrowed time. As long as he is named  then there is no reason to trade him out this week as he should cover his break even against the Crows.
The main relevant rookie at Carlton in this game was Paddy Dow (Mid. $287,000, 28 BE). At the start of the third quarter when Carlton tried to rally, Dow, was a key part of that momentum shift and was involved a lot more in the play. From that moment on he was really impressive in the game and ended up on 62 points. His spot in the team is safe and he maintains a low breakeven so coaches can keep enjoying the cash generation as Dow sits on your bench.
Port Adelaide Vs Brisbane
Only two key cash cow rookies took the field for this game. The most popular of the two was Dom Barry (Mid. $275,000, 11 BE). Most owners were quite worried after his 40 point effort. Watching the game, the interesting part was Barry was lining up on the wing for majority of the centre bounces, so it wasn't a role change that effected his scoring. Given what Barry has provided us fantasy coaches so far we are willing to forgive this effort and see it being a minor blimp in his season. Joe Atley is knocking down the door in the reserves but he tends to play a more inside role which bodes well for Barry.
It's funny how something as simple as a mark can justify all the recruiters work, and that's exactly what happened with Cameron Rayner (Mid/Fwd. $258,000, 37 BE) on the weekend. Rayner had four tackles and two contested marks on his way to his new personal best of 52 dreamteam points. This was enough effort to have us getting rid of any job security concerns we had last week for the No.1 Draft pick. Our prediction that he will take time this year but start spitting out 60-70s in the back half of the year stands for now. However, there is no harm in trading Rayner to a more promising rookie in the mean time if the timing allows.
Melbourne Vs North Melbourne
OK, at some point we have to start putting Ben Jacobs (Mid. $341,000, -6 BE) in to the mix for the best rookie cash cows of 2018. After cracking the 100 last week, he backed it up with an 86 point effort against the Dees. Jacobs had the expected tagging role on Clayton Oliver, so again was always around the ball. What he seems to have done is been watching old tapes of Kane Cornes, because his ability to work off his opponent and find the ball himself has increased. Still the majority of his points are coming from tackles which shouldn't change. This week expect Jacobs to go to either Cripps (similar player to Seb Ross) or Marc Murphy. If he goes to Murphy then he'll spend a bit more time in Roos defence to follow him but we're not sure whether that's a good or bad thing. What we know is a bad thing is the form and job security of Luke Davies-Uniake (Mid. $273,000, 39 BE). After his 7 disposal and 26 point effort, his breakeven of 39 is starting to get a bit high based on what he has been producing. If he is named next week then it's a hold from us but we aren't so sure he will be named next week.
There was a worrying moment this weekend for our ever reliable forward rookie Bayley Fritsch (Fwd. $295,000, 19 BE). It wasn't during the North game where he scored one goal and 47 dreamteam points. It was during the Coburg vs Casey Demons VFL match, when Harley Balic kicked six goals and Sam Weideman kicked five. The good news for Fritsch owners (all 45% of them) is that the Demons had a win, so it's not likely that they will try change the team too much. The bad news is that there are a couple of players performing very well in the VFL who play a very similar role to Fritsch. Just something to keep an eye on at selection.
Gold Coast Vs Fremantle
If it wasn't for a 27 point last quarter than, Andrew Brayshaws' (Mid. $307,000, 33 BE), somewhat respectable 43 points, would have looked a lot different. It seemed that Brayshaw was spending a lot more time up forward during this match and he only spent 61% of the game on the field. This is a lot lower than previous weeks and it didn't look like he was carrying any type of noticeable injury. For now, we will put this performance down to player management but coaches beware placing him on the field this week against the big bodies of the GWS midfield. Despite playing at Full Back at times, Bailey Banfield (Mid. $259,000, 4 BE), was still able to work his way to a 52 point game. It's clear that Banfield has found his niche at Fremantle after another week of playing a defensive role, this time on Aaron Hall. Ross Lyon has always loved having a tagger in his side too, just ask Crowley, Suban, Barlow, De Boer and Sheridan. This is great news for Banfields' job security and for owners looking for cash generation. Unfortunately we won't be able to put him on our field any time soon, as he looks to find his feet in the role. Adam Cerra (Mid. $294,000, 27 BE) and Mitch Crowden (Mid/Fwd. $201,000, 0 BE) scored 48 and 65 points respectively. Of the two we are still more impressed by Cerra although the price difference makes Crowden a more likely option. We're still not convinced he is a must have option, as he has no means secured his spot in the lineup, but he is one of the options to replace Ryan for sure.
The only key rookie for Gold Coast again in this game was Nick Holman (Mid. $321,000, -7 BE). His 67 points effort only included 6 tackles (bit harsh) as he played more of a high half forward role. Michael Barlow was best on ground for Gold Coast in the NEAFL but we just can't see him taking Holmans' spot so you should be able to hold and play him on your field in the short term. This is good news for us as it means we will be able to scream out "Hold him Holman" during Gold Coast games for a little longer.
Sydney vs. GWS 
Not too much to discuss from a rookie perspective this game. Jeremy Finlayson (Def. $296,000, -4 BE) was the pick of them, collecting 20 possessions on his way to 59 points. GWS were still feeding him the ball regularly as they clearly like him with ball in hand. You can continue to play Finlayson on your ground with confidence of a plus 60 score. For GWS, Isaac Cumming (Def. $170,000, 27 BE) and Aiden Bonar (Mid/Fwd. $250,000, 39 BE) both performed strongly in the NEAFL, collecting 27 and 28 disposals respectively. Cumming was on our watch list early on in the preseason and you would think he wouldn't be too far away from a debut.  Unfortunately, Ryan Griffen and Toby Greene are both expected to return this week and will obviously take priority.
St Kilda vs Adelaide
Do yourself a favour and try work out a way to bring Nicholas Coffield (Mid/Def. $276,000, BE 16) in to your side. A straight swap for an Aaron Naughton type is not out of the question. After scoring 49 points by half time our pre-season favourite managed to make his way to 73 points. During Alan Richardson's announcement to Coffield that he would be playing in his first game during the week, he mentioned that he was being brought in due to his ability to take the game on. Those words must have been ringing through his ears as Coffield looked dangerous with all his possesions as he went at 89% Disposal efficiency. Add in the fact he scored a set shot goal with ease and you can't see Richardson dropping the kid any time soon. Unfortunately the same can't be said for Ben Long (Fwd. $254,000, 36 BE) who only scored 30 points from 11 possesions and made 5 clangers along the way. After back to back quiet games even if he survives selection on Thursday then look to trade him out in the next couple of weeks before that breakeven slips too high.
The Adelaide duo of Tom Doedee (Def. $304,000, -4 BE) and Lachlan Murphy (Def. $238,000, -4 BE) scored 64 and 66 points respectively. Nothing to discuss here really as the two keep going about their business and are in no danger of losing their spots in the near future. Special mention to the coaches who held Murphy after his first round effort as he has paid them back in spades.
Richmond vs. Hawks
Jack Higgins' (Mid/Fwd. $247,000, 26 BE) first game was just ok from a fantasy perspective. Higgins kicked two goals and collected 12 possessions. He spent almost all of his game time in the forward line. Higgins will become a fantasy beast, but at this current stage, he is hard to recommend with confidence. He has an inflated price tag, is playing as an almost permanent forward and his job security is not great. Having said that, we love him, and it was a great start to his career.
Western Bulldogs Vs. Essendon
Tim English (Ruck/Fwd. $285,000, -3 BE) performed strongly as he was given his chance to essentially solo ruck. For as long as English is allowed to play this role, we believe his scores will be similar to the 86 he scored on the weekend. If you already have two premiums in the ruck department, you can always move English to the forward line using some DPP action. This will allow you to play English on your field as a forward. The other strong performer from the Bulldogs was Ed Richards (Def. $279,000, 4 BE). Richards scored 85 points, showed explosive dash off half back and also a strong appetite to chase and tackle. The way he is performing suggests his job security is very solid. Aaron Naughton (Def. $288,000, 28 BE) is just plugging along scoring 50's. Billy Gowers (Fwd. $255,000, 8 BE) scored 44 points and again kicked one goal three. If you don't have Gowers yet, we wouldn't recommend jumping on now.
West Coast Vs. Geelong
The big question that comes out of this game is 'what do we do with Liam Ryan?' Please see below for our thoughts on Ryangate. Jake Waterman (Fwd. $260,000 -19 BE) was superb! Despite not kicking a goal, Waterman presented well all day, taking nine marks and collecting 20 possessions. Even if Kennedy does return this week, it's hard to see Waterman making way for him, he's playing too well. After showing promise last week, Daniel Venables ($222,000 BE 15) was back to his low scoring ways, amassing just nine possessions for his score of 30. William Rioli (Fwd. $181,000, 15 BE) spent more time in the midfield however still only managed 44 points. For Geelong, Esava Ratugolea (Fwd. $218,000, -13 BE) was excellent. Ratugolea kept bobbing up, taking strong marks up forward, pinch hitting in the ruck and kicking two goals one. Gary Ablett's injury can only be seen as a positive for Tim Kelly's (Mid. $382,000, -6 BE) already impressive scoring output. Kelly collected 19 disposals, kicked a clutch goal and scored 79 points. If you have Kelly in your side, you should be in no hurry to look at trading him out. Another player who may benefit from Ablett's injury is Lachlan Fogarty (Mid. $299,000 16 BE). Fogarty scored 67 points after kicking one goal four.
The Liam Ryan Replacement Options 
With the unfortunate injury to Liam Ryan that was mentioned above, we now need to look at replacements as it appears as though he will be sidelined for "an extended period. Ryan needs to be traded so we have made a list of the possible replacements below.
The Playing Cash Cow Rookies
Mitch Crowden ($201,000, 0 BE) – As mentioned above he is not our favourite of all the rookies that play for Fremantle but as long as they keep winning, his position is safe. Not for us.
Jake Waterman ($260,000, -19 BE) – Surely he has done enough to hold his spot once Kennedy returns. If you're playing the breakeven game, he's your man.
Willie Rioli ($181,000, 15 BE) – No Ryan means his job security has increased further and hopefully will pick up some of the scoring slack.
Jack Henry ($191,000, 7 BE) – Injuries at the club have increased his job security but can't help but feel he is the first on the chopping block once Henderson returns.
Jack Higgins ($247,000, 26 BE) – Absolute fantasy beast in his junior days but unfortunately won't be playing that role at Richmond. Did enough to secure his spot in the forward line at the Tigers for now and is one of the top options.
Esava Ratugolea ($218,000, -13 BE) – Has been impressive so far. Got to pinch hit in the ruck on the weekend however with the likely inclusion of either Stanley or Smith, that is unlikely to continue.
Cameron Rayner ($258,000, 37 BE) – The best like for like replacement in terms of job security.
Billy Gowers ($255,000, 8 BE) – One for the brave people out there but what we've seen with Gowers is what you will get.
The Possible Cash Cow Rookies to Come In
Aidan Bonar ($250,000, 39 BE) – Has started going beast mode in the NEAFL and a favourite at the club. 28 disposals and 8 tackles on the weekend has moved him up the pecking order.
Patrick Wilson ($170,000, 27 BE) – Similar to Bonar has started to dominate in the SANFL. Had 112 points last week and 121 points this week.  If he was at any other club would be the lock to take Ryan's spot on your bench.
Lachlan Keefe ($170,000, 27 BE) – Has been the emergency three times for GWS and that's the main reason we decided to include him.
William Frampton/Sam Hayes ($170,000/$178,000, 27/28 BE) – Will Port Adelaide react to the domination of their make shift ruck department on the weekend? If so then one of these two guys should get the nod and are a viable short term option for your bench. Sam Hayes has had more hitouts in both SANFL games but Frampton is more capable around the ground.
Cameron Zurhaar ($234,000, 37 BE) – Only played a half of football in the VFL on the weekend as he was a potential late in for the club. Didn't end up playing his first game for 2018, but his half of football was impressive enough in the VFL to suggest that this week could be his week.
To Summarise
Jake Waterman is the option we would recommend first. The main issue with him is job security, however his strong performances should keep him in the team. If Ratugolea is named with no other ruckmen in the side, then he would be option number two. Wilson or Bonar being named would make them number three. Higgins is the risky final option who has a big upside.
Keep An Eye Out For
In addition to the forward rookies mentioned above there a few other names to keep an eye on.
Injury to Marchbank could mean that Cam O'Shea (Def. $237,000, 28 BE) comes back in to the team.
Zac Bailey (Mid. $242,000, 38 BE) was again named in the best for Brisbane in the NEAFL following his 22 disposal effort.
The injuries to all the key players at Geelong could open the door for Charlie Constable ($200,000, 31 BE) or Jordan Cunico (Mid. $222,000, 35 BE)
Brody Mihocek (Def. $170,000, 27 BE) keeps doing nothing wrong in the VFL for the Pies and has also been named emergency for the first three rounds.
For Sydney Swans, Sam Reid's eight-week quad injury surely opens the door for Darcy Cameron (Ruc. $170,000, 27 BE). Most of you will already have him on the bench though.
Twitter Questions
Covered this one a bit above but just to go in to further detail, In Round 1 Sam Hayes/Frampton shared the ruck duties but over the weekend it seemed to be more bias towards Hayes in the ruck. They both performed well from a dreamteam perspective scoring 98 and 103 respectively.
Exactly right. The injury to Ablett only increases his job security. Fogarty kicked one goal four on the weekend so his score could have been a lot higher. Plus Fogarty had massive numbers as a junior so he certainly has a big fantasy game in him.
Marchbank's injury certainly opens the door for him. O'Shea was very poor when given his chance last week though. Fingers crossed he gets another chance this week as we all know he can score. Wait for teams on thursday, but we would think his inclusion is likely.
We believe he is better than he has been scoring. He does have tough match up this week however, versing GWS away. Appears to have good job security and should continue to work into the season. The scores will come.
Ratugolea for us. If he keeps pinch hitting in the ruck and getting up the ground, he should continue to score.
FOLLOW US ON TWITTER:@TheMilkmenDT specialising in cash cow selections but still here to talk all things AFL fantasy.