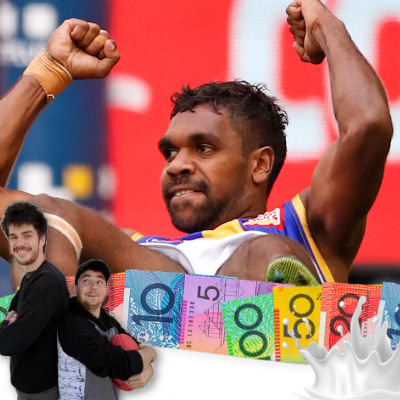 We hope the coaches keep feeding those cash cows whatever they did this week because we saw some monster scores from our rookies in Round two! Unfortunately for some, these rookies were either not on our field or not in our team all together. It's also looking like some teams may have a few issues up forward. Fear not, we are here to help review the round and have a look at how all the important cash cow rookies performed.
Those That Matter 
Adelaide Vs Richmond
The pick of the rookies in Thursday night's match had to be Tom Doedee (Def. $254,000 -20 BE). Doedee had 25 disposals and collected 78 fantasy points. He seems to have slotted straight into Kelly's role down back for the Crows and you should feel confident about playing him at D5 or D6 for the time being. It's worth noting that Kyle Cheney injured his hamstring in the SANFL so this has only increased his job security in the short term. Honourable mention in the game has to go to Lachlan Murphy (Def. $200,000, 2 BE) who was lively up forward and kicked two goals in a quarter on his way to 61 points. Looking at the team list it's hard to see Murphy losing his spot in the team in the near future. Respect to those who picked him up as the dividends will be paying off for a least a couple more weeks. Darcy Fogarty (Mid/Fwd. $270,000, 26 BE), who is currently in 31% of teams, had an eventful night considering he only had seven touches. Fogarty showed off his physicality kicking 2 goals and also managing to get himself reported. Fogarty has since been cleared, however we don't see him as a viable long-term option due to his inflated price and lack of job security with Tom Lynch's return from injury imminent. Even if Fogarty does hold his spot it's hard to see him getting the amount of ball he would need to score a good amount.
To those that kept Shai Bolton (Fwd. $230,000, 33 BE), you are a braver person than most of us, and you were handsomely rewarded with a 38 point increase on his round one score! The bad news is that still only meant a score of 52 points. It's time to cut your losses on Bolton and try to grab one of the other forward rookies mentioned below whose price is about to sky rocket.
North Melbourne Vs St Kilda
How good was Ben Jacobs!? Our first cash cow of the year to crack the 100 barrier. Jacobs (Mid. $286,000, -7 BE) had 18 disposals, laid ten tackles and kicked a goal. Whist Jacobs was definitely playing as a defensive midfielder on Seb Ross, it certainly wasn't the hard tag that we have seen him do in the past. The promising part of his game was his ability to run off Ross and be part of the Roos passing chain off half back.  This is something that Jacobs didn't do when he was at his prime of tagging previously. If you are lucky enough to be a part of Jabobs' 3.6% ownership, you can play him on the ground with confidence. Luke Davies-Uniacke (Mid. $272,000, 25 BE) played a much-improved game from last week and is essentially performing as expected. He got better as the game went on and ended up with 16 disposals, five tackles and 70 fantasy points. This is about what you can expect from him going forward and do remember that if you started with him, it was predominately for job security.
Before we get too carried away with the rookies from North and their scores, you must remember that St Kilda were terrible in this match. Ben Long (Fwd. $250,000 25 BE) and Hunter Clark (Mid. $265,000 41 BE) were both very disappointing, scoring 30 and 28 respectively. Clark didn't touch the ball in the first quarter and got caught holding the ball three times. With Mav Weller and Luke Dunstan performing well in the VFL, you would think there would be changes and Clark is the most susceptible out of the two.
Carlton vs. Gold Coast 
A lot of coaches jumped on Cam O'Shea (Def. $237,000, 28 BE) this week after he was named a confirmed starter. After a bright start and a 28 point first quarter, unfortunately, O'Shea only managed 45 points and made several costly skill errors along the way. We can't stress how basic these skill errors were! It certainly wouldn't shock us to see him dropped back to the twos. Whilst Paddy Dow (Mid. $273,000 39 BE) wasn't disgraced, he just didn't do enough, managing only 11 touches on his way to 37 points. With a few key injuries and other rookies to potentially take care of for teams this week, Dow, shouldn't be the top of your trade list but for those people with a luxury trade it is worth moving him across to one of the key midfield rookies at a similar price who will be making a lot more money in the short term. Dow does still have some of the better job security of the rookies running around though. Cameron Polson (Mid/Fwd. $192,00, 20 BE) was a late in for the injured Kreuzer. Although he did not look out of place he definitely didn't do enough to demand selection in our sides with only 40 points..
For Gold Coast, Nick Holman (Mid. $267,000 -25 BE), again showed his tackling prowess, backing up his 13 last week with 11 this week to help him on his way to 89 points. If he is given similar roles to the one he played on ex-teammate Patrick Cripps (see photo) against the other bigger body midfielders in the league then, going forward, there is no reason as to why those tackle numbers should drop off. Holman has started the season on fire and his job security looks great, keep playing him on your field with confidence.
Collingwood vs GWS
GWS love the ball in Jeremy Finlayson's (Def. $247,000, -23 BE) hands. So much so that he is the defender rookie we would be most confident starting on the ground at this point in time. The Pies traditionally give up good points to defenders and Finlayson made the most of this opponent as he had 23 disposals and six marks as he accumulated 90 points. Whilst still priced under $250,000, if you still don't have him, jump on! Zac Langdon (Fwd. $220,000, -2 BE) did what Zac Langdon does, applied pressure, kicked a couple of goals (including a crucial one when the scores were tight) and scraped to 60. With news coming out about Langdon and his broken hand owners are going to have to trade him out of their sides unfortunately. Look below at the Twitter questions for our ideas of who to bring in.
Sam Murray (Def. $237,000, -4 BE) had 20 disposals, yet he only managed 54 points. We're thinking/hoping this is a rare event and he should go back to scoring plus 70's in the weeks to come. If you have him at D5 or D6, leave him there, he will repay you in the coming weeks as he dashes off that half back line. Jaidyn Stephenson (Mid/Fwd. $294,000, 23 BE) was ok again. He did a couple of nice things out on the wing but would regularly go missing. They clearly rate him internally, however with Fasolo and Blair making their VFL returns on the weekend, we wonder how secure his job is. Whether you have Stephenson or not, we would keep it that way.
Brisbane vs Melbourne
Cameron Rayner (Mid/Fwd. $257,000, 51 BE)… If you got him for job security, that's unfortunately not looking so good right now. Rayner had just four touches and collected 24 points. He also dropped $11,000 and sits there with a Breakeven of 51. Raynor will come good at some point and will get more game time in the senior team, however if you have nothing better to do, then it's a luxury trade to a more juicier cash cow.
Bayley Fritsch (Fwd. $269,000, 3 BE) was again solid, kicking two goals and scoring 60 points. Keep him in your side as he is doing exactly as expected and has no one knocking down the door for his spot. Great stuff Bayley!
Fremantle vs Essendon
Who would have thought a Ross Lyon coached side would be so cash cow relevant!? Andrew Brayshaw (Mid. $293,000, 21 BE) played a much-improved game this week, scoring 71 points from 16 disposals. Brayshaw will continue to improve and his role as an inside midfielder will become very fantasy friendly. Bailey Banfield (Mid. $224,000, -6 BE)  was given a tagging role on Zach Merrett, and whilst this wasn't great news for Merrett owners, Banfield played his role very well and scored 68 points in the process. It's clear that Fremantle want Banfield in the team, they are just trying to find him a suitable role, and it appears as though they have. First gamer Adam Cerra (Mid. $278,000, 23 BE)  was very eye-catching, scoring 66 points from just nine possessions. It felt like he had a lot more than that as he was very clean with ball in hand and impacted the game with two goals. Cerra is not one worth chasing for your sides as you'd expect him to have quieter games in a losing side but definitely paid back the owners who were brave enough to start him. Mitchell Crowden (Mid/Fwd $175,000, 22 BE) was disappointing, scoring just 33 points and making some costly decision errors.
West Coast Eagles Vs Western Bulldogs
If you had a West Coast rookie, chances are they performed well. Whilst this is good news, how much you can take from it is unknown as the Bulldogs were borderline uncompetitive. Liam Ryan (Fwd. $273,000, -6 BE) was the pick of the rookies, kicking three goals three and looking incredibly dangerous on his way to 91. Ryan's job security is a lock. Daniel Venables (Fwd. $203,000, -1 BE) finally showed some promise. Venables played as a forward and regularly found ample space, kicking three goals and scoring 67 points. Again, how much you can take from this game is unknown but he should not be dropped on the back of a performance like this. Jake Waterman (FWD. $206,000, 4 BE) was solid enough scoring 54 whilst William Rioli (Fwd. $170,000, 26 BE) struggled all day, collecting just eight disposals and scoring 25 points. Rioli is not one we would look to bring in despite still being at a low price tag. For us there is just no track record of proven scoring and too much of an injury history.
For Western Bulldogs, Billy Gowers (Fwd. $224,000, -8 BE) has crept under the radar. Gowers looked promising up forward although he was wasteful with the ball, kicking one goal and three behinds on his way to 70 points. With so many question marks around the Bulldogs and their form it's hard to see them dropping the players like Gowers who are competing strongly. This is despite the fact that Tory Dickson, who would play a similar role at the Bulldogs, kicked four goals in a half for the VFL side in a practice match. Aaron Naughton (Def. $272,000, 24 BE) was just OK. Naughton scored 61 points, however he often coughed the ball up. Tim English (Fwd/Ruck. $241,000, 12 BE) was also poor. He was regularly dropping marks and barely impacted the game. The injuries to Jordan Roughead (concussion) and Jackson Trengove (shoulder blade) could mean English gets to solo ruck next week which should mean a much-improved score. Although it should be noted that Tom Boyd was running around in the Bulldogs practice match and shared the ruck duties with little known player Josh Patullo. This does leaves some worrying question marks around English in the long term. We got our first look at Ed Richards (Def. $246,000, 30 BE) during this game and although he provided some dash off the half back line he's not a trade target after only 46 points.
Sydney vs Port Adelaide
Not too many relevant rookies playing in this game. Dom Barry (Mid. $243,000, -13 BE) again looked great for two of the four quarters. If he keeps performing at this level, his job security (which was the biggest issue for Barry) is not an issue. Barry laid seven tackles, collected 15 disposals and score 71 points (52 of which came from the 2nd and 4th quarter). He looks at home out there.
Geelong vs Hawthorn
'Dangerwoodlettelly'. Tim Kelly (Mid. $319,000, -27 BE) was amazing. He should be a lock to start on your field in the short term. 27 disposals, a goal and 115 points. His skills were elite all day and by the end of the match it looked like they were actively looking to get the ball in his hands. Lachlan Fogarty (Mid. $271,000, 20 BE) only had the eight disposals and 42 points. Unfortunately, with Geelong's depth and particularly Scott Selwood's return from injury imminent, this could spell trouble for Fogarty.
Keep an Eye On
The only clubs to participate in proper season reserve level games this week were Geelong, Fremantle, West Coast, Adelaide and Port Adelaide. We were unable to obtain the stats from the Geelong game but key rookies and their performances from the other games are shown below. You'll work out pretty quickly that there weren't too many key rookies.
Player
Team
Position(s)
Reserve Level
Score Round 1
Brayden Ainsworth
West Coast
Midfielder
91
Sam Hayes
Port Adelaide
Ruckmen/Forward
76
Billy Frampton
Port Adelaide
Ruckmen/Forward
75
Joe Atley
Port Adelaide
Midfielder
94
Patrick Wilson
Adelaide
Midfielder/Forward
112
Elliot Himmelberg
Adelaide
Forward
31
Harry Dear
Adelaide
Defender/Forward
49
Michael Apeness
Fremantle
Forward
39
From all reports in the Geelong VFL match, Jordan Cunico (Mid. $222,000, 35 BE), was best on ground with 32 touches and 9 marks. Both him and well known name Charlie Constable (Mid. $200,000, 35 BE), who had 31 touches of his own, will be fighting to take the spot of one of the under performing players from the Easter Monday clash. With Duncan and potentially Selwood due to come back in it is hard to see how long they would last in the team even if selected.
Jack Higgins (Mid/Fwd. $238,000, 37 BE) was impressive, collecting 22 disposals, laying five tackles and kicking a goal. Higgins is a great downgrade option when he gets his inevitable seniors call up.
Harrison Wigg (Mid. $170,000, 27 BE), who was an extremely popular selection early in the preseason, made an encouraging return from injury in the NEAFL this weekend. Wigg may need a couple more games before being considered for senior selection, but when that time comes, has to be considered for your side.
Other key names to impress in the practice matches were Harry McKay (Fwd. $225,000, 35 BE), Zac Bailey (Mid. $242,000, 38 BE), Mackenzie Willis (Def. $200,000, 31 BE), Kieran Lovell (Mid. $210,000 31 BE) and Bailey Rice (Def. $170,000, 27 BE).
For those that are wondering we'll release every so often a Table like the one below to show how many times that key rookies have been named emergency for their respective sides. This should help generate a rough list of who to keep an eye out for in reserve games or when injuries at your club occur as to who could be most likely to fill the void.
Twitter
Thank you to everyone for sending through their questions and sorry we are unable to get to them all. Some key questions we saw come through on Twitter though were:
Fingers crossed Jack Higgins is named. If not, it would be a player who has already played a couple of games. With Fritsch and Ryan already hitting the $270,000 mark, Venables and Waterman probably the next best.
Breakeven low, depends how many moves you need to make to bring him in and who you'd bring him in for. Dow or Rayner the only likely options close to that price already. He's worth a downgrade for a injured premium to make cash (like Crouch). Duncan will effect his scoring but not his job security.
Almost certainly. Should definitely allow him to produce a higher score against a less agile ruckmen in Tom Bellchambers. Do note that ruckmen against Bellchambers this year have gone 42 (Sandilands) and 75 (Jacobs).
Jacobs will have a role on Jones or Oliver and not as much uncontested football for himself or the Roos this week. We'd go with Brayshaw at home against the Suns.
Outside our expertise and would hate to offer the wrong advice, however the most successful players of the games will tell you not to get rid of your premos. Only find ways to bring premos in!
That's all we have time for this week team. Look forward to answering all your questions in the comments and at our twitter handle below.
FOLLOW US ON TWITTER:@TheMilkmenDT specialising in cash cow selections but still here to talk all things AFL fantasy.