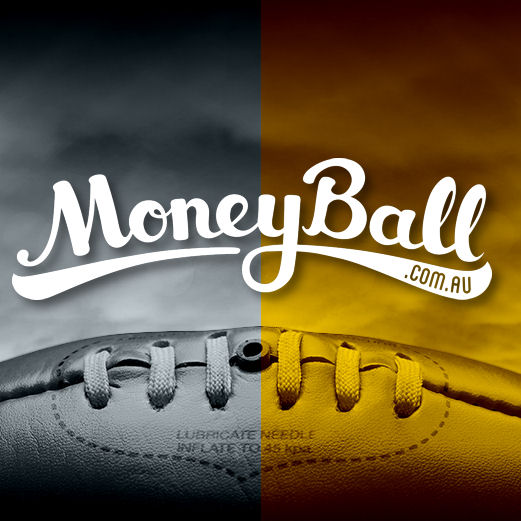 Tbetta here, and welcome to the self-proclaimed top resource for keen Aussie rules Moneyball punters! DFS (Daily Fantasy Sports) is taking off around the world and Moneyball have the perfect platform for you to turn your AFL Fantasy prowess into cold hard cash. Signing up is easy – head to moneyball.com.au and you could be ballin' within minutes.
If you're unsure how DFS works, be sure to head to the 'Help' section for all the info you need to start cashing in on your AFL Fantasy knowledge.

Richmond vs Carlton
BEST PICK: Patrick Cripps ($9,300 MID)
Cripps is enjoying his first full pre-season this year after "a run of niggles in previous summers" and has looked dominant at times across the JLT, even scoring well when resting forward. Carlton have been dropping breadcrumbs towards Patrick playing significant minutes up near the big sticks this year, and that's something of a death-rattle for most midfielders. But most midfielders aren't 195cm (same height as Jesse Hogan and Jonathon Brown) and put together like a prized thoroughbred. Besides, last year Cripps averaged 94 when he went goalless and 114 when he kicked at least 1 goal, so threading a few sausage rolls into his stat profile could be a very profitable thing. 
Ultimately though, it's his fitness that has me bullish on Crippa for Round 1 and beyond. We saw the effect that a compromised pre-season had on him last year, averaging just 89.8 over the first month of action (from 82% TOG). Solid, but nowhere near where his career trajectory should have been taking him. That changed from Round 5 onwards, with Cripps staying on the park for longer (89% TOG) and averaging a hefty 107.6 for the remainder of the year. With a full pre-season under his belt in 2018, hopefully we can kick off the year with high TOG% straight away and tap into those end-of-year type of numbers against Carlton. 
BEST STAT: Matthew Kreuzer ($10,000 RU)
Possibly my biggest faux pas last year was writing off Kreuzer's fantasy prospects after a lukewarm pre-season, and I'm not about to make the same mistake this year – especially with the record he has against Nankervis. He out-rucked his Tiger counterpart comprehensively in both Rounds 1 and 14 last year, winning the combined hitout counts 78-50 and ultimately posting Moneyball scores of 120 and 101 from those games. 

Click here to subscribe on iTunes.
Yes, his ankle is a slight concern and maybe you'll feel safer going with Toby Nankervis ($7,400 RU) at a discount. However, as teammate Ed Curnow was quoted as saying throughout the week, Kreuzer has been brave in the past by playing through injury and I'd be hesitant in betting against last year's leading fantasy ruckman.
BEST VALUE: Nick Vlastuin ($5,000 DEF)
Even just a quick glance at the Round 1 prices was enough to identify Vlastuin as a bargain buy, with his last 3 scores from the 2017 regular season of 92, 92 and 93 fresh in my mind. Structurally, he was a rock for the Tigers heading into the finals, notching 9 marks per game over that stretch. I expect more of the same from Vlastuin after a solid JLT campaign where he scored at 0.82 PPM, averaging 8 marks over the two shortened games.
BEST VALUE: Jack Graham ($3,500 MID)
The pricing formula has gone absolutely crazy at Moneyball because there's no way any human could look at Graham's output to date – a lowest score of 60 in his short career amongst a Premiership side – and decide he should be basement price. If you've seen Jack with your own two eyes I really shouldn't have to sell you any further on him here, but for the sake of completeness: Yes, he had a really strong JLT (70, 78 from just 68% game-time), so you've got no "outs" there.
BEST RETHINK: Brandon Ellis ($8,400 DEF)
While Ellis' finish to the H&A season (scores of 88, 108 and 105, averaging 30 disposals) might have you licking your lips, it doesn't tell the whole story. Brandon's best work has always been as a freewheeler off a back flank or a wing, but unfortunately for us, he's been playing much more accountable since those carefree days. In fact, his numbers are visually offensive since that purple patch, recording 47, 44 and 60 in the Finals series, then 52 and 66 in the JLT (and that was from a healthy 82% TOG). He's got a ceiling, there's no doubt; and a heavy win against a rebuilding Carlton might just bring that out. Just don't be surprised if it doesn't.
Our friends at Moneyball have a massive promotion for this season. You can win an AFL Grand Final Experience. Two tickets and accommodation to this year's big dance and if you live a plane ride away from Melbourne, you will get a couple of return flights too!
This promotion is available to existing and new Moneyball members. Click here to register.
HOW DOES IT WORK?
A weekly Sunday AFL content will be available for FREE for Moneyball members clicking through the private contest link. We'll be sharing this each week in our Moneyball articles and via social media, so you won't miss out! The winner of the weekly contest will win $20 MB credit.
You must be registered to enter… and verified to win.
Now that's pretty good, but what this also does is gives you a chance to win the AFL Grand Final Experience. The highest score posted out of these contests for the year will win the GF package. Each contest is viewed as a new week, so you have 23 rounds to try to nail the highest score. We'll be keeping an eye on what the highest score is and the target to beat! Make sure you tune into our weekly Match Committee podcast for more on this epic contest.
You've gotta be in it to win it!
The Weekly Prize
The weekly contest member wins a free $20 Moneyball Credit
The Top Prize
The member who sets the highest AFL Sunday score by the end of the season will win a Grand Final experience
The Grand Final Experience prize will include:
Flights/Accommodation/ 2 x tickets to this year's AFL Grand Final
If they are in Melbourne they will get
Accommodation/ 2 x tickets to this year's AFL Grand Final
The Terms
Members are required to be Moneyball members
Members who have entered the weekly contests must be 100% verified to claim the prize.