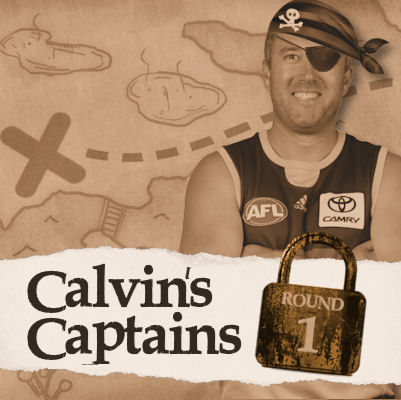 OBVIOUS ANSWER: TOM MITCHELL
I know a lot of people will be questioning why this article is even being written and funnily enough, this discussion happen every year. This year, the obvious answer is of course Tom Mitchell.
This article will help put any doubt you might have to rest… or it might help steer you in the direction of a trade, or even a heads-up on who might start the season off with a bang. There will be a time this year when you DO NOT go with Titch. Yes, in the bye rounds, but also when there is a juicy match-up and hot form that will at some point out weigh what he can offer, trust me… this will happen.
So let's talk about this little pig.
He scored 135 and 177 last year against the Pies and will hit the ground running in style from round one. He scored 128 in round one last year and his love of playing Collingwood is just icing on the cake.
The only concern I have here… and it's minor, is the fact he only scored 99 and 94 in his last two games at the MCG. But that is so minor I'm not concerned one bit and am expecting him to be something special on Saturday night.
EXPECT BIG THINGS
New team… no worries. Bryce Gibbs has dominated the Bombers in recent years scoring 125, 136, 95 and 125 in his last four games. After his killer pre-season, he should fire from the first round.
Steele Sidebottom loves playing the Hawks and goes for his 6th straight 100+ score against them this weekend and in the same game, expect Adam Treloar to get off to a flyer as well. Against the Hawks in his last 5 games he has scored 98, 126, 126, 108 and 120. Hawks gave up plenty of points last year and this game will have lots of 100+ players.
GROUND LOVERS
Dayne Zorko loves playing under the Etihad roof. He has scored 7×100+ scores there from his last 8 games and against the Saints, he will be awesome. He scored 117 on them last year.
Another guy who loves the roof is Zach Merrett. He played there 8 times last year and posted some monster scores of 151, 144 and 144 over that time. He is up against the Crows, who he scored 134 against in 2017 from his only encounter against them.
HISTORY SAYS "NO"
Everyone is excited to see Gary Ablett in the hoops on Sunday arvo, but against the Demons, his history is pretty average. They are one of his worst teams to play against where he has only scored 1×100+ score in his last 4 games.
At the MCG though, his record is NASTY! 152 and 120 were his most recent efforts and he could come out with something massive this week, or… as history suggests… something under 100.
Surprisingly, Mitch Duncan struggles against the Demons as well. He hasn't scored 100 in his last four games against them making them his second worst team to play against over his career. With scores of 95, 74, 65 and 74 coming in his most recent efforts.
Last year, Dustin Martin broke his 13 game streak against the Blues and scored his first 100+ score. It was impressive too with 139, but then he only backed it up with 96 in his last game later in the year. So that's 1×100+ score in his last 15 games against Carlton which are his worst team to score on by 10 points a game over his career. Dusty is Dusty though and he will make my top 5 this week.
Matt Crouch only went under 100 nine times last year and two of those were against the Bombers. He had 96 and 92 but it's his record at Etihad which is more concerning. He has played there 7 times over his career, and not once has he scored over 100.
Then finally, we have Patrick Dangerfield. Fresh off that hammy… who knows where this will end or play out. Will he sit forward more? Or will he be fine? Who bloody knows.
Either way, against Melbourne last year he was solid with 117 and 110 but at the MCG he wasn't good. In fact, Danger scored under 100 only four times last year and 3 of those were at the MCG (from 5 games). Making him your captain this week just has danger signs written all over it – pardon the pun.
QUICK CAL-CULATIONS….
Nat Fyfe v Port Adelaide @ Adelaide Oval: Port are one of his favourite teams to play against as he averages 116 in his last four against them.
Sam Jacobs v Essendon @ Etihad Stadium: Sauce had 68 in round 21 on the Bombers, his second worst score for the year.
Tom Rockliff v Fremantle @ Adelaide Oval: Tough to know which Rocky will turn up after not playing a pre-season game but I think he'll be fine. 95, 142, 154, 172 are his last scores against the Dockers and at Adelaide Oval he has scored 74, 127, 140 and 133 in his last few. Oink.
Jack Macrae v GWS @ UNSW: Has only managed 1×100+ score in his career 7 games against the Giants.
Dayne Beams v St Kilda @ Etihad Stadium: For the brave ones… Beams could be huge if he's fit and ready to roll. He scored 124, 152, 126, 119 and 113 on the Saints in his last five. WOW.
Lachie Neale v Port Adelaide @ Adelaide Oval: 97 and 128 are his last on the Power and has had a stunning pre-season.
Scott Pendlebury v Hawthorn @ the MCG: Scored 90 and 140 on the Hawks last year.
Josh Kelly v Bulldogs @ UNSW: Played the doggies twice last year for scores of 110 and 91. Opened round one last year with 87 … his second worst effort for the year. Another slow start coming?
Rory Sloane v Essendon @ Etihad Stadium: Has dominated the Bombers in the past with 97, 143, 128 and 136 but hasn't scored a ton at Etihad in his last four games.
Stef Martin v St Kilda @ Etihad Stadium: Had a nice 126 on the Saints last year.
Luke Parker v West Coast @ Optus Stadium: Had 86 on the Eagles last year, but Parker will be a different man to what we saw in 2017.
Calvin here answering all your #aflfantasy questions plus more. Captains, rookies and horses on the agenda tonight https://t.co/mxVQ4WDUJN

— Calvin (@CalvinDT) March 21, 2018
PERISCOPING LIVE – Follow @CalvinDT when I go live tonight at 8pm AEDT. I will be covering everything you need with just one day to go, plus maybe a greyhound race as well at the very end.
Loading ...