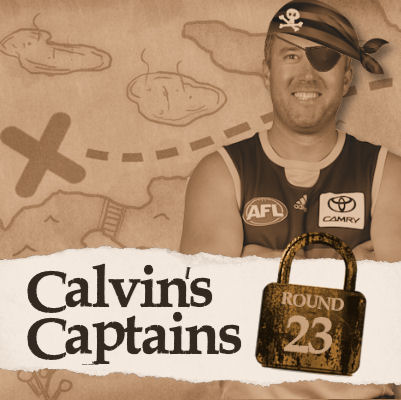 💪💪💪 last time for 2017 Join me for all #AFLFantasy Captains tips (🤦🏻‍♂️) plus other stuff too https://t.co/2XwDtgumWD

— Calvin (@CalvinDT) August 23, 2017
REPEAT THAT CAREER BEST
Last time these guys played their opponent this week, they produced the best Fantasy game they have ever produced in their career.
This year, Sam Docherty racked up a huge 159 against the Swans, topping his previous best score of 152. This week, he's at the SCG though, a ground he scored 122 on in his last run there. He was back to his usual tricks last week clocking up 143 with a super 15 marks. This is what we want to see. Last week against the Swans, Rory Laird (similar to Doch) scored 116 on the Swan and from that claimed 10 marks. This signs are looking good again for the Fantasy MVP of 2017.
It was last year when Matt Crouch had his equal career high of 128 on the Eagles, a team that is currently the 4th easiest to score against over the last 3 weeks and a team that has given up 15 tons in that time. He will have a field day over there in the west.
Finally, remember the China game? Remember Travis Boak exploding with 153? Well he's not in China this week, he's at home against the Suns again and after his 133 last week, you'd think he should be right for another big score. This will be a high scoring game with both the Suns and Port both ranking as the easiest teams out of all the competition who are giving up the most 120+ scores in the last 3 weeks.
NEVER HAD A TON
Will the St Kilda curse continue for Dustin Martin?
Remember in round 16, I said to avoid Dusty at all costs as he has never scored a ton against the Saints, the only team in the league that has had his measure when it comes to triple figure scores. He scored just 74 that round to now extend the run of 'hundredless' games to 10. Yep, he hasn't scored a ton in a career 10 games against the Saints. Will he break that… he should, but history says a strong 'no' here.
Mitch Duncan has met the Giants on 7 occasions in his career and he too has failed to score triple figures each and every time. His form has been nuts though averaging 118 in his last 3 and he even had 117 last week. But like Dusty, this week he meets his bunny team. The only team in the league he has failed to score 100 against.
Finally, we have Josh Kelly who is currently the third most in form player in the game after scoring 130, 110 and 131 in his last three games.
Over his short career, Kelly has played the Cats five times. Geelong, along with Fremantle are the only two teams in his career that Kelly has failed to crack a ton against. He scored 93 on Geelong earlier this year, but that was at his home ground. This week he travels to Skilled Stadium.
These three players are guns of the Fantasy world, but history sure has messed them up in the past and surely they can swing it around this week. BUT… between them we are looking at 22 games of sub-hundred scores here and match-ups that don't look overly flattering.

Click here to subscribe on iTunes. (Please leave a rating and review as a thank you for the year!!).
13 TONS IN TWO WEEKS
Fremantle are the #1 team in 2017 when it comes to bleeding points and over the last two weeks, when they've been smacked by over 200pts, giving up 13 tons to their opposition. Zach Merrett managed just 91 last week (arg) in a game he should have been huge. So can he do that for us this week?
Earlier this year he scored 124 on the Dockers but can he seriously be trusted after not scoring over 100 in his last four games. Richmond's top scorers had 153, 140 and 128 last week and although I'm sure Zach can be amongst that this week, my confidence levels aren't overly high, especially after Sutcliffe tagged Cotchin to just 53 last week.
David Zaharakis could be the guy who explodes here after he's had 130 and 106 in his last two games but the problem here is… he hasn't scored over 100 in his last seven against Fremantle.
Against the Bombers will be Nat Fyfe who has averaged 111 in his last three, and only managed 95 last weekend. With a highest score of 108 in his last four games against the Bombers, he's certainly not high on the radar this week.
PACKED UP SHOP
Some teams will pack up shop this weekend and play some amazing 'bruise-free' footy, but the Kangaroos have packed up their station a long time ago.
Over the last 3 weeks, they have conceded the most points and the most 100+ scores, in fact… 18 of them.
So let's enter the #3 man on form at the moment, Dayne Beams who has scored 138, 143, 80, 144 and 142 in his last 5. He only played these guys last in 2015 for just 53 (Cunnington tag) but this one is at the GABBA in a game that the Lions can win and finish the season on a high. He'll be huge against a team of kids and even 'if' he get a little attention (maybe), it won't matter, he's just far too good.
Scraping into my top 5 has to be Dayne Zorko based on the fact he might give these guys a thumping as well. If they are giving up 6×100+ scores a game… try to tell me that Zorko won't be getting a piece of that. He had 125 last week, which happened to be his 2×100+ score in his last 5 games. Up until last year, the Roos had his measure and his score of 110 in 2016, broke a run of 7 ton-less games against them.
For those who still have him, Tom Rockliff sat forward heaps last week for his 80pts and needs goals at the moment to have a respectable tally. He sat forward in 2016 against the Roos for only 24pts. Look, Brisbane should win this and to do that, let's hope the pig can snag a few to finish the season with what he deserves… a bloody ton!
HOME SWEET HOME… BUT TOUGH
The Giants rank as the #1 hardest team to score on this year and the #1 hardest for opposition midfielders to score against. In the last 3 weeks, they have slipped slightly and currently sit at the 4th hardest over that time. This week Patrick Dangerfield meets them but this one is at house.
Firstly, we know what Danger does when he plays at home. This year he averages 135 there and has a run of 13 games where his lowest score is only 107 there.
As daunting as it is to play GWS, it didn't stop him when he travelled to SPO earlier this year for a smashing 142. I was scared that day, but he proved myself and many others wrong and this week he returns home. Oh my, what could this possibly be?
Danger sits at #3 on form and Sam Menegola sits at #4 with an average of 121 in his last 3 games. He had 113 on the Giants earlier this year and as his midfield time has increased his Fantasy scoring output has followed. The kid is a magnet and this game will be a very interesting spectacle.
JUST ONE MORE TITCH
Tom Mitchell is now just 31 points shy of the All-Time Fantasy record and surely he clocks that up in the first term this week against the Bulldogs.
Tom has visited Etihad Stadium just once this year. That was last week when he had his 143 (44 touches) so for the second time this year, in the last two weeks, he's back there again. Over his last 5 games there now, he carries an average of 124.
Last week against the Bulldogs, Port Adelaide scored 5×100+ with Travis Boak being the best with 133. Last year, Titch met the Dogs twice for 141 and 62, but of course they have been horse-effected. He's as safe as a house at the moment and even if he has a poor score, it'll still be in the low 100's.
Out there on Friday night will be Jack Macrae who has averaged 117 in his last 3 games this year. He has been in ripping form and even posted a monster score of 149 last weekend. He had 126 on the Hawks earlier this year and last week the Blues posted 6 tons against them, making me think that Jack Macrae will be huge once again. He just misses my top 5 this week, but sits nicely in at #6 on my list.
JUST QUICKLY…
Steele Sidebottom v Melbourne @ the MCG – Melksham might tag this guy who had 133 (2nd best score for 2017) on the Demons not long ago. He had 92 last week and has now gone under 100 in two of his last three.
Rory Sloane v West Coast @ Domain Stadium – West Coast have given up 15×100+ scores in recent weeks (#2) and are the 4th easiest to score against. Hutchings might run with him though and even though he scored 107, 111 and 108 in his last three against the Eagles, this pick comes with a huge risk.
Luke Hodge v Bulldogs @ Etihad Stadium – The champ only managed 46 last weekend, but expect him to go bang here in his final game. He scored 114 on the Dogs last year and 159 before that. Love you legend! Good luck!
Taylor Adams v Melbourne @ the MCG – Will he even play? Injured is the rumour… anyway, he's the #1 man on form at the moment with an average of 128 and a lowest score of 124 in his last four games. Only managed 81 in round 12 when he met these guys.
Luke Parker v Carlton @ the SCG – Carlton are the 3rd hardest team to play against at the moment and have given up the least amount of 100s over the last 3 weeks. He had 95 on them this year and 116 and 106 in his last two.
Dion Prestia v St Kilda @ the MCG – 98, 117 and 125 are his last runs and looking the goods at the moment.
Isaac Smith v Bulldogs @ Etihad Stadium – Averaging 109 in his last three, he had just 87 and 97 on the Dogs in his last two.
Jack Billings v Richmond @ the MCG – Just 55 on the Tigers in round 16, but he has turned his form around big time averaging 119 in his last three.
Adam Treloar v Melbourne @ the MCG – Scored 116 on the Dees already this year in round 12 on a day Melksham tagged Pendles. Melky has been tagging recently, but I think Treloar will avoid it this week.
Bryce Gibbs v Sydney @ the SCG – The Crows had 6×100+ scores on the Swans last week with Sloane topping the list with 153. He had 103 and 100 in his last two on the Swans and is averaging 110 in his last three.
Nick Riewoldt v Richmond @ the MCG – Finished the season last year with a huge 200, and had 112 on the Tigers when they met last just 7 weeks ago.  Legend of the game and a life-time member of team Calvinator.
Josh Kennedy v Carlton @ the SCG – Could be tagged by Kerridge this week after his thumping 130 on the weekend. Had 97 on the Blues earlier this year.
Rory Laird v West Coast @ Domain Stadium – Had 116 last week and should have it his own way against the Eagles in this one. Scored 101 and 115 in his two on them.
THANKS LEGENDS
It's been another huge year of AFL Fantasy and from myself and the lads at DT Talk, thanks to all you legends out there for making this article a success and our site the biggest and best in Australia.
TOP 10 down there for you in the THE ORDER I would be picking them this week. Therefore all your Draft questions can be answered with a little glance on that bad boy.
Enjoy a well earned break you bloody legends and I'll see you very soon for another big year.