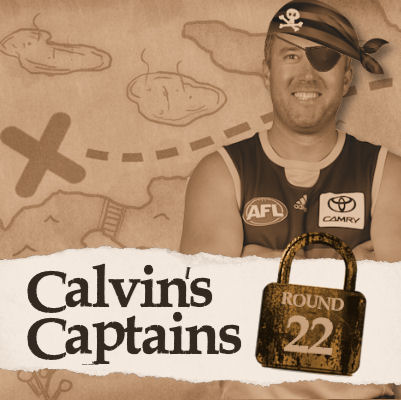 REPAY THE FAITH
Apparently my big calls haven't paid off in recent weeks so maybe now is the time to follow this one… Zach Merrett will be huge this week and repay the faith in many ways. I'm due!
Not only does he need to pay to his dedicated Fantasy coaches who held him for the week, but to his actually teams mates and Essendon fans after being suspending for basically being a knob. He'll be out to 'right the wrong' this week and gets his chance against the 3rd easiest team to score against, the Gold Coast Suns. A team that saw Neale (152), Fyfe (132), Beams (143) and Rocky (123) dominate in the last two weeks.
Add to this the fact that Zach scored 127 and 119 against them in his last two and you can now see the picture I'm starting to paint.
LOVE KELLY, HATE HUTCHINGS
This week I love Josh Kelly playing against the Eagles, a team that have given up nearly 300 points per game more than Geelong in the last three weeks. They're a team who have given up the most 100+ scores as well, as they rank as the worst in many Fantasy categories.
But there is one issue… Bloody Hutchings. He has continued his run of tagging and even found himself next to Docherty last week and holding him to just 9 touches during his time shadowing. This is a concern.
Kelly scored 111 on the Eagles earlier this year and for this one he's playing at home, a ground he scores considerably more on this year.
Kelly will miss my top five this week, but if you are looking for someone that comes under the 'high risk, high reward' category, then look no further than Josh Kelly on Saturday afternoon.
THE TOUGH v THE TOUGHEST
Collingwood – The #1 team in the game over the last three weeks at restricting 100+ scores, only allowing 4 tons in total.
Geelong – The #1 hardest team to score against at the moment (by a mile) and haven't conceded a single score over 120+ in the last three weeks. They will most likely will use Scott Selwood as a tagger, who could possibly go to anyone this week.
There are the facts people, so how will this play out?
Taylor Adams is the #1 man in the game at the moment averaging 134 in his last 3 games with scores of 128, 124 and 151. He scored a smashing 148 on Geelong this year already and before that 85 and 135.  If this were at Skilled, I'd be concerned but at the MCG… not so much. The main issue I have here with him and the other Pies is the fact, firstly he has to get past the very hard Cats who are so touch to score against at the moment and secondly, the tag from Scooter. Although I don't see this happening to Adams, the fact he plays Geelong is enough to scare me here.
Destined for the Scooter tag has to be Adam Treloar. Although Scooter softly tagged Parker last week and he still managed 116, Treloar can be a softy on his day. He junked late against the Cats earlier this year for 82 and if he doesn't get the tag, my number two pick is Steele Sidebottom who is coming off a nice 113 last week.
Sidebottom's record against Geelong is quite amazing and somewhat surprising with scores of 108, 131, 111 and 126. Add to this, he goes for his 8th straight 100+ score at the MCG this week and although he should be good, he'd be one hell of a risky captain in this one.
The in form, Sam Menegola will be running around and has loved the extra midfield time with scores of 110 and 120. He scored 93 earlier this year but if we're talking form, we need to mention the returning Mitch Duncan who has averaged 114 in his last three with scores of 117, 122 and 137 in his last games against Collingwood. Bloody amazing!
But then we have Patrick Dangerfield and his record here isn't great unfortunately. He managed only 76 against these guys in round 6, a score that would end the dreams of many Fantasy coaches if that happens again this week as your captain.
Against Collingwood, Danger's highest score is only 114 in his last four games and because of that… and the fact Collingwood have been rather restrictive, he only sits at #4 for me this week in the all-important top 5. Still good, but not good enough in my eyes.
"BORING IS GOOD"
A wise man by the name of Roy told me recently… "Boring is good".
What he means by that is, being boring and not being different for the sake of it… is usually the right answer.
This leads me to the name of Tom Mitchell for this week. He just keeps getting in down and after a 118 on the weekend, why should we shop around anywhere else?
Before last week he did have two back to back scores under 100, but this year he has been a monster pig.
This week he is up against the Blues who can be tough on their day, just like they were last week when the highest scorer for the Eagles had just 88 and that was a key forward, and they won the game. This is a concern for me as I base a huge amount of my study on what 'teams give up'.
However, this game is under the roof where Tom averages 119 in his last 4 there, despite not playing there yet in 2017. Last year against the Blues he scored a mixed bag of 61 and 143, but who knows what went down there with those "Horse-effected" numbers.
Look… he scored 118 last week with 5 marks, he's the best in the game and he junked home hard last week with 41 in the final term. A pig is a pig and sometimes, although it seems boring… you just need to lock him in and stop trying to be too fancy.

Click here to subscribe on iTunes.

JUST QUICKLY…
Sam Docherty v Hawthorn @ Etihad Stadium – Midfielder? No thanks. Had 88 last week with a tag and before that has posted 78 and 97. Get in the backline Doch.
Dan Hannebery v Adelaide @ Adelaide Oval – 112 last week, but still is averaging 88 in his last 3. We're
talking about Hanna here cause he scored 114, 132 and 153 in his last games against the Crows. Pretty impressive history right there.
Lachie Hunter v Port Adelaide @ Mars Stadium (Ballarat) – Port have given away 15×110+ scores in the last three weeks and Hunter's form has been great with an average of 105 in his last three.
Matt Crouch v Sydney @ Adelaide Oval – #6 man in the game on form averaging 113. Matt had 108 and 85 on the Swans last year.
Bryce Gibbs v Hawthorn @ Etihad Stadium – 106 last week and loves playing the Hawks after previous scores of 101 and 125. In fact, goes for his sixth straight ton against them this week, and should get it.
Luke Parker v Adelaide @ Adelaide Oval – 113 and 116 are his last two scores this year and he's coming good. Had 108 and 96 on the Crows last year.
Matthew Kreuzer v Hawthorn @ Etihad Stadium – Never scored over 100 against the Hawks in his 9 game career against them. Surely changes that here but doesn't look promising.
Tom Rockliff v Melbourne @ the MCG – 123 last week and maybe the pig is back. Didn't play them in 2016, but going back, his lowest score is just 110 on the Demons in his last 7 games. Wowzers.
Jack Billings v North Melbourne @ Etihad Stadium – Never a captain but could be big after his 135 and 119 in his last two and he's only up against the Roos (2nd easiest in the game).
Josh Kennedy v Adelaide @ Adelaide Oval – 144 and 80 are his last two score against the Crows, but this is in Adelaide and he is coming off an injury.
Dayne Beams v Melbourne @ the MCG – 3×140+ scores in his last 4 games, and Bernie Vince might tag him or Zorko here. It's a big "might" but his record against them isn't great with scores of 77 and 76 coming in his last two.
Nat Fyfe v Richmond @ Domain Stadium – For says "yes" with an average of 120 in his last 3 but the Tigers are second hardest to score on and Fyfe only had 75 on them earlier this year.
Marc Murphy v Hawthorn @ Etihad Stadium – 117 and 107 are his last efforts and after not playing the Hawks in 2016, Marc's last game was in 2015 where he scored 117. Solid.
Max Gawn v Brisbane @ the MCG – Managed 7d on the Lions last year for 48pts.
Rory Sloane v Sydney @ Adelaide Oval – Potentially might cop a 'team tag' here against the 4th hardest team in the game but his last two scores of 109 and 112 on the Swans is pretty solid regardless.
Dayne Zorko v Melbourne @ the MCG – 91 on the Demons last year and only 82 and 94 in his last two. Could explode but it's too hard to pick.
Dusty Martin v Fremantle @ Domain Stadium – Me likey. Only scored 90 on the Dockers earlier this year but before that he averaged 115 in his 5 games prior. Freo have packed up shop and are the 4th easiest in the game right now and Dusty needs another 3 Brownlow votes.