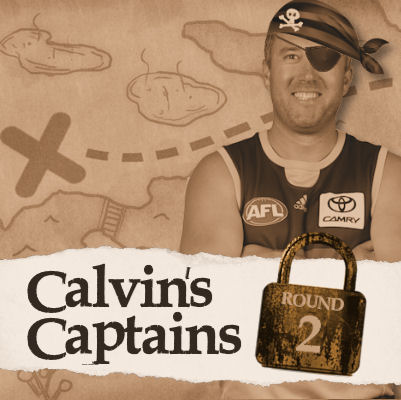 GAZZA + HAWKS + MCG = NASTY
Every year when Gary Ablett plays the Hawks we get excited and he never lets us down. These numbers are unlike any others in the game and at the MCG, it is even nastier.
Ablett has a lowest score of 129 on the Hawks in his last 9 games. Yes, last 9 games. Last year, he scored 153 and 138 which obviously makes them his easiest team to score against. Every year we marvel on these stats and then Gaz comes out and does it again and again.
He scored 117 last week and will be unreal (like he has before) on Easter Monday… in front of a crowd he hasn't experienced for many years.
Ablett's 10 on the MCG = avg. 134 (inc. injured 61)
Ablett's last 10 v Hawthorn = avg. 141
Mitch Duncan did what he does and had 110 last week and Joel Selwood rewarded those coaches who went with him, with a very nice 122.
With the extra rest and the game being played on Monday, Patrick Dangerfield should return for this one and has scored 140, 93, 113 and 137 on the Hawks in his last 4. Making him your captain after his recent hammy strain would be mega gutsy and not a risk I'll be taking in my top 5 this week.
YOU BLOODY SWINE
Who has 54 touches and 156pts in the opening round? Yep, Tom Mitchell.
You must be kidding me. So he plays the Geelong Cats this week so do we have anything to worry about? No not at all.
He scored 147 and 125 against them last year, but of course, their midfield is stacked to the rafters in 2018. He'll be up against Ablett, Selwood, Duncan and most likely Dangerfield this week.
However, when he scored his 147 in round 17, he found the ball 43 times and that was with Geelong at full strength. Nothing to worry about for this one Titch fans. He will be great once again but maybe he could have more tackles or am I getting greedy. He laid just 2 last week, his lowest return since joining the Hawks. Yes… I'm greedy!
Oh oh… Mitchell will be tagged!
Yes, Scott has come out and said they will look to put effort into our pig and limiting his output. If you'd like to read THIS ARTICLE from 2017, this is Scott once again saying they will put pressure on Titch after he had 32d touches and 125pts on the Cats in round 3.
He went on to have 145pts that week with 43 disposals. Please stop!
SALTY CROWS SEEK REVENGE
We all know I'm a "salty" Crow's supporter but I think this week, we might just get a little bit of revenge against my arch-rivals… the Tigers and the great Dusty Martin.
Dusty scored 90 and 107 on the Crows last year but last week, Heppell (145), Zaha (117) and Goddard (110) had a field day when they gave the Crows a touch up on Friday night. Dusty's record isn't great here, but after what the Bomber's scored last week, he should be solid.
Bryce Gibbs was everything I tipped him to be last week with 139.  He has scored 104, 105 and 127 in his last 3 against the Tigers and although he won't be salty like the others, he should come out firing here and continue on from where he left off last week.
Cripps scored 130 on the Tigers in the opening round and that's why Matt Crouch will be feasting as well. He has a lowest score of 106 at the Oval in his last 5 games and what's more impressive is the fact he had 124 and 122 on the Tigers last year.
Rory Sloane could be anything here after going 97 and 155 on Richmond last year. He scored 91 last week, but back at home he could be anything from 90 to 160.
GIANTS EATING PIES
Last week, the Giants' midfield had a field day and this week they should again. Tom Mitchell found the pill 54 times against the Pies, proving that they are mega easy to score against.
This has been a trend for many years and last time they played them Josh Kelly experienced this first hand with a career-high 162pts. Now, he is coming off a solid start of 115, but he hasn't recorded a ton at the MCG in his last 3 games there. I'm expecting this to change.
Stephen Coniglio hit the ground running with his highest Fantasy score ever…. 146. He only managed 82 against Collingwood last year, but he is red-hot at the moment and should be fine for another ton this week.
If there are easy possessions going around then expect Lachie Whitfield to be cashing in as well. He scored 114 across the half-back last week and had 97 on when he played these guys last year.  Expect another 30+ touches from his along with 10+ easy marks.
From the Pies, Taylor Adams didn't open his account the way he would have liked scoring just 71, his lowest core in his last 48 games. The thing is, he loves playing these guys and has averaged 122 on them in his last 3 games.
Finally, we have Scott Pendlebury. The man who just keep getting it done. 108 last week is stock standard for Pendles these days but his last two scores against the Giants that great (88 and 91).
QUICK AS YOU CAN CALVIN….
Stef Martin v Melbourne @ the GABBA: 82 v Max Gawn last year.
Jack Steven v North Melbourne @ Etihad Stadium: Destined to be tagged by Ben Jacobs after his nice score last week. Buyer beware.
Dayne Zorko v Melbourne @ the GABBA: Rollercoaster effort of 57 last week, but he did have 125 on Melbourne last year and returns to the GABBA. Hold that trade.
Patrick Cripps v Gold Coast @ Etihad Stadium: 130 last week was massive and the Suns are only easier. He scored 101 and 88 on them in 2017.
Lachie Neale v Essendon @ Optus Stadium: Gibbs (35d), Laird (40d), and Crouch (41d) found sh*tloads of the pill on the Bombers last week, but these guys are Lachie's worst team in the game with only 2×100+ scores against them in his career 8 games. Shouldn't matter!
Dayne Beams v Melbourne @ the GABBA: Beams went over 140 on 5 occasions last year, 4 of those were at the GABBA. Had 138 on the Dees last year but looked a tad rusty after a limited pre-season.
Luke Parker v Port Adelaide @ the SCG: Ebert gave Fyfe a soft tag last week and that might come to Parker in this one. He had 127 last week and 99, 128 and 112 in his last three against Port.
Nat Fyfe v Essendon @ Optus Stadium: 88 and 95 on the Bombers last year.
Jack Billings v North Melbourne @ Etihad Stadium: Nearly made my top 5 this week after his 123. Had 102 and 103 on the Roos last year and will be awesome in this.
Max Gawn v Brisbane @ the GABBA: Just 65 v Stef last year, and that was in round 22 when he was just getting around.
Tom Rockliff v Sydney @ the SCG: Had the 3rd lowest score for Port last week with just 12 touches. Tougher match-up this week.
Clayton Oliver v Brisbane @ the GABBA: St Kilda had 3×120+ scores on the Lions last week and Oliver should cash in on this one, despite only having 93 and 79 in his last two against them.
Dyson Heppell v Fremantle @ Optus Stadium: A massive 145 last week and 121 and 95 on the Dockers last year.
Zach Merrett v Fremantle @ Optus Stadium: Talk about gutsy… but don't.
Buddy Franklin v Port Adelaide @ the SCG: 155 if you don't mind from Bud last week and he might go again here. He had 110 on the Power last year.
LIVE and Calvinated. Join this for all your #AFLFantasy needs. Plus, maybe a sneaky winner at the end. 🏇🏾 🍺 https://t.co/6bU6l73IZ0

— Calvin (@CalvinDT) March 28, 2018
Loading ...