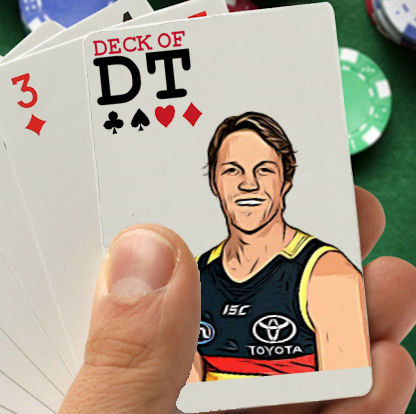 Name: Rory Sloane
Team: Adelaide
Position: Mid
AFL Fantasy: $754,000
Bye Round: 14
2017 Average: 107
2017 Games Played: 22
Predicted Average: 110
Draft Range: Second Round
Click here for DT Live profile.
Why should I pick him?
Sloane had an outstanding start to the season last year, he dominated from rounds 2 to 6 where he averaged 144.2. He also came home on fire with an average of 130 across the Fantasy Finals. He can score and he can score big with 9 scores over 130 last season.
Last season's 107 average was his best in the last 6 seasons, but importantly it is now two over 100 in a row for the first time in his career. Sloane is consistent year on year that can't be denied. There is no reason that can't happen again.
The addition of Bryce Gibbs and the emergence of Matt Crouch means that the level of attention that Sloane was getting that caused him to drop his output during the middle of last season should reduce. There are more names in that Crows midfield for opposition teams to concern themselves with.
If team form is anything to go by, the Crows are likely to be at the top end of the ladder once again this season and wins generally relates to points.
Why shouldn't I pick him?
Whilst he has averaged over 100 in 3 of the last four seasons, he hasn't had a season where he has averaged over 110, at this price that is exactly what he needs to do for you.
As mentioned above the average of 107 was his best in the last 6 seasons, what this does mean is that he is at his highest price in that period too. So in a game where we need value for money, this may not be the best value. Unless he can start at this high average and stay there he may be able to be picked up cheaper a litter later in the season.
As I said above, the Crows have added Bryce Gibbs to the team. This is another big dog looking to get his touches. The more players looking to get their 25 touches, the harder it will be for Sloane to get all of his possessions he needs to keep up a good score for you.
Sloane is out of contract at the end of the year and is an unrestricted free agent. If he doesn't sign on before the start of the season then there will be continual speculation and pressure on his game. What this will do to him is completely unknown. Some players struggle, but some others thrive.
Deck of DT Rating.
King – Sloane is a proven scorer. He had a sensational start to last year and a great finish. He did lose his way during the season, but nothing says that will happen again. Sloane is a pretty safe bet to average over 105 again this season. But is that enough for you? If you agree that he can still get his touches with Gibbs there and that he can avoid those slumps like had this year then he is a solid pick.
In Draft expect him to go in the first couple of rounds. He certainly won't be there at your pick in round 3.
Loading ...
FOLLOW ME ON TWITTER: @pkd73 for all thing AFL Fantasy (and more). Got something to say about the deck? Use the hashtag… #DeckofDT.