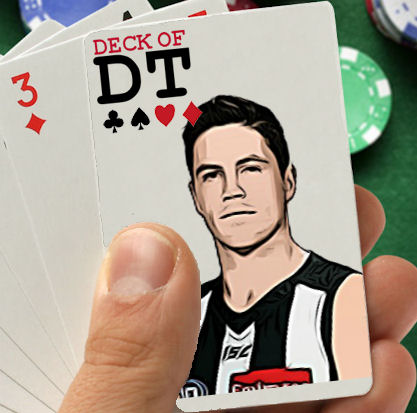 Name: Jack Crisp
Team: Collingwood
Position: Def
AFL Fantasy: $622,000
Bye Round: 13
2017 Average: 88.3
2017 Games Played: 22
Predicted Average: 95
Draft Range: Ninth Round
Click here for DT Live profile.
Why should I pick him?
Positional changes can either be a hindrance or a blessing in AFL Fantasy and in Jack Crisp's case it's a notable blessing. The Pies were struggling mid-year last season forcing Bucks to try a few different things including playing Crisp as a high half back. With a long, booming left foot kick, the Pies looked to Crisp in the second half of 2017 to run, carry and attack from defence and it worked a charm. Crisp's stats following his positional change look like this:
Being the good bloke that I am, I've averaged out the above for you to 12 kicks, 10.7 handballs, 6.3 marks, 4.9 tackles and 96.2 Fantasy points. An average of 96 Fantasy points puts Crisp in the Top 5 defenders to start with this season. With Docherty done for the year and 'old man' Kade Simpson out of favour, Crisp becomes a Top 3 defender prospect. Jacky boy has confirmed his high half back role will continue this season, (source, audio) thus so will his Fantasy output. He's impressive across all stat lines!
If the above isn't enough to convince you to start with Crisp then be aware that he's as durable as they come after playing all 22 games for the past three seasons. Furthermore, he's a semi unique selection with only 7.7% ownership amongst Fantasy coaches giving you that point of difference against your peers.
Why shouldn't I pick him?
One issue I have with Crisp is Dependlebury and Adams 'stealing' his possessions when they spend time in the back line. I honestly believe Collingwood are best suited to having Pendles and Adams in the midfield but who knows what goes through Bucks' head. Another problem with Bucks in charge is that he could use Crisp as a Mr 'Fix It' when times are tough, a bit like Yeo last season for West Coast. Unsettled positions on field will affect Crisp's scoring capacity but it's a 'what if' scenario.
Other than that, there's not much else going against Crisp. You could argue inconsistent scoring but all defenders are up and down. Back him in!
Deck of DT Rating
KING – Crisp will be a Top 6 defender this season hence the King rating. He's in ripping physical condition and at 25 years of age it is time for him to dominate on field and amongst AFL Fantasy ranks. The most appealing aspect about starting with Crisp this season is his value. Identifying the cheap premiums now goes a long way towards your street cred not only for points but also the extra $50k in the bank that you have to change say Stefan to Kreuzer or Matty Crouch to Dusty.
Crisp is a lock for me and I highly advise you slot him into your starting 22 prior to Round 1.
Loading ...
FOLLOW ME ON TWITTER: @JeppaDT for all things AFL Fantasy. Got something to say about the deck? Use the hashtag… #DeckofDT