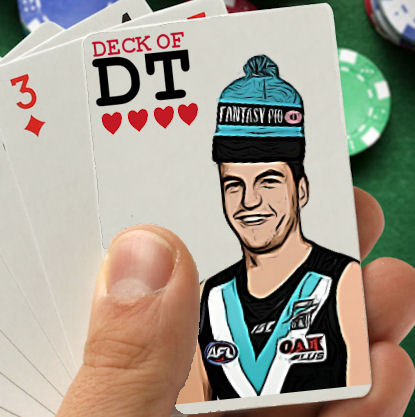 Name: Tom Rockliff
Team: Port Adelaide
Position: MID
AFL Fantasy: $725,000
Bye Round: 10
2017 Average: 103.0
2017 Games Played: 20
Predicted Average: 117
Draft Range: eg. 3-10
Click here for DT Live profile.
Why should I pick him
The first reason to pick Rocky is because he is absurdly under priced. 2017 got off to an absolute flyer where the pig was doing what the pig does, dominating the competition and leading the way among Fantasy players. In the first eight weeks he didn't drop under triple figures and pumped out massive scores of 130, 157 and 167 in that time. No one in his price bracket can do that.
He suffered a serious shoulder injury in round eight and postponed surgery until the end of the season which meant the back end of his season didn't resemble the real Rocky. Between round 12 and 23 he only reached 100 on one occasion which means we have an opportunity to pick him up for a bargain price.
Rocky is re energised an entering a team projected to score well from a Fantasy perspective. He is expected to play the same amount of midfield time as he has historically done with the Lions and his time forward will be far more enjoyable this year with more frequently delivery and a well established support crew around him.
He is capable of averaging 135 for a season… literally no one else does that and he can be purchased for an average of 103.
His start to the season speaks for itself and I couldn't put it better than our good mate the Wiz wrote in his Fast starting Premiums article.
"Tom Rockliff: Don't think about it, JUST PICK HIM. When he isn't injured, Rocky is a no brainer. Currently priced at an average of 103, he is potentially 30 under what he can produce. Obviously, I'm not going to be naïve and say that there aren't doubts over the Pig, with a new team there comes uncertainties about role and team cohesion, as well as the never ending questions about Rocky's body – but his first 2 games come up against teams that he loves to play. Rd 1: His last 4 scores against FREM (95, 142, 154, 172) & RD 2: His last 4 scores against SYD (167, 132, 128, 141). Hop on and enjoy the ride."
Why shouldn't I pick him?
In Rocky's nine seasons he has only played 22 games on one occasion, and his 20 games last year was the first time he reached that mark in four season.
He is going to a new club… That could mean anything from a role perspective and some believe he is there to play predominately forward after his well known success as a forward in his junior years.
You may be holding a grudge from last year if you traded him back in.
Pfft, there is no reason not to get him, he is going to smash it this year.
Deck of DT Rating.
Ace – Rocky is a ball magnet that tackles and kicks goals, he is playing for a top four contender and has been voted into the leadership group. His shoulder rehab and gone to plan and he is ready to hit the ground running in round one and I can't recommend highly enough that you back in the Pig. There are going to be some huge wins at Adelaide Oval this year and Rocky is going to have his snout well and truly entrenched in it.
Loading ...
FOLLOW ME ON TWITTER: @RoyDT for all thing AFL Fantasy (and more). Got something to say about the deck? Use the hashtag… #DeckofDT.