Sam Jacobs – Deck of DT 2018
Everyone is jumping off NicNat and paying the Big Bucks for this blood nut.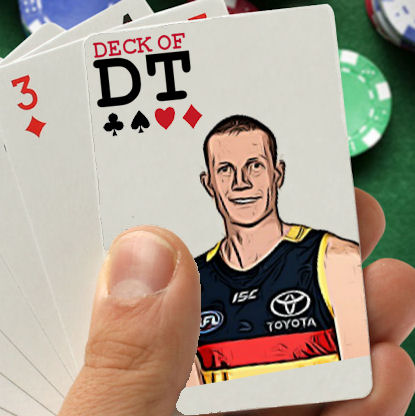 Name: Sam Jacobs
Team: Adelaide
Position: RUC
AFL Fantasy: $700,000
Bye Round: 14
2017 Average: 98.6
2017 Games Played: 22
Predicted Average: 99
Draft Range: 20-30
Click here for DT Live profile.
Why should I pick him?
Sam Jacobs has shown season after season that he can get the job done for Fantasy teams, and I can't see why this season will be any different. Jacobs has to be one of the most reliable rucks going having played more than 19 games a season since 2011, offering us a Ruck who should play every game of the season.
Score wise Jacobs has averaged more than 90 for the past four season, with last seasons average of 99 being his best yet. Whilst he lacks an ability to get really high scores on a regular basis, with only one score above 120 and two scores above 110, the 'Sauce' has shown an ability to put out decent scores throughout seasons, if be it on an irregular basis.
One of the biggest upsides to Jacobs this season is the likelihood that he will play predominant ruck time. Other fantasy relevant ruckman like Stefan Martin and Brodie Grundy will most likely spend time in the forward pocket, leading to a decrease in their averages, and other than Kreuzer no other ruckman performed last season.
Currently sitting in only 6% of teams Jacobs is also a relatively unique option this season as players look to take advantage of Nic Naitanui and Max Gawn's decreased prices, but if these two fail to perform, those holding Jacobs could be in for a great season.
Why shouldn't I pick him?
One issue I have always had with the big man is his ability to burn on occasions, and with the ability to so,  it could lead to a run of low scores for short spells of time. Last season he started the season with an abysmal 65, in 2016 he started with a 78, and in 2015, 88. These are not good numbers to start the season. He also had a four game spell where he failed to score 100 coming just after his bye round, where Jenkins appeared to get extra time in the ruck, and also perhaps showing Jacobs doesn't benefit from time off.
The question will be, as Jacobs gets older do Adelaide perhaps rest him for greater periods in the game. I can't see this being a case, but as with fantasy football you never know!
Deck of DT Rating.
QUEEN – I considered making Jacobs a King, but he is yet to average more than 100 in a season, and after his history of slow starts I couldn't justify doing so.
As ruck options come though Jacobs is one of the best and most reliable. I fully expect Stefan Martin and Brodie Grundy's scores to decrease this year, and as such Jacobs presents himself as one of the most solid options. Jacobs won't score as much as Kreuzer, but will be one of the most consistent options going forward rewarding owners with scores around the 100 mark each round, and sitting quite comfortably as one of the top five rucks of the competition.
I predict another season of an average in the high 90s by Jacobs.
Loading ...
FOLLOW ME ON TWITTER:@Triggywiggy Got something to say about the deck? Use the hashtag… #DeckofDT.