Rory Lobb – Deck of DT 2018
Join us today as Anthony profiles the biggest Giant on the GWS list.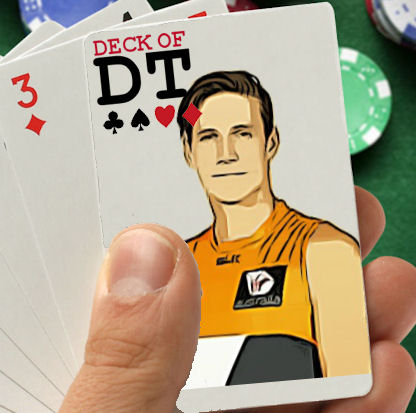 Name: Rory Lobb
Team: Greater Western Sydney
Position: Fwd
AFL Fantasy: $467,000
Bye Round: 13
2017 Average: 66.3
2017 Games Played: 17
Predicted Average: 95
Draft Range: 175 – 225
Click here for DT Live profile.
Why should I pick him?
The biggest reason to start with Lobb this year is that he is everything we love in fantasy. He's underpriced and heading for a role change that will see him score much better.
The reason he was underpriced is because while playing 'back up ruck' to Mumford, Lobb had been used as a swingman to cover any deficiencies, either as a forward or defender, meaning his scoring had been a rollercoaster depending on where he played and what was asked of him. With Mumford retiring at the end of 2017, the number 1 ruck mantle has officially been given to Lobb and we can expect decent and consistent scores to follow.
Usually when looking at a midpricer we're expecting to improve, we can only speculate on what we think the change will be as the most tangible proof we can get are intraclub and JLT games. With Lobb however we were given a preview without it influencing his price for this year!
Mumford rucked his last game for GWS in the first final against the Crows. For the next 2 finals Lobb took on the number 1 ruck mantle and flourished with scores of 90 against West Coast and 83 in their loss to eventual premiers Richmond. The promising sign in these games was just how dominate Lobb was in the ruck, finishing with the highest hitout win rate of 53% and have the second best hit out to advantage rate. These ruck stats are important when considering Lobb's job security as GWS number 1 ruck as it's unlikely that Simpson or Flynn could hit those numbers if called upon.
Finally, with Lobb currently listed as a FWD, there is very little doubt that considering he will be playing predominately as a ruck, Lobb will receive a DPP upgrade in round 6 to ruck/fwd providing a bit more flexibility on your feild.
Also as a side note, based on those hitout stats I'm now taking a closer look at GWS midfielders as Lobb will give them first touch more often than not.
Why shouldn't I pick him?
Lobb seemed to be a complete lock coming into this article. Then I heard the news that Lobb still wasn't training fully and contacted our resident GWS expert Griff for further clarification.
Here's what he had to say;
"Rory has been on a modified program most of the preseason due to persistent groin tightness – which kept him out of games last season. Given his workload is going to go up dramatically this season, the club is easing him through the preseason. At this stage he is expected to be fine for round 1, but not sure how many JLT games he'll play."
The first red flag here is 'modified preseason', as we've seen most seasons even a late start to the preseason can have negative effects on how a player starts the season. Usually resulting in a slow build up as they ease into the season. Luckily Lobb's price is already low enough that as a first ruck he shouldn't see a drop in price even if he does take a bit of time to get going.
Second red flag is that Lobb is still dealing with the groin issue that plagued him last year. That injury saw him miss 4 games in a row (5 if you include the NEAFL game he played before getting recalled too) and the worry here is that if he still isn't completely over it, we may see it flare up again resulting in significant down time.
Once again though his price is possibly low enough that he will have made you enough cash to upgrade him if needed when/if that strikes.
The last point to take from this is possibly more promising, GWS seem to have confirmed that they're banking on Lobb being their number 1 ruck, which while is great news for his job security, the red flag there is that GWS are showing here they're willing to rest/manage him if it means he's firing at the right time of the season. Could this means we see a few 'general soreness' omissions for Lobb?
Deck of DT Rating.
QUEEN – The signs are all there for the stars to absolutely align for Lobb to have a complete breakout this year. Unfortunately the news that he's currently being managed is enough to be concerned but a strong showing in JLT could render those concerns meaningless. At his price, with his potential he's still as good a lock as you'll find.
Loading ...
FOLLOW ME ON TWITTER: @AnthonyDSmith86 for all things AFL Fantasy (and more).
Special thanks to Griff for his special comments, you can find him @RLGriffinGWS.
Got something to say about the deck? Use the hashtag… #DeckofDT.