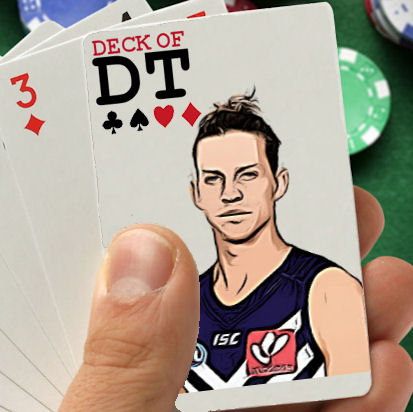 Name: Nathan Fyfe
Team: Fremantle Dockers
Position: Midfielder
AFL Fantasy: $686,000
Bye Round: 14
2017 Average: 97.38
2017 Games Played: 21
Predicted Average: 104
Draft Range: eg. 30-50
Click here for DT Live profile.
Why should I pick him?
Nathan Fyfe is an absolute superstar of the competition, who also happens to be underpriced. Fyfe's fantasy career was progressing very nicely, averaging 102.3 in 2014 and following it up with an average of 105.1 in 2015. After an impressive start to 2016, Fyfe broke his leg and was ruled out for the remainder of the season. Fyfe's return in 2017 saw him average 97.4 from 21 games. Whilst he showed glimpses of his best, he did appear to be getting use to his body again.
For the first 13 rounds of 2015 (before he had any issues with his leg) he averaged 110.8. What's particularly interesting about this, is that his lowest score in this time was 95. It wasn't until his round 15 injury sustained by Sam Mitchell's knee saw him taper off for the remainder of the year. Now that his injuries are behind him and he has had a full pre season under his belt, I expect him to get back to very near that 110 mark. Not that this should be used as a guide, but did anyone see him play in the recent International Rules series? He's back! He was running around as free as i've ever seen and back to being the beast we remember. He won the Jim Stynes medal for player of the series.
Fyfe is only 26 years old and i truly believe his best football is still ahead of him. You also don't need to worry about the tag when it comes to Fyfe, he is one of the few gun midfielders in the competition who opposition coaches choose not to employ a hard tag on. This is due to his size, ability to win his own ball, questionable disposal, but also because he is such a weapon up forward. Unlike other  gun midfielders in the competition such as Zorko, Sloane and Treloar, whilst their highs may be higher than Fyfe's, they can also churn out some garbage. You don't need to worry about that with Fyfe, he will consistently get you scores of 100-110. Now that he has a whole season post surgery under his belt, expect the Fyfe of old, with perhaps even a further upside to his fantasy game.
Possible DPP? Throughout this pre season, Fyfe has certainly flagged the possibility of spending a lot more time forward. Whilst this can be seen as a negative as he won't be around the ball as much, fear not, Fyfe will be wherever the ball is. Full article here
Why shouldn't I pick him?
Why shouldn't I pick him? There is a concern about Fyfe's ceiling. In his career best year (2015) where he averaged 105, he only got one score above 119. This was also the year where he was widely considered the best player in the competition and went on to win the Brownlow medal. Therefore, how much upside is there to him? If this is the year where he dominated the competition, can he really do that much better from a fantasy perspective? That really is the big concern with Fyfe, and a question that regularly gets asked among fantasy coaches… Does he have a strong fantasy game?
Unlike the Merrett's and Mitchell's, who will travel all the way down to the back pocket just to get a kick, Fyfe does not do that. He is a beast inside the contest, can push forward as well as any midfielder in the competition, but he doesn't travel around the ground looking for those +6's like other premiums do.
Deck of DT Rating
King –  King Fyfe! I don't think there is too much risk with selecting Fyfe in your opening team. His price will certainly increase as he has had a season under his belt post injury and by all reports has been enjoying a very good pre season. The question is though, priced at $686,000 at an average of 97.38, how much will this increase? Is he going to be apart of your final 8 midfield? If you don't think he will be, then his price probably doesn't justify you picking him up as a means to make money.
I however will be starting with him as i believe he is in his prime right now. I will never have to seriously worry about a tag with Fyfe and he is an underpriced midfielder i can set and forget. A lot of people seem to agree with me as he is currently owned by 23.73% of coaches. What do you think?
Loading ...
FOLLOW ME ON TWITTER:@TheMilkmenDT specialising in cash cow selections but still here to talk all things AFL fantasy. Got something to say about the deck? Use the hashtag… #DeckofDT.