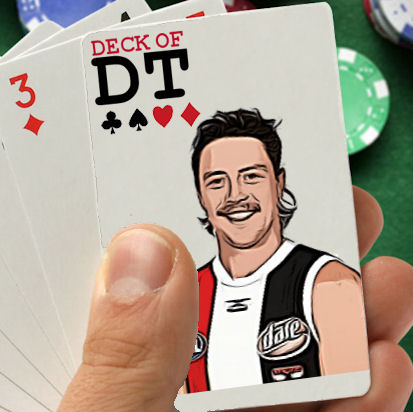 Name: Jack Steven

Team: St Kilda Saints
Position: Midfielder
AFL Fantasy: $661,000
Bye Round: 14
2017 Average: 94
2017 Games Played: 20
Predicted Average: 105
Draft Range: 40-70
Click here for DT Live profile.
Why should I pick him?
A year is a long time in football and with that logic two years can seem like an eternity. However cast your minds back to the end of the 2015 season and Jack Steven would have been on everyone's watch list for the start of 2016. So why are we choosing to forget this?
The Jack Steven of 2015 started the season with an absolute bang! Just to remind everyone that has forgot (yes all of you!) he went 99, 100, 138, 92, 124, 142, 98, 166, 97, 133, 93, 113, 142, 136, 101….do I dare say more? All you need to know is he went on to end up averaging 112 for the year. Jack then started showing the effects of opposition attention in 2016 but still managed an impressive average of 104. That regression continued in 2017 where he "only" averaged 95. On the surface this can look like a worrying trend but as Jack himself has admitted, 2017 was plagued with "Hammy tendon" issues and further opposition attention. Full article here.
Despite this downward trend, Motor Legs, as he is sometimes referred to in opposition circles, still manages to tick a lot of the boxes that we look for in our premium options and if you are of the belief that St Kilda will improve in 2018 he presents a seriously unique and under valued player based on what he is capable of producing.
Durability
Listening to any St Kilda player talk about Jack Steven there are two common themes that will come up, they are that he's quietly spoken and one tough customer. Luckily there are no Dreamteam points given out for the amount you speak on the field but there are points there for every time you take the field.
This is good news for a player who since 2011 only hasn't played 20 or more games in a season once, despite a series of niggles and knocks during games. In fact until he suffered a punctured lung in Round 2 of last year (which he recovered from after only two weeks!) he hadn't missed a game since Round 3 of 2014. It's promising that he was able to play through the hamstring issues talked about earlier.
All the proper buzz words are coming out about Jack's fitness leading in to 2018 season and after his best on ground performance in St Kilda's recent match simulation midfield coach, Simon McPhee, had this to say about him. "He's been pretty positive all pre-season. His ability to get to the ball and influence is the big thing. He's first to get to the contest and his ability to extract the ball from the contest, using his legs, is pretty impressive." All signs are pointing to him being in peak condition for round 1.
High Ceiling
Jack is not afraid to get his hands dirty with a tackle and knows how to find the ball which presents multiple avenues for scoring. Something us coaches love to see. When the legs are properly up and running he is one of the elite goal kicking midfielders in the league.
A top score of 133 last year, 158 in 2016 and 166 in 2015 show just what he is capable of. In fact of all the times that Jack has gone over 100 in the last three years 65% of the time he then goes over 110, and 43% of the time he will go over 120.
Consistency
In the last 3 seasons we've seen Jack get a score over 100 approximately 70% of the time. In other words if he takes the field for 22 games in a season then you can expect to see a score over 100, 15 times based on recent years form.
He only has scored under 80, 15% of the time (or for 3 games in a 22 game season) over the last 3 years. This number stacks up with even some of the best fantasy players in the land.
What this shows is after a quiet game that a good score is always around the corner which is something you need to be able to trust of your premium options.
Why shouldn't I pick him?
Unless it is not clear, I must confess, I am a St Kilda Fan! So let me take off my optimistic hat for one second and discuss what are some of the big question marks hanging over Jack Steven heading in the 2018 season.
The biggest and scariest is definitely the looming tag that hangs over most of our premiums options heading in to the 2018 season. With the Saints unable to get one of the big fish they were after in the offseason the elephant in the room does still become "Is Jack Steven the player you tag at St Kilda?". If you ask Jack himself then he'll tell you "I don't really see myself as that good a player, but obviously someone does." Seb Ross is making a case in the background to be the new go to for any opposition attention but he fits the inside mid mould that so many clubs prefer to back their number one stoppage player against. Jack Billings is a game breaker, but not on the consistent basis that requires a permanent shut down player. Which leaves us with the young brigade of Koby Stevens, Jack Steele, Luke Dunstan and Blake Acres. None of which seem to scream out to be given as much attention as Jack Steven. The biggest problem is games when Jack did have a key stopper put on him last year we saw scores of only 60, 63, 65, 90 and 113. This doesn't exactly fill an owner with confidence when they see the opposition stand directly next to him from the start of a game.
Another issue with Jack is that he shares his bye round with a lot of the premium options we will be seeing across many teams this year. With the bye in Round 14 players like Sloane, Crouch, Fyfe, Neale, Dangerfield, Selwood, Ablett, Martin, Kennedy, Parker and Hannebery also share the same round bye. You'll have to be careful that not too many of these other players are in your squad if you are looking at taking the punt on Jack.
Deck of DT Rating
KING – One off year can not be held against a proven Dreamteam scorer, we will need to see one more down year before writing off Jack Steven as a real premium option. If Jack is left a lone or St Kilda improve this year then there is no question over the fact that he is underpriced and will push his average to the 105-110 barrier again. An accumulator of the ball, tackling machine, goal kicking midfielder, key part of a growing team and a proven high ceiling make Jack a unique option that you have to consider. If you don't look at taking him in your classic team, know that if you end up having him in your draft team that you have a great player you'll be able to rely on most weeks. Jack is only in 1.8% of current teams and at this point he is sitting in my team as an ultra unique premium fifth midfielder but we all know how much teams are going to change before the season.
Loading ...
FOLLOW ME ON TWITTER: @TheMilkmenDT specialising in cash cow selections but still here to talk all things AFL fantasy. Got something to say about the deck? Use the hashtag… #DeckofDT.