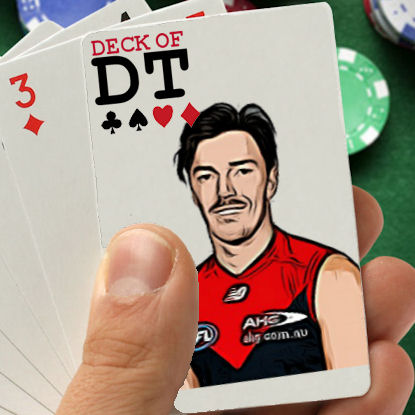 Name: Michael Hibberd
Team: Melbourne
Position: DEF
AFL Fantasy: $652,000
Bye Round: 13
2017 Average: 92.6
2017 Games Played: 18
Predicted Average: 98
Draft Range: 50-60
Click here for DT Live profile.
Why should I pick him?
Last year Hibberd went mostly unpicked by many teams after not starting the first three games through injury, and having not played in 2016 at all there was a reluctancy among many to pick him. Those who eventually did pick him up throughout the season were rewarded  with a consistent scoring defender who always managed to score no matter how well his team played.
Hibberd scored a low score of 57 which was only one of two scores he scored less than 70 throughout the season. He scored a high score of 129 against Port Adelaide in round eighteen on the back of an impressive 36 disposal game, with an incredible 24 kicks.
With Hibberd you have a defender that is more than capable of getting you a decent score each week. The defender racked up 11 scores above 90 last season from his 18 games. Another aspect about Hibberd's game which is sure to make fantasy players happy is his ability to find the boot, with almost twice as much kicks throughout the season as handballs, adding an extra few points to his score each game. The best thing of owning Hibberd though is the +6s you will get to see him rack up across the half-back line. Surely there is nothing better to see in fantasy.
Sure Hibberd doesn't score as high as Docherty (Who won't play a game this year), but he will get you nearly a 90 each week, which is all we can ask from a defender this season with the lack of options we now have down back. With Hibberd showing his fantasy ability, and with the chance of him being given a lock down role on a forward at a low, why not pick him up?
Why shouldn't I pick him?
Price wise Hibberd is in the dear range, considering there are a few other options who performed last year like Simpson, Laird and Yeo who all are only a short jump up from Hibberd and are more guaranteed to get you a better average.
Honestly though is hard to come up with many reasons why you shouldn't pick him, just because of the lack of defensive options we have. Don't pick him if you are expecting a defender who is going to get you 100+ each week, he is going to have games where he scores lower than usual, but last year he always managed to increase his score at the end of games with some junktime magic.
There is the chance that Melbourne change the way they play, and as such he might not see the ball as often as he did last season, especially with the junk he managed to register deep into games. I would be surprised though if they did change things up, as they were unlucky to only miss out on finals by the smallest of percentages.
Deck of DT Rating.
QUEEN – I am starting with Hibberd this season, and as such I was actually a little reluctant to write about him for this article, for the sole reason that not many teams will have him because of other options of Simpson, Yeo, Lloyd and Laid coming ahead of him that are full fledged premiums. But , there are few premium options in the defence, and Hibberd has shown an ability to junk and score consistent fantasy scores, and can only improve from here. With almost a year of footy under his belt, and a full pre-season I can see Hibberd increasing his average by at least 5 points.
Loading ...
FOLLOW ME ON TWITTER: @Triggywiggy Got something to say about the deck? Use the hashtag… #DeckofDT.