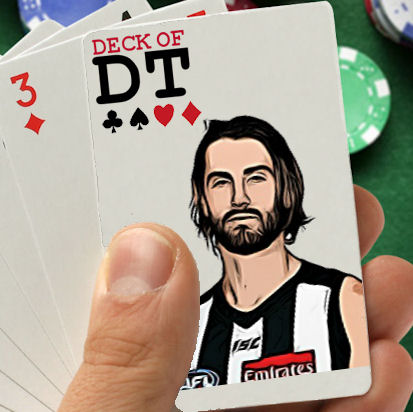 Name: Brody Grundy
Team: Collingwood Magpies
Position: RUC
AFL Fantasy: $748,000
Bye Round: 13
2017 Average: 106.2
2017 Games Played: 20
Predicted Average: 101
Draft Range: 25-35
Click here for DT Live profile.
Why should I pick him?
Has a player who averaged 106 points the year before ever been surrounded by so much uncertainty?
A player of Brodie Grundy's calibre should be a walk up starter right? Over 11% of Fantasy coaches own Grundy right now and you can understand why after what the big Pie has done in the past. He averaged more points than any ruckman last season (including seven scores over 110) and averaged over triple figures with 100.9 in 2016. Of all the players to average 100+ in the last two seasons, Grundy is the only ruckman to do so.
The Magpies have been a Fantasy football factory in recent times with Dane Swan beginning the trend only for the younger Pies to follow suit. Guys like Taylor Adams, Steele Sidebottom, Adam Treloar and Scott Pendlebury can annually be found among the top scorers and Grundy is forging a reputation as an elite Fantasy player as well.
Thanks to some awesome work from The Wiz, we can break down just how good Grundy is out of the blocks. In the past two seasons, Grundy averages 110 through his first five weeks and has just one match away from the MCG in those games. In fact, Collingwood leaves Melbourne just four times this season, with trips to play the Gold Coast and Fremantle still likely to leak a ton of points.
Translation. History tells us the Magpies are in for a fast Fantasy start and Brodie Grundy is poised to score BIG to begin the year.
Why shouldn't I pick him?
But… The Mason Cox effect is real.
Nathan Buckley has already gone on record and said that Grundy and Cox will be playing alongside each other on a regular basis in 2018, forming a ruck/forward duo.
Why is that a problem you ask? Last season when Grundy played with Cox he averaged 89 Fantasy points. Without him, his average was 115. Ouch. I did even more digging to look at Grundy's score with and without Cox for the entire AFL career of the American Pie to date.
With Cox (18 games): Grundy averages 90.5 points
Without Cox (23 games): Grundy averages 113.6 points
That sample size over the last two seasons is more than enough to set alarm bells off for anyone considering Brodie Grundy for their Fantasy team, Classic or Draft
Deck of DT Rating.
KING – Grundy's previous numbers mean that I still can't rank him below a King. He is in the upper echelon of Fantasy rucks and his reputation should see him still be one of the first big men taken in Draft.
That 20+ point difference when Cox suits up is a huge concern though and it may stop Grundy from putting up a 100+ average for the third year in a row. Starting with him in Classic is probably a bad idea and the JLT will show us just how much forward time we can expect him to see in 2018. Here's hoping for the best.
Peace ✌
FOLLOW ME ON TWITTER: @alexandergfry for all thing AFL Fantasy (and more). Got something to say about the deck? Use the hashtag… #DeckofDT.