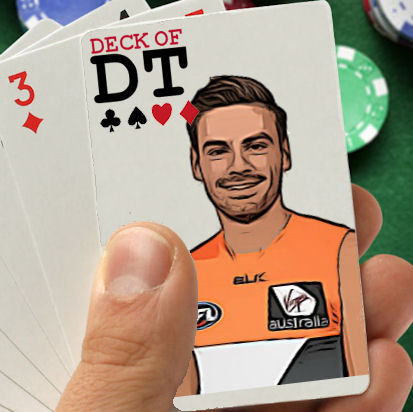 Name: Stephen Coniglio
Team: GWS
Position: MID
AFL Fantasy: $663,000
Bye Round: 13
2017 Average: 95.7
2017 Games Played: 7
Predicted Average: 108
Draft Range: 40-50
Click here for DT Live profile.
Why should I pick him?
Stephen Coniglio seems like a forgotten man. Given his lack of recent football it's no surprise, but it has meant that he comes into 2018 as a potential steal. Back in 2016 he averaged a sensational 104 including 13 tons. What may surprise some is that at the time he was only 22 (in his fifth season). It seems like he has been around forever, but Coniglio has only just turned 24 and we certainly haven't seen the best of him at AFL level. Not even close to it. He will play his 100th career game this season and that is often when we start to see the best from midfielders.
2017 was a difficult year for him, but one glance at his finals series suggests that he's back in business. Scores of 134, 121 and 90 prove he's capable of being an uber premium midfielder, and it's fair to attribute his lack of big scores beforehand to his lack of football. Over the 10 games he played including finals, his average is 101.5. There's a nice $40,000 discount before we even begin. In contrast to his interrupted 2017, Coniglio has enjoyed a full pre-season and is seemingly in peak condition. Great news.
There's no denying that the Giants missed their Vice-Captain last season, and he will be thrust straight back into the guts in Round 1. Not only do I believe he will average 100+, I think he has the capability to push 110. Obviously he wins plenty of the footy (Averaging 27 disposals since 2016) but he also loves to tackle. I don't care whether you tackle like a man possessed or just sit on a player before a ball up, those +4's are vital. He averaged just under 7 tackles per game, putting him in the elite category.
The DT game is there, the ability is there, if he can just add the fitness then he shapes up to be a fantastic differential in Fantasy (Owned by just 6%).
Why shouldn't I pick him?
The problem when presuming a player will improve their scoring returning from injury, is that you need them to remain 100% fit throughout the season. Coniglio has managed to do this just once in his 5 seasons for the Giants. Ankles rarely heal completely, so there's always the risk he could roll it again and force you into a trade. If it happened early in a game, the result could be catastrophic. Sideways trades need to be avoided so picking too many injury prone players is unlikely to end well.
I don't think the risk lies in his role or scoring potential. However the fact that he failed to crack the ton in his last 3 H&A games does need to be noted. I'm fully confident he will be a permanent midfielder and I simply can't see him being wasted as a tagger.
As is often the case, the biggest problem can be finding a spot for another midfielder in that mid $600k bracket. To be a successful pick Coniglio would want to up his average by at least 7-8 points and remain injury free. There is risk involved and there are plenty of alternative picks who may be seen as a safer bet.
Deck of DT Rating.
KING – Just like B.Crouch and Blakely before him, Coniglio currently sits in my team. I like to have some differentials in my squad, and if they happen to average 100+ and be underpriced then so be it. While he may be a risk too far in limited trade formats, he's another potential draft slider that should be bumped well up your midfield lists. We haven't seen the best of Coniglio yet, and you best believe I won't be missing the train when we do. 2018 is set up perfectly for him and his Giants.
Loading ...
FOLLOW ME ON TWITTER: @mattcraigDT for all things AFL Fantasy (and more). Got something to say about the deck? Use the hashtag… #DeckofDT.