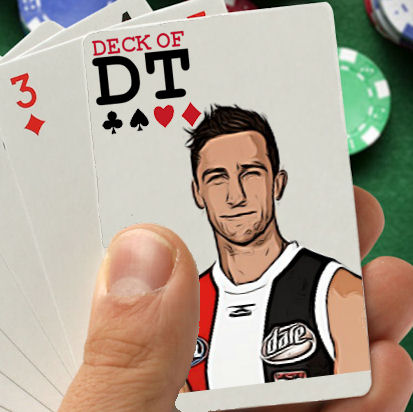 Name: Luke Dunstan
Team: St Kilda
Position: Mid
AFL Fantasy: $617,000
Bye Round: 14
2017 Average: 87.6
2017 Games Played: 16
Predicted Average: 100
Draft Range: 200+
Click here for DT Live profile.
Why should I pick him?
A 109 point average. That is what you'll be chasing by starting Luke Dunstan next season.
After spending much of last season bouncing between VFL and AFL Dunstan was finally able to translate his VFL form onto the big stage in round 18 and from that point he didn't look back.
Before his turn of form, Dunstan could only average 20 touches at most per game at AFL level but he is a 30 disposal player in the VFL. Something finally clicked for him after coming back from another VFL stint in round 18 and he was finally able to find those extra 10 touches per game. His fantasy numbers certainly reflected that too.
107, 116, 100, 110, 118, 103 tells the story of his last 6 games of the season and if you decide to start with him this year you'll be hoping he can carry that form on.
His struggle to cement his place in the team early in the year has meant his price is lower than his potential average could be. Priced at an 87.6 average, if Dunstan can just continue on with his form mentioned above then he's coming into this season priced 21.4 points lower than he should be!
Add in the fact that at the time of writing this Dunstan's ownership was sitting at 0.28% then that makes him a very unique pick if you decide to take the shot. Put simply, only 80 other coaches currently have Dunstan in their teams!
Why shouldn't I pick him?
While it is fun to isolate a possible purple patch of scoring and just completely ignore the rest, I would be remiss not to mention the reason he is still underpriced despite his monster finish to the season.
Low scores of 45 and 56 have brought his average down and the gamble with picking Dunstan next year is being well aware that he could have one of these games and burn you.
On that note, while Dunstan has been a very good and consistent VFL player he has struggled throughout his career to replicate the same numbers at AFL level. This meant his head has often been on the chopping block at selection. Last year alone he was dropped 3 seperate times and each VFL stint was a minimum of 2 weeks. While we can only hope that he finally put all that behind him, the truth is that his disposal and decision making under pressure is far from elite and he is often responsible for the kinds of errors that stick in a coaches memory.
So not only is there a chance that Dunstan could burn you with a low score of 56, theres a high chance that he'll be dropped the next week for it like he was last year.
Deck of DT Rating.
JACK – Dunstan has shown us a glimpse of his potential and it will take a serious gamble to actually start with him. However if you do decide to slot him into your side, hold your nerve and Dunstan continues his form, you may end up on the ground floor of next seasons biggest break out!
Loading ...
FOLLOW ME ON TWITTER: @Anthonydsmith86 for all thing AFL Fantasy (and more). Got something to say about the deck? Use the hashtag… #DeckofDT.