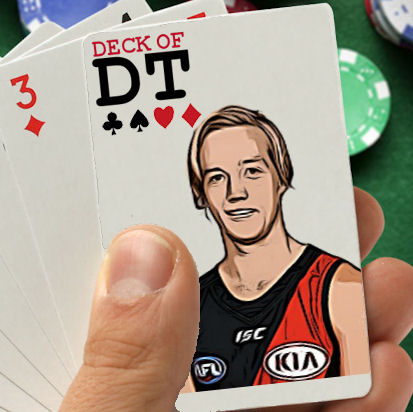 Name: Darcy Parish
Team: Essendon Bombers
Position: FWD/MID
AFL Fantasy: $551,000
Bye Round: 14
2017 Average: 78
2017 Games Played: 19
Predicted Average: 85-95
Draft Range: 60-80
Click here for DT Live profile.
Why should I pick him?
Why should you pick Darcy Parish? That is a good question. Like any other speculative midprice Fwd/Mid, we hope he plays more "mid' than "fwd". And I just think he might do that. I have  had a look at the best 22 of Essendon and I have him on a wing, with young gun Andy McGrath on the other. Heppell, Zaha and Merrett start in the guts, while I think Goddard evolves back into a loose backman in the twighlight of his career. In regards to the new recruits Devon and Stringer, I think they are forwards first and mids seconds. Although this article, says that Stringer is set for a 70% time in the mids, I still have my doubts that he will continue in this role for the whole season,  you don't get that sort of tank in one off season. If Devon and Stringer do play predominantly forward, it's even more likely Parish pushes up the ground on a full time basis. He has to be in their primary midfield rotations. it's also nice to see the  article reports that Parish was 'busy around the ball' but its only an intra-club match.
Looking at his 2017 scoring, it is a bit of a mixed bag. The two scores of 114 shows he is heading in the right direction with ceiling, and there were seven scores above 80, but he did go under 60 twice and too many no-mans-land scores in the 70's (seven). Then again you need to remember he is only been in the system for two years is in the mystical third year breakout category  and had 77% TOG average with enough time up forward to get him DPP. If he can continue to increase the TOG average into the 80's, there will be a natural increase of scoring. I am also hoping that as Parish only kicked seven goals as a forward, he'll convince Woosha that he wasn't very good as a forward and needs to just play in the mids. A classic move I do to avoid household duties. Do it bad and you won't be asked again.
Why shouldn't I pick him?
Two reasons I can come up with. He's not exactly the big bodied midfielder the Bombers desperately need in the guts. He's a nice size of 180cm and 80kg, but so are Merrett, Zaha and McGrath. They need a big bull and he ain't it. If Stringer does come up trump in the guts, there is some significant mid time taken up which Parish won't be getting.
The second reason is about his relative value and cash generation potential in the forward line, as well as his awkward price. Once you put all the forwards on a relative curve of perceived value he's not exactly on the far right, with other midpricers like Christensen, Ah Chee and Lobb well ahead in this category. We also look to be blessed with a few fwd rookies like the eagles trio of Venables, Ryan and Rioli, as well as roo Paul Ahern and it may be the line where up to three of the rookies get on the field. With so much cash generating potential on this line, why take a risk on a 78 averaging player, who needs to go 95 to get an acceptable return on investment ? I also like to look at the players around his value within 5% +/- which  are  Michael Walters, Jordon De Goey, Roy's new man crush Mitch Robinson and Brett Deledio. They all make a case to have the same or more increase as Parish for similar money
Deck of DT Rating.
Queen (of diamonds)
I've put him as a diamond as I think the will be a stronger suited queen than others. I'm still quite bullish on Parish and think he can push towards a 95 average.  History says that he goes close to a top 6 forward with that average and would be a great starting pick when only priced at 78. He would be a great POD in your forward line, but the relative risk  and other value in the forward line may be too much to start him. It's once again an AF pick more than the limited trade formats due to the higher risk.
Loading ...
FOLLOW ME ON TWITTER: @jimbobholder for all thing Fantasy, finance and fffwine. Got something to say about the deck? Use the hashtag… #DeckofDT.