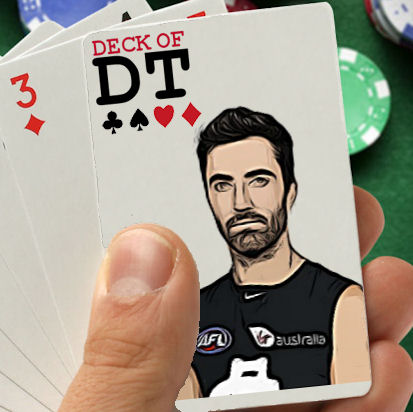 Name: Kade Simpson
Team: Carlton Football Club
Position: DEF
AFL Fantasy: $688,000
Bye Round: 12
2017 Average: 98
2017 Games Played: 22
Predicted Average: 100+
Draft Range: 15-25
Click here for DT Live profile.
Why should I pick him?
I'm a little bit torn about picking Kade Simpson this year in AFL Fantasy. With average fantasy points of 98, 101, 86 and 92 in the last 4 seasons, as a defender, that is certainly nothing to complain about. This year his starting price is $688,000. This makes him the fourth most expensive defender in AFL Fantasy in 2018.  The $688K question is, why should I pick him when he is so expensive?
Sam Docherty would have made or broke your season last year in AFL Fantasy.  He was the Carlton quarterback and I loved seeing him play kick to kick with Simpson on the backline last year.  This year, Docherty is unfortunately injured which would have broken the hearts of many fantasy coaches. Kade in the absence of 'The Doc' should fulfil that familiar role of the +1 player in the backline.  I have read many reports suggesting that the Carlton FC is ready to play a different style of gameplay, so people are speculating about how this will affect Simpson's scoring.  My take on it is that Simpson's role will remain the same.  Without the Doc, they will need that experienced player in the backline which Simpson is ready to fill.
There is a reason why he so expensive.  You get what you pay for with Simpson. Let's have a look at his stats from the last two years (see below). What are your expectations when you pay for an expensive defender? I would want a player that rocks up, week in week out.  With Simpson, that is what you get, in the last two seasons, Simpson has not missed any game for Carlton.
Simpson is a set and forget player in your defence line.  In 2017, he scored 90+ points in 15 out of the 22 games (68% of games). In 2016 he scored 90+ points in all but 2 of the 22 games (91% of games). If that doesn't impress you, I don't know what will.  Remember 2017 was when 'The Doc' started to stamp his scoring dominance in the Carlton backline. I know I keep harping on about this, but without 'The Doc', I believe that Kade will go above 90+ points consistently again this year in keeping with his fantasy scores in 2016. It is easy to gloss over the details in the stats, where some coaches will see lows scores of 50's and 60's, I see a high ceiling and a player that delivers big scores consistently.
How does Simpson score his points? Let's go deep dive into his stats. Let's look at how he has scored his points in 2017 (see table below).
Take a minute or two, or five and just look at those stats. Kade Simpson last year, averaged more than 7 marks per game.  His kick to handball ratio is nearly 3 to 1.  When I see that, I see a lot of +6's.  These stats clearly show Simpson's strong role in the Carlton defence.  When you compare these to his 2016 stats (see below), you can see that last year, his marks per game has increased and kick to handball ratio has also increased. When you watch Carlton play this year, just yell out "Kick it back to Simo!".  They will!
Now, I can't do a player analysis without talking about how unique Simpson is. If you look at the early trends on what coaches are thinking about in the back line in 2018, Simpson (18%) is behind Laird (47%), Yeo (27%), and J. Lloyd (24%). In 2017, from round 1 to round 10, prior to his bye (round 11), his overall percentage ownerships were between 10-12%.  After his bye, his overall percentage ownerships progressively climbed from 12% to 20% by the seasons' end.  There is definitely a strong argument that he is still a unique pick in the backline.  I believe that he will equal or outscore Laird as a defender this year – why not go against the trend and pick Simo instead?  In the MID my set and forget unique player is Sidebottom, in DEF my unique set and forget unique pick is Kade Simpson.
Why shouldn't I pick him?
Did I mention something earlier about conveniently glossing over stats?  Well, Simpson is in fact 33 years old turning 34 this year. I have never been a coach who overthinks and makes predictions about a player's longevity and their injuries.  Just a humble opinion, I don't think fantasy coaches should think like that when selecting players.  Nevertheless, some will argue that that he is 'maturing' and all it takes is that calf injury (old man's injury).  Coaches will look at Simpson's price, compare it to a Laird, Yeo or Lloyd and most will overlook Simo in favour a much younger defender.
The news coming out of Carlton is that they will bring a more attacking flair into their game style as opposed to focusing on defence as has been the case for the last two years. I love my West Coast Eagles, but I also like watching Carlton play. If you look at the way Carlton finished last year, there was certainly some of that gameplay coming into effect. The argument is that Simo's kick to kick/marking game will be quelled, and considering this, his fantasy output will be negatively affected.
Deck of DT Rating.
KING – Most coaches will find it easy to find value players in the MID this year.  However, it is a lot harder to see that value in the back line.  As such, like most, I will opt for the 'Guns and Rookie' approach in the backline.  My unique guns pick for the backline is Simpson, I would pick Simo before Laird anytime of the day. Without Docherty, I can see him playing that quarterback (+1 defender role) that he played in 2016 which could see him averaging 100+ point this year.
If there is anything specific you want answered, make sure you add me on Twitter @magtuto so I can answer your Q's.  Go unique!