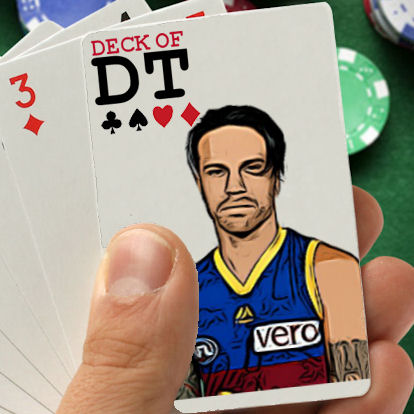 Name: Allen Christensen
Team: Brisbane Lions
Position: FWD
AFL Fantasy: $331,000
Bye Round: 13
2017 Average: DNP
2017 Games Played: DNP
Predicted Average: 80
Draft Range: Late (approx 30th best FWD).
Click here for DT Live profile.
Why should I pick him?
Anytime a player misses a season, you have to take a look. Christensen hasn't played a game since round 11, 2016. In his second year at the Lions, he was cleaned up by Carlton's Andrew Walker breaking his collarbone. Within the 18 months since he has broken his collarbone again and even cracked the plate that was inserted to strengthen the area.
Due to missing all of the 2017 season, Bundy attracts a 30% discount based on the 67 average from his 11 games in 2016.
This average was his lowest return of his whole career. In the three years prior, Christensen went at 87, 83 and 83. The latter was his first year at the Lions when he played all 22 games for the first time in the career. In this season he played as a typical MID/FWD where he kicked 19 goals while racking up an average of 20 disposals per game.
Why was Bundy's average so low in 2016 despite playing a significant amount of games to call it a 'true'average? Well, I know you can't pick and choose which scores should count, but in one of the games he was concussed for 18 points in the second quarter and the collarbone break came in the second term as well for only 19 points. At the other end, he scored three tons out of the 11 games.
At the end of the day, Christensen is basically an 80 guy priced at about 47. He's not that much more expensive than the number one draft pick in Cam Rayner ($270K) and should be about 10 points better history would say.
Why shouldn't I pick him?
I've got two concerns.
The collarbone ha broken twice and he has had issues with the plate. That's a big red flag. Christensen has been quoted as saying that he'll still be playing the game as he does that may put him into situations where he may break it again. But the mindset of "it could break for anyone" is the way he's going to go about it!
In his seven years in the system, he's only played 22 games once with hamstring and back injuries keeping him out of games.
The other factor for Christensen is his role. He's a small forward (heck, I'm the same height). He has had midfield stints throughout the years that has helped boost his points, but he may be down the pecking order for the Lions with the new regime that he hasn't played under yet. Will he get much midfield clock? Possibly… but it might be in time as there are quite a few ahead of him, even if it is a changing line up. The first few games could be very much playing in the forward line. We'll definitely need to monitor this in the pre-season.
Deck of DT Rating.
JACK – Despite the fact that he may not get the most fantasy friendly role right from the get-go, Bundy is a bargain and even a worse case scenario, he goes at about 75 in my opinion. That's 25+ points underpriced. The forward line in Classic is potentially going to have a few mid-priced players. There's limited risk with Christensen based on historical scoring output. He'll be best 22 and as he was back into full contact training well before Christmas, so lock him in up forward. He won't be a keeper, but Bundy will be a handy stepping stone.
As for Draft – you are unlikely to take him until very late… even for your bench. Hopefully everyone else in your league forgets about him and you have a nice sleeper that will be firing at the business end of the season.
Loading ...
FOLLOW ME ON TWITTER: @WarnieDT for all thing AFL Fantasy (and more). Got something to say about the deck? Use the hashtag… #DeckofDT.