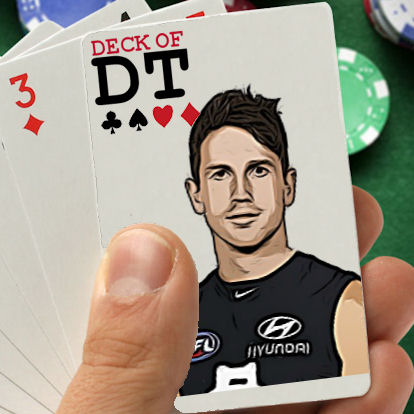 Name: Cam O'Shea
Team: Carlton
Position: Def
AFL Fantasy: $231,000
Bye Round: 12
2016 Average: 46
2016 Games Played: 13
Predicted Average: 50
Draft Range: Deep.  Real Deep
Note that O'Shea did not play in the AFL during 2017 and was playing in the VFL for the Northern Blues
Click here for DT Live profile.
Why should I pick him?
O'Shea was picked up by the Blues in the pre-season draft (he was the only selection). Cam was recruited for a reason, a backup defender. With Docherty going down for the season, O'Shea's chances of getting a game have dramatically escalated. Whilst he didn't play in the AFL last season, he did average 22.5 touches per game in the VFL for the Northern Blues last year to go with 2.94 tackles per game. Let's face it, he isn't going to be a keeper and he isn't going to be a star, but what he will do is make us some money.
His price is that of a high draft pick. But the difference is that he has experience. He did average in the 70's in both 2013 and 2014. He can score well, and if he can get some games early in the season he should rise in value quickly. He is priced at a score of about 33, so assuming he can score around 60 his first couple of rises should be good.
Why shouldn't I pick him?
He was delisted by the Power at the end of the 2016 season and had to fight his way back on to a list via the VFL last season. If Docherty is fit and healthy, it would have been difficult for him to get a game. The last two seasons in the AFL he didn't have massive scores, averaging only 58 and 46. If he only reaches that mark of 46, his price rises will be short lived.
So even if he does get a game he isn't going to be a big scorer. Whilst most of us would have him on the bench as a cash cow, his price isn't all that low and hence the amount that we can make from him is limited when we compare it to a true blue rookie at basement price.
Deck of DT Rating.
9 of Clubs – O'Shea is not likely to be a superstar for Fantasy players this season, but what he can hopefully do is get a few early games and sit on your defensive bench and make me some quick money. Think of him as a mature age rookie, someone that should have an immediate impact on your bank balance. At this stage he will be on my bench pending his form in the JLT, the emergence of any true rookie priced defenders and also him being selected in round 1.
As for the Draft game, forget him, look elsewhere. He will be a plug and play waiver pick up for you during the byes at best.
Loading ...
FOLLOW ME ON TWITTER: @pkd73 for all thing AFL Fantasy (and more). Got something to say about the deck? Use the hashtag… #DeckofDT.