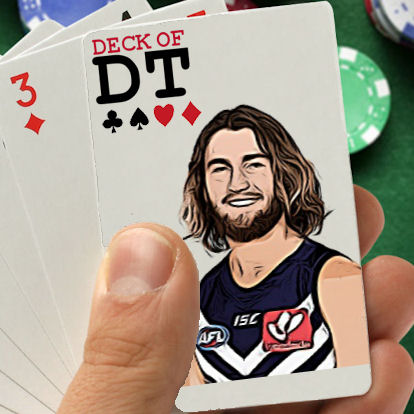 Name: Connor Blakely
Team: Fremantle
Position: MID
AFL Fantasy: $646,000
Bye Round: 14
2017 Average: 91.8
2017 Games Played: 17
Predicted Average: 103
Draft Range: 50-60
Click here for DT Live profile.
Why should I pick him?
Connor Blakely transformed himself from an up and coming rookie to household Fantasy name in the space of 2 months last season.  Unfortunately the only thing many people will remember him for is the shoulder injury that ended his day against GWS on just 8 points, only 2 weeks after receiving DPP. If you look past this burn, the stats suggest he's well underpriced. Playing up forward in Round 2 he managed just 5 disposals, none contested and scored just 17 points. It's fair to say those days are behind him. With those 2 scores out of the equation he averaged 102.
His ability to play multiple roles was key, and impressively his move to half back only increased his Fantasy output. Usually if a midfielder gets shipped out to defence it's panic stations, but Blakely pumped out scores of 107, 135, 149 and 114 in his month at half back, averaging 21 kicks and 10 marks. +6 heaven. Ross Lyon could deploy him in both Midfield and Defence, and it's safe to say he'll score well either way. He will start as a sole MID but DPP could still be a possibility by Round 6. Monitor his pre-season role.
I've mentioned Blakely's hot end to the season, but between Rounds 7-18 he averaged 112.8. Those are uber premium figures over a prolonged stretch of games (10). One set of numbers to watch closely is his TOG. When playing as a midfielder he never spent more than 75% TOG, but that shot up to 85-90% when playing in defence. That obviously helped his numbers increase further, and with another pre-season under his belt Blakely could be ready to go even bigger. He's only turning 22!
Lastly, Blakely is a POD. Big time. He's currently selected by under 2% of managers, and I highly doubt that number will increase. However all the signs are there to suggest he's an uber premium in the making. Is it too early? I can tell you this much, he won't be this cheap again.
Why shouldn't I pick him?
Averaging 92, Blakely is at an awkward price in the mid $600k's. He comes under direct competition from teammate Nat Fyfe, who is obviously the more popular selection early. Fyfe is a proven premium capable of averaging 100-105 comfortably, Blakely has only showed that kind of form for 2 months of his career. It's a gamble.
He also takes up a precious midfield slot. There are so many premiums looking set to step up to the next level, think of Cripps or the Crouch brothers. Then there's underpriced guns like Parker and Fyfe. Blakely is cheaper than all of them, but you'd have to select him to be a member of your squad until deep into the season. You don't spend over $600,000 on a short term fix.
His busted shoulder could be a concern, but we should have those doubts cleared up during pre-season. There have been no major setbacks and I can't find anything to be seriously worried about.
Deck of DT Rating.
KING – There aren't a lot of cons to selecting Blakely, besides the fact that it's hard to find room to fit him into your midfield. As a defender you'd lock him in, and if he's playing off half-back in pre-season then I'm locking and loading from Round 1. It is a risk though, and it's a lot of coin to pay for a bloke who has performed for 2-3 months. You know what they say, no risk no reward. You'd be a fool to not have him on your watchlist!
Loading ...
FOLLOW ME ON TWITTER: @mattcraigDT for all thing AFL Fantasy (and more). Got something to say about the deck? Use the hashtag… #DeckofDT.