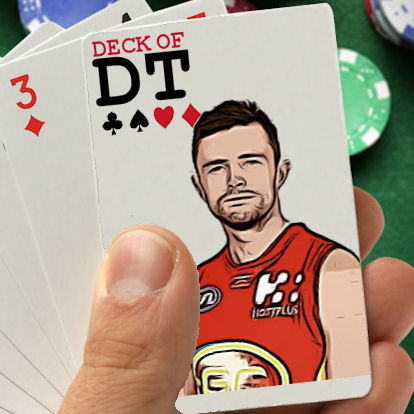 Name: Pearce Hanley
Team: Gold Coast
Position: Defender/Midfielder
AFL Fantasy: $509,000
Bye Round: 10
2017 Average: 72
2017 Games Played: 13
Predicted Average: 88
Click here for DT Live profile.
Why should I pick him?
He's not #47
Based on the currently players we have available in defence, Hanley is ranked at #47 based on price/average. I've glanced over many Draft rankings in recent weeks and many people have him currently sitting in between the 10-20 range for the defenders.
I believe that we won't be a top 8 defender. I can take that… at the same time, he's not #47. This means he is value and will increase in value and provide you with a great stepping stone throughout the year, especially when some new DPP options get added in round 6, 12 and 18.
Stuart Dew says "more midfield time"
Earlier this month (January), the Suns' coach Stuart Dew was asked… 'What will Hanley bring to the table?' His response was super great for Fantasy coaches who had their eye on him.
 "Experience," Dew said … "I think he has a really good mentality towards playing the game; I'll lean on him a fair bit with his resilience down back, but I also think he's worth a look in the midfield at times as well, because his decision-making and hand to foot skills are fantastic. He's an experienced campaigner, he's in good condition and I look forward to working with him in the ball skills."
Need to hear more… I think not.
He's unique
With many Fantasy coaches being scared off by his lack of durability over the years… only 5.6% of teams have taken the plunge on the former premium. These guys may even be backing him into a top 8 defender by the end of the year. Either way, there are not many people on the Hanley-Train yet.
So if you are looking for a sneaky option down the back that is around $120-140K less than the popular Crisp and Lloyd, then look no further than this bloke right here.
He can score and he's cheap
Hanley is coming of his worst Fantasy season in the last seven years with an average of 72 . Therefore, he is starting 2018 as a mega cheap option based on what he has/can do.
2017 wasn't the best for Hanley (for so many reasons), he averaged 10 less than any other season he has had in the last six years. Let me show you…
2011 = 80
2012 = 82
2013 = 86
2014 = 99
2015 = 89
2016 = 84
2017 = 72
If we average out those seasons before 2017, he would be averaging 87. I believe this is around the figure he can get to this year. With a fit body and more midfield time, then there is completely no reason why he couldn't do it… or even exceed it, just like he did rounding out his last four games with an average of 90. Great stat Cal.
Why shouldn't I pick him?
It's obvious isn't it? Durability (sort of).
So… he did play 22 games back in 2016 which is first full season since 2012.
Over the last three years (two with the Lions and one with the Suns) he has played in 70% of games and that was with one year being a full season.
He played just 13 games last year… so what was the issue?
He missed a few games at the start of the season as he went home to be with his brother who sadly passed away. Hanley then took a little time away before returning via the bloody NEAFL where he got injured. He returned to the game in round 10 where he played out all the remaining games in the season.
Hanley said in an interview last year, "It has been up and down in terms of off-field, and as a person I feel a lot stronger for it,'' he said.
Then of course he busted his hand in the International Rules Series but from all reports… that healed before Christmas and he's back and training well.
Deck of DT Rating.
QUEEN – I approached this article with Hanley not in my team. After researching him though and looking deeper into the numbers, he is now in my team.
How can he not be?
He's under-priced. He's been a jet in the past. Dew loves him. The games he missed last year were for a mixed bag of reasons and let's not forget he played all the games in 2016, before moving to a new team where he tragically suffered the loss of a sibling. Which is something that would obviously turn your world upside down.
The dude had a rough year in 2017… And I'll be backing him in to rock the 90 mark in the new year. Go get em big fella!
Loading ...
FOLLOW ME ON TWITTER: @CalvinDT for all thing AFL Fantasy (and more). Got something to say about the deck? Use the hashtag… #DeckofDT.