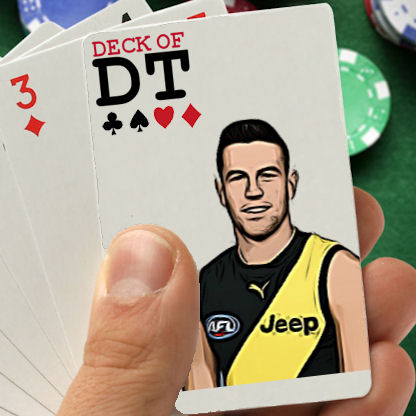 Name: Jack Graham
Team: Richmond
Position: MID
AFL Fantasy: $450,000
Bye Round: 14
2017 Average: 84
2017 Games Played: 2
Predicted Average: 80
Draft Range: Monitor his role/scoring then look for him on the waiver wire during the season!
Click here for DT Live profile.
Why should I pick him?
Chances are if you're reading this you saw Jack Graham in a few articles at the end of last year and committed his name to memory thinking he'd be a cheap option to lock in once the new season started.
He had the absolute dream start to his AFL career. Earning his debut in round 22, he held his spot through the finals campaign and by the end of his fifth game had an AFL Premiership medallion around his neck!
Unfortunately this wasn't a dream start for his Fantasy career. Playing the last 2 games of the home and away season meant we missed out on a rookie cash cow and his 84 point average is used as the basis for his price this year.
While this means Graham isn't coming into this season as cheap as we may have hoped, he could still be considered underpriced. Graham is priced at a 24% discount on his average of 84 last season, meaning he's potentially 20 points cheaper than he should be. This alone could make Graham the perfect player to take a mid price punt on.
His job security seems to be quite solid considering his qualifying final wasn't great and he was still given the opportunity to hold his spot. His inside mid and run with ability quickly made him an extremely valuable cog in Richmond's midfield and his ability to sneak forward for a goal or two only increases his standing among the Tiger's best 22.
Last reason I can think to start Graham is that his awkward price point and mid only status will make him a very unique POD option!
Why shouldn't I pick him?
The biggest reason I can think not to select Graham is his injury history. His debut was delayed last year as he battled an ankle injury. While this in itself doesn't seem like much, his preseason was limited due to a hamstring tendon injury and his junior football history is littered with injury reports. If you are still interested in him, monitor his preseason closely!
Another reason to be looking elsewhere would be that his scoring potential hasn't set the world on fire so far. A predicted average of 80 could prove conservative if his game can naturally progress but even in his best VFL games last year he was still only hitting 80's. He played out of his skin in the Grand Final, effectively stopping Sloane's influence in a run with role while also contributing with 3 goals, even earning himself 1 vote in the Norm Smith! That game however only netted him 69 points.
In fact, his entire 3 game finals campaign only saw scores of 60, 65 and 69! Considering we only have a small sample size of games to make a judgement on, 3 out of 5 games under 70 points is still a red flag for me.
His role could be the difference here. In his first couple of games he was given relatively free reign to run around but during the finals he was given run with tasks including (as mentioned above) giving Sloane close attention in the Grand Final.
While this is a tactic used by some coaches to give young players experience by giving them a front row seat to how the best midfielders execute running patterns ect, theres always the worry that it's more than that and Hardwick has found himself a new tagger.
Deck of DT Rating.
JACK – Jack may actually be too generous here. When picking players to write about in Deck of DT, we generally take a look to see which players are being talked about in various forums ect and Graham's name has come up a lot during this preseason.
For me Graham falls squarely into the 'buyer beware' category.
While on the surface and only looking at his home and away scores it seems like he's underpriced and could be a solid contributor/step up to a premium, there are far too many risks to ignore, especially when seeing his finals campaign scores!
His price and the fact that he is only selectable as a MID will make him a unique option but best case scenario I still wouldn't expect anymore than an 80 point average and those scores in the 60's could kill you in a head to head.
If despite all this you still do take the punt then treat him like an expensive cash cow and cash out as soon as his average and Breakeven hit parity!
Loading ...
FOLLOW ME ON TWITTER: @Anthonydsmith86 for all thing AFL Fantasy (and more). Got something to say about the deck? Use the hashtag… #DeckofDT.